The futuristic tech coming to a motorbike near you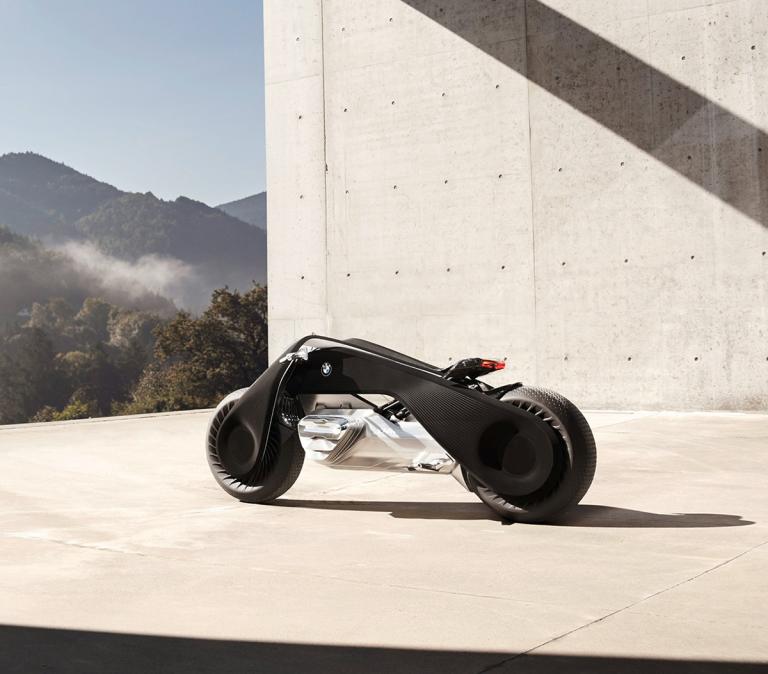 Cars and trucks may seem like the most obvious platforms when it comes to autonomous and other futuristic technology, but what about our friends on two wheels?
Some amazingly innovative technology is also available or heading to motorbikes in the not too distant future, from bikes that can balance without your help to heads-up displays, so read on as we take a look at some of the best.
BMW Motorrad Vision Next 100
As you can probably guess from the incredibly futuristic looks, the BMW Motorrad Vision Next 100 isn't heading to showrooms any time soon, but it's still a great indication of the technology we can expect to see on future generations of bikes. The Motorrad is capable of balancing on two wheels without any assistance, and although it looks like there's a traditional BMW Boxer engine, the large cooling fins are actually just a design feature, with the bike instead powered by electric motors. BMW also sees helmets disappearing in the future, and the Motorrad Vision Next 100 instead offers a smart visor, also offering a head-up display.
Honda riding assist
If BMW's Vision 100 looks a little too futuristic, you'll be happy to hear that Honda has also been working on its own Ride Assist technology, and as it's fitted to a more conventional looking bike, we may not actually have to wait that long before it hits production models. Honda's technology avoids gyroscopes to keep the bike upright, instead offering the ability to make minute steering adjustments to keep both rider and bike perfectly balanced. Perhaps even more impressively, you can also call the bike to heel, with it silently following the owner. Granted, there's not many times you'll need that feature, but it could definitely help with parking or getting the bike into your garage, and it certainly looks cooler than a car that can park itself.
KTM E-Ride
As with other vehicles, it looks like electric power will play an increasingly important part in the future of motorbikes, and KTM's E-Ride is just one of the electric technologies you can already get your hands on. KTM currently offers two scrambler-style bikes in the form of the Freeride E-XC and Freeride E-SM, and both offer a host of benefits over conventional petrol-powered bikes. They're cleaner, cheaper to run and they're also a lot easier to ride, with no clutch to balance, no gears and no kickstart. You will have to get used to the silent running, however, while being aware that other people probably won't hear you coming.
Nuviz all-in-one Head-Up Display
Head-up displays have been associated with high-end cars for years, but now we're also starting to see them appear on more affordable models, and you can even buy an aftermarket system for your motorbike. Nuviz's compact headset fits to the outside of your bike helmet, and packs in a transparent eye piece where information is displayed, an HD camera and the ability to offer features like turn-by-turn navigation without having to take your eyes off the road. It comes with a handlebar-mounted controller, too, so you'll always be in control of your bike even when you're flipping through different options, which also include the ability to control music apps, to make and receive calls and capture recordings when you're on the move.
Zero SR
If it's an electric bike you want, you'll do well to beat the impressive Zero SR, which won Motorcycle.com's Best Electric Motorcycle of 2017 award. The 70bhp motors are not the most powerful, but with 116 lb-ft of torque available throughout the rev range and a 0-60mph time of 3.3 seconds, it's capable of replacing your petrol-powered bike in the fun stakes. A range of 80-100 miles may not sound fantastic, but should be more than enough for a Sunday morning blast, and it's great to see that switching to electric power doesn't mean you need to give up on speed.
So, if you're one of the many people who believe, in these cases, 2 > 4, don't worry that you're going to miss out on the big tech revolution coming to motorised vehicles!
Sign up for our newsletter
Why sign up:
Latest offers and discounts
Tailored content delivered weekly
Exclusive events
One click to unsubscribe