Thinking about converting to an electric fleet? Here's what you need to know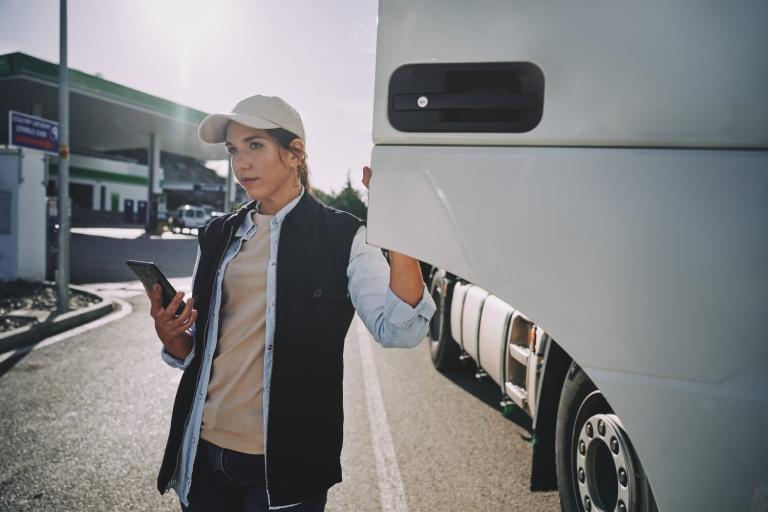 Saving money, as well as corporate social responsibility, is pushing more fleet managers toward adopting electric vehicles. But what factors do you need to consider before making the move?
The UK government announced last year that the sale of new gasoline and diesel-powered cars and vans will be banned from 2030.
It was as sure a sign as any that electric fleets are on their way.
Legislation along with government incentives and potential savings have motivated many fleet managers to want to go electric. But what do they need to know before they start?
This September, the 2021 EV Summit will bring together business leaders and others working on technology that will improve the uptake of electric vehicles, such as charging stations.
Ahead of that event, the EV Summit held a webinar recently exploring the end-to-end electric vehicle (EV) experience.
In partnership with HERE partner Geotab, it explored some important factors all fleet managers looking to go electric need to consider. While these are examples from the UK and different territories may vary, many of the same principles apply. We look at some of the key issues below.
This HERE-powered map of Europe shows charging station 'deserts', where range anxiety is still a real issue.
Cutting costs – the only consideration?
In most territories, there are government incentives available for buying electric vehicles. Poppy Welch, head of Go Ultra Low, a UK-based organization that advises on EVs, said it does not stop there. "We talk to businesses who see this as something of a marketing tool, as we move towards the 2030 targets. If you are seen to be the first, a certain customer set is interested in this," she said. The corporate social responsibility benefits can be at least as important. That said, the fact that an EV has far fewer mechanical parts means it is cheaper to maintain. Electricity is cheaper than fuel, and there are significant tax benefits. In the UK, for example, thousands of pounds are available to offset the cost of new vehicles. Any fleet driving in and out of London can save about 4,000 GBP per year on the congestion charge to enter the city center.
KEY TAKEAWAY:

Find out what it will cost you to buy and run an electric fleet before you invest. Go Ultra Low has a cost calculator which can help with this if you are in the UK. Consider less obvious benefits as well, including reputational advantages.
Diligent driving
To get the benefits out of an electric vehicle, good driver behavior is essential – and this might require training. Also speaking on the EV Summit webinar was Geotab's Associate Vice President for UK and Ireland David Savage. Geotab is a fleet tracking and management company that uses HERE data to provide its services. He said: "One of the key components of driving EVs efficiently is driver training. Harsh braking, harsh acceleration, speeding and using heater too much can affect it." Some bus companies have created league tables of their best-performing drivers to incentivize good habits. "We offer a driver scorecard which is something similar. A bit of gamification can have an upside, but there are some inherent risks," David said. A good idea is to consult trade unions before implementing this approach.
KEY TAKEAWAY: Factor in the cost and time it will take to train drivers and consider an innovative approach to encourage good habits. Consult employees in this approach.
Driver behavior has a big impact on EV efficiency.
Get the data
Some fleets may try to replace their existing fleet with EVs without looking at the data. This carries significant risk, not least because the range and payloads for these different types of vehicles are likely to be very different. Geotab's David Savage said: "Data is essential, especially for large fleets and those with mixed types of vehicle." Start by getting an in-depth understanding of your fleet's performance with a tool such as HERE Routing. Make sure you take a similar data-driven approach to your new EV fleet to get the best out of it.
KEY TAKEAWAY:
Understand the performance of your existing fleet first, then work out what you need when you make your transition to EVs.
This HERE-powered interactive map shows where charging stations are in the US.
Free range
Range anxiety is less of an issue than it used to be. "People are concerned about infrastructure, but that is improving all the time. We are already up to about 38,000 publicly available charge points which could be used by businesses," said Poppy, head of Go Ultra Low. Geotab's David Savage added: "One of the blockers probably even a year ago was range anxiety. That's been somewhat mitigated by the improvement in battery life, battery range and also the vehicle options on the market." Driver behavior also has an influence here. Tire pressure, for example, can affect the range of a vehicle. What is critical is for fleet managers to understand the route they need to take to be within range of charging points. A tool such as HERE EV Charge Points can help with this.
KEY TAKEAWAY: Routing can be different with an electric fleet than your existing fleet. Use technology to plan this, taking range into account.
Charging choices
How you charge your electric fleet will depend on the kind of fleet you have. "There is no one type of charger, and no one type of charging solution," according to James McKemey of Pod Point, which provides EV charging infrastructure. Speaking on the EV Summit webinar, he said what you choose will depend on the dynamics of the fleet. Companies can look at adding EV charging infrastructure to their own depots in cases where their fleet belongs to the company and not the driver. If the "dwell time" is at the driver's home, because the employee owns the vehicle, then it might be better to install chargers there. The most difficult problem to solve is those tradesman without off-street parking at home who drive to a different site every day. "Those vehicles are probably going to be the last to electrify," James said. Rapid curbside charging may be a solution in the future.
KEY TAKEAWAY: Calculate whether charging infrastructure will be necessary. Balance the savings you make on the vehicle and maintenance costs with any additional outlay on charging infrastructure, if necessary.
Gain greater control over your fleet management with advanced location algorithms today
Sign up for our newsletter
Why sign up:
Latest offers and discounts
Tailored content delivered weekly
Exclusive events
One click to unsubscribe