How drones are helping to rebuild the post-COVID-19 world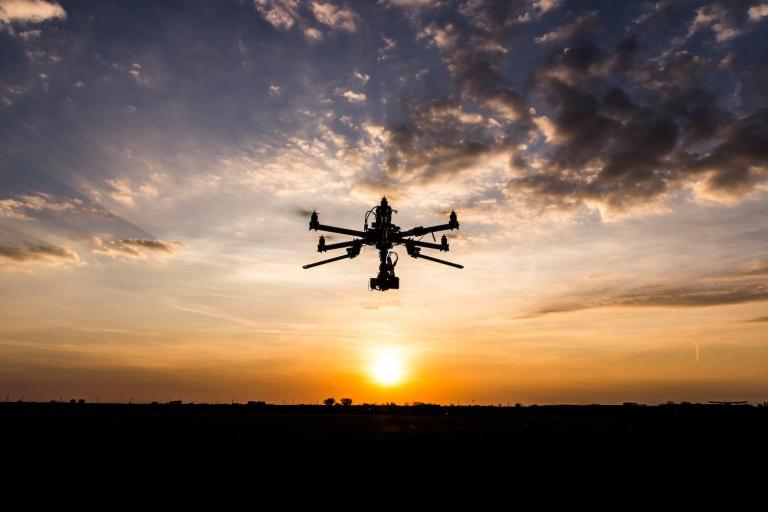 Once seen as futuristic, drones are being used to help prepare the post-pandemic world, from cleaning and infection detection to delivering vaccines and tests.
Drones have been boosted by the pandemic as an everyday solution to many of our challenges rather than a distant futuristic option.
COVID-19 has increased the need for contactless deliveries and services, especially when it comes to medical supplies.
This was the spur behind a trial in Angus, Scotland, where coronavirus tests were sent by drone from shore-to-ship.
The view from a drone – in a trial in Angus, Scotland, drones successfully delivered COVID-19 tests. Image credit: Neuron Innovations.
Project MediDrone, at Montrose Port, was conducted on April 29 by a consortium including London-based technology firm Neuron Innovations along with 'drone-in-a-box' provider Herotech8 and Flock, the insurance and risk management company. It was funded by Innovate UK.
Seven ship-to-shore deliveries of medical supplies took place, in weather that included hailstones, wind and rain.
"The idea was to prove that drones could be used in a medical delivery that could support the fight against COVID-19, and it was a success," said Operations Manager Amy Hollis, speaking to HERE360.
This is even more critical given that research suggests we are likely to have more pandemics in the future, Amy explained.
Sam Golden at Flock said: "Accessing the right kind of insurance is a key enabler for innovation which is often overlooked. We were delighted to help the team secure cover for this trial which paves the way for widespread use of drones for ship-to-shore delivery."
Neuron Innovations has developed an IoT technology infrastructure that enables the safe separation of aircraft. This is important because concerns about the safety of drones have often focused on how they share space with other aircraft.
Using sensor networks, Neuron Innovations is able to detect when other aircraft are nearby even when a pilot is not involved or unable to see.
The drones can then move out of the way of larger aircraft.
"What our technology does is it makes that safe, it makes it possible. And it also provides an unalterable audit trail," Amy explained.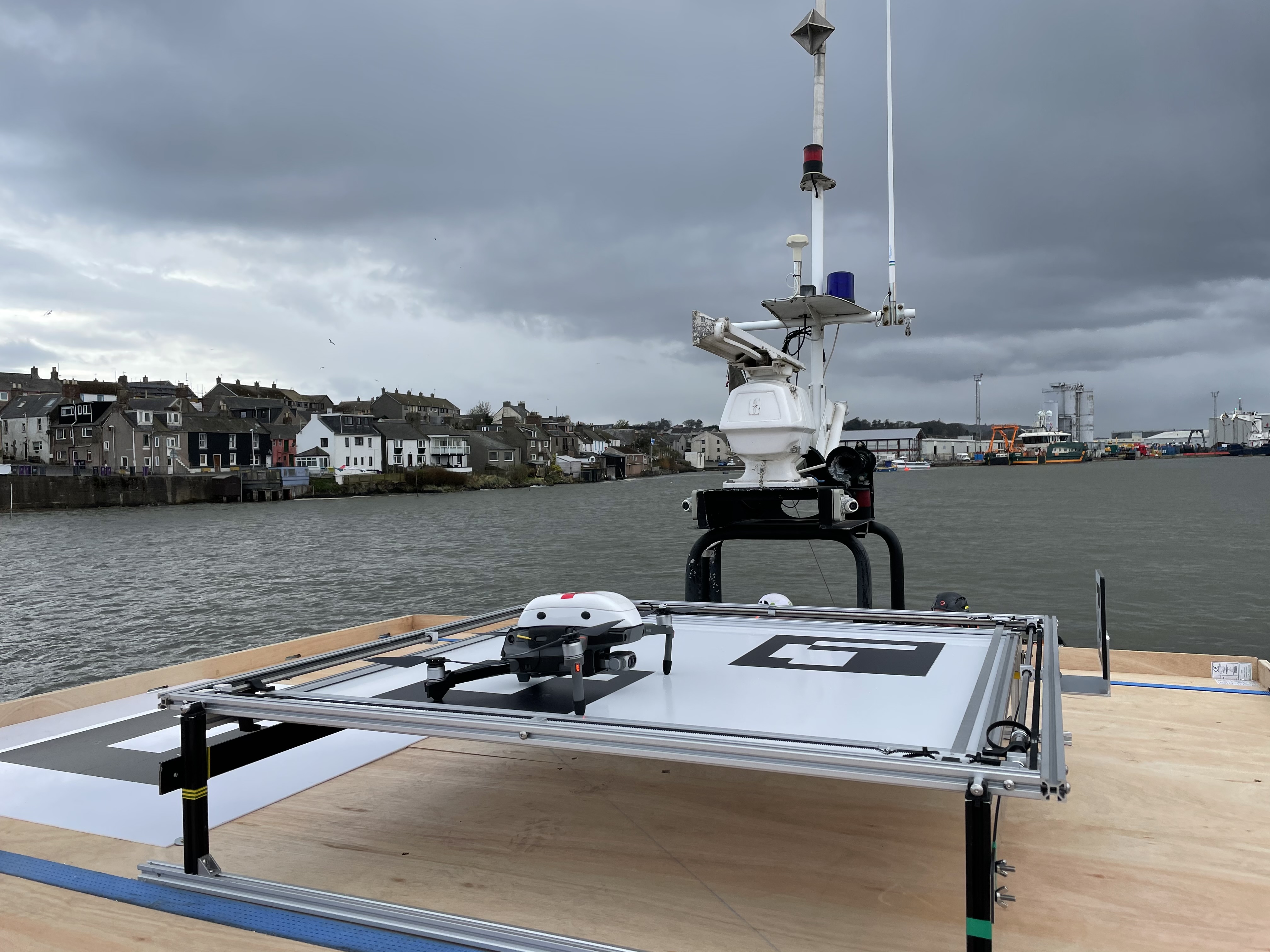 The drone prepares for take-off at Montrose Port. Image credit: Neuron Innovations.
Flying high
"Any craft using the airspace now has to effectively reserve a portion of airspace which other craft cannot then use," Amy explained. "Our different approach is also hitting the headlines with similar ideas in the USA, Australia and Poland as the missing piece of the puzzle to enable autonomous operations, but we are already deploying our approach in the field."
"We have set up our system so that it can be used by all sensors and all drones," Amy added. A trial of this technology at Cranfield Airport, UK, will follow the MediDrone trial.
HERE has been involved in mapping the airspace in Germany for autonomous drones, similar to the ones used in the MediDrone trial.
Already, the use of drones for all sorts of applications is becoming more common. Drones were recently used to deliver mail in the Isles of Scilly in the UK.
"It feels like the future," Amy said. "When it comes to a medical application, it's about speed. Drones are fast."
And there are lots of uses for the unmanned aerial vehicles beyond COVID-19. For example, to find out which urinary tract infection someone has, the sample must be tested while it is still warm. Because that is not possible for many living in remote areas, doctors often prescribe antibiotics until they find the right medication, leading to antimicrobial resistance. According to the WHO this could have a devastating effect by 2050 of 10 million deaths annually – much worse than COVID-19 today.
"In our tests with the drone, we could get the sample from the surgery to the testing lab within 30 minutes," Amy said.
Drones could also be deployed for rail or road surveying, or for crop surveys. This could save a lot of time and money in the long run, as well as protecting humans from the need to conduct dangerous surveys in remote or inhospitable areas.
They can also save fuel emissions since drones are electric and can be powered using renewable energy.
In-flight: as it happens
The port receives a call that a ship wishes to dock and resupply. During a pandemic, it is crucial to ensure that the crew are all healthy before arriving onshore. A drone is used instead of deploying a pilot boat, complete with crew.
The crew would usually need to climb up the side of the ship to deliver COVID-19 test kits, which takes time and carries a lot of risk. In between meetings and other tasks, the project manager can remotely pilot the drone, which is loaded up with testing kits.
Once the route has been set by the project manager, they can send the drone out to the ship using HeroTech8 software. The project manager keeps an eye on where other airspace users are using Neuron's software and, if needed, take action to avoid proximity to other craft.
Test kits are delivered, contact-free, within minutes. Once the ship's crew has passed the tests, the ship can safely dock and unload its cargo, resupplying safely and minimizing risk to port staff and civilians.
Drones around the world
The MediDrone trial is not the only recent example of drones being used to help people live and work safely as nations prepare for a post-pandemic world.
In the US, drones from a company called Draganfly were being used to monitor people for symptoms and social distancing compliance, although some privacy issues still need to be ironed out.
They can also be used to spray disinfectant and rid surfaces in workplaces of coronavirus.
North of the border, Drone Delivery Canada has been focusing on resupplying cut-off communities in the most remote parts of the country.
Lucid Drone Technologies has a drone that includes an expanded battery for longer flight times. It is able to clean 200,000 square feet per hour, which is at least 20 times faster than a human could clean the same area.
And Zipline is providing drones that deliver vaccines to remote areas, including across Ghana.
It is a form of technology in rapid transformation. But don't be surprised if you encounter one of these little aircraft performing an essential task in the sky near you soon.
Find out about our map content – industry-leading maps with over 900 attributes, powered by millions of data sources.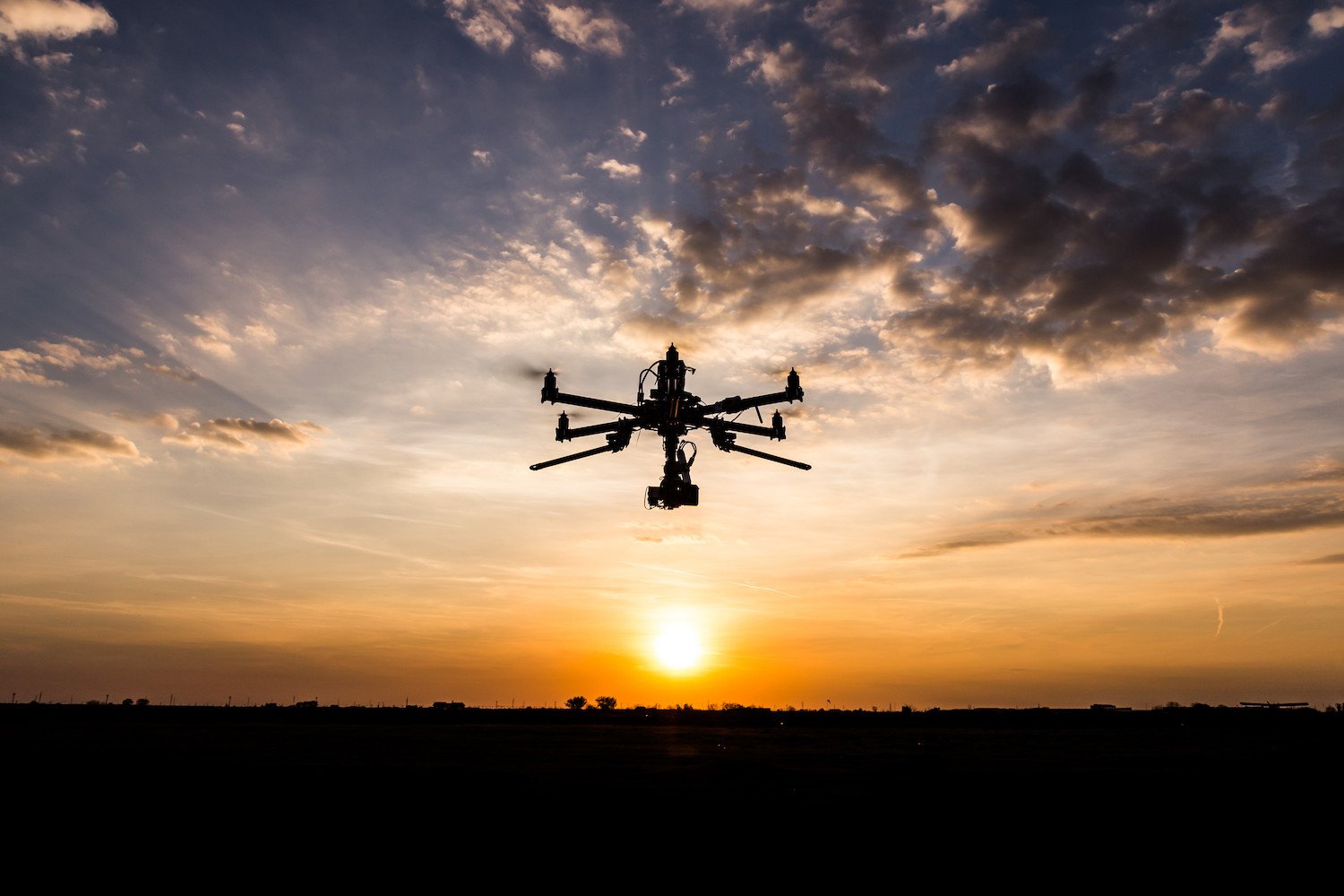 For further information about Neuron's IoT approach to data and safe airspace separation in the drone industry, please contact Amy Hollis
Sign up for our newsletter
Why sign up:
Latest offers and discounts
Tailored content delivered weekly
Exclusive events
One click to unsubscribe