December 2022 Platform Release Notes

Location Services APIs and SDKs: POI data enrichment
HERE has greatly enriched the number of standard POI categories exposed for our Map Rendering portfolio - from approximately 20 to over 400.  This directly benefits the following products: HERE SDK (Explore), Maps API for JS (Harp engine), Vector Tile API, HERE Style Editor. The new POI categories appear automatically in the individual products.

Routing API now supports polygons for avoid areas
In addition to the option to provide specific road segments or bounding boxes that should be avoided for a route calculation, customers can now also specify up to 20 polygons in a routing request. This allows a more precise and simple way to define areas that should be avoided.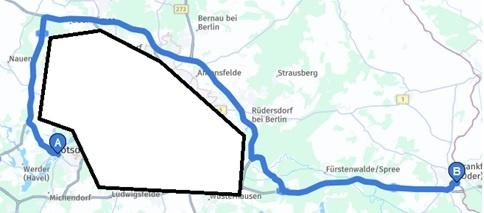 Improved isolines with new Bus and Taxi transportation modes
The Isoline Routing API now supports two new modes - Bus and Taxi - which take into consideration the specific driving behaviors when calculating isolines. With this enhancement, isolines reflect a more realistic area of reach for Taxi and Bus transportation planning.
Waypoints Sequencing now supports scooters and bicycles
The Waypoints Sequence API now supports Scooter and Bicycle transportation modes for calculating the optimal sequence of a multi-stop route.
Change notifications for interactive map layers
Interactive map layers now support subscriptions to programmatic change notifications so your services and applications can receive updates when feature changes are made. Please note the following:
This interactive map layer subscriptions functionality is different from subscriptions/notifications at the catalog level supporting change notifications for versioned layers.

Interactive map layers are not yet supported in China.
Improved Partner functionality - Parent/Child organizations &  Usage Manager Improvements 
Partners now have the ability to provide orgs (realms) to their end customers. By creating this functionality Partners can now create end customer orgs and provide access for their customers. 
Partners:
Partners will be able to create orgs for end customers via the Sales Portal. The sub org (realm) allows end customers and partners to track usage via the organization instead of depending on subscriptions only. 
Partners can view all sub organizations (end customers) via the new Customer Organizations page located in the account section of the Platform. This page stores organization name, org id and has a quick link to view customer usage in Usage Manager. 

Partners can manage and view their own usage as well as view and manage each end customer organization's usage; this is accessed 

via the new customer organizations page or directly from usage manager on the platform. 
Partners End Customers:
Partner end customers can now manage and create their own credentials, view usage, access/log support portal tickets, and manage projects.

 
Usage Manager:
Partners can now sort and view usage by end customer organization. 

All sub organization or partner end customer's usage will be tracked via their own organizations and is accessible via Usage Manager. 

Results section now includes 2 additional fields: "

OrgID" (for Partners only) and "

AppID"

Usage CSV columns have been renamed, reordered, and data has been cleaned up to improve functionality and readability. This is available for all customers & partners.
New Marketplace landing page 
A new Marketplace landing page now welcomes customers to the HERE Marketplace with suggested search terms, product categories, and featured products. 
Sign up for our newsletter
Why sign up:
Latest offers and discounts
Tailored content delivered weekly
Exclusive events
One click to unsubscribe