Why use offline maps and how to manage them in HERE for iOS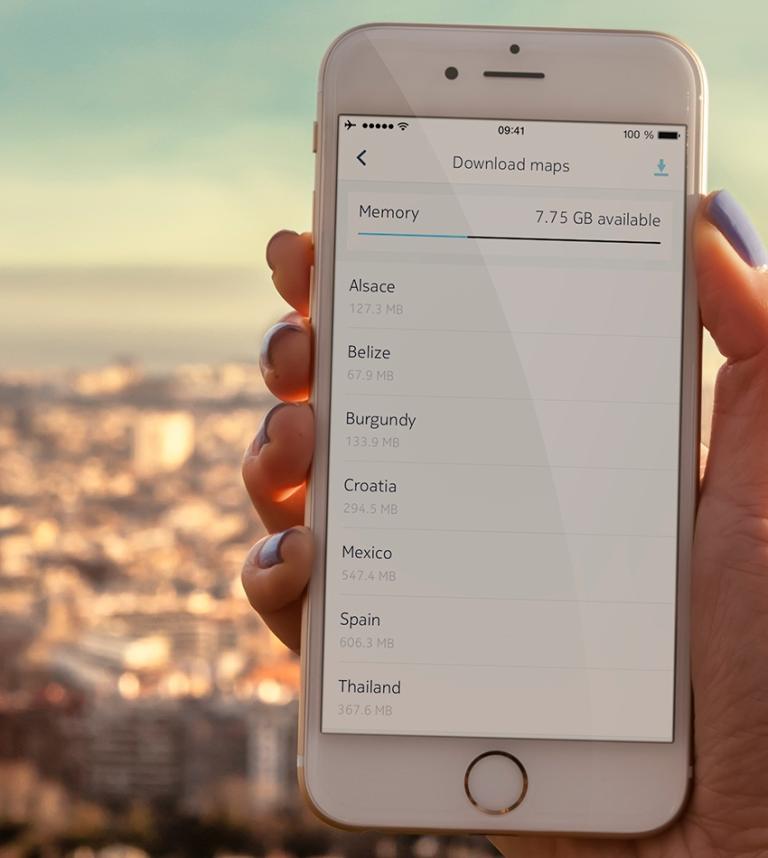 The ability to download maps and store them locally on your iPhone without having to pay a penny really sets HERE for iOS apart from its rivals, and it could save you a fortune if you travel a lot.
There are plenty of reasons to download HERE maps and store them on your iPhone, not least the fact you won't need an Internet connection to get around — even if your signal drops when traveling in remote locations, you'll still be able to depend on HERE to search for places, plan routes and navigate.
Throw in even faster mapping, with images loading quicker when you pan or zoom in, and HERE for iOS offers the perfect all-around package.
Going offline makes things a lot cheaper
Download the maps using your Wi-Fi connection when you're at home, and you won't get caught out by roaming costs when you travel abroad. Going offline also means you won't be using up your allotted data if you're on a contract with a limited amount of data.
Faster than The Flash
It's not just about cost, as our offline mode also boasts loads of other benefits. It's particularly fast to load, and because all the information is already stored locally on your phone, you won't need to wait while route information or map tiles download, even when you're panning or zooming the map.
There's no stuttering, no buffering and no chance of missing your turn while the connection catches up with your position.
No signal? No problem
Although an increasing number of underground transit systems are now getting Wi-Fi, there are still plenty that will leave you without any data, or with much slower data connections. Head out into the countryside, and there's a good chance you'll also take a hit when it comes to connectivity.
And although there may be more telephone masts in the heart of a city than in the countryside, that doesn't guarantee a good mobile reception: tall buildings can have an impact on your network connection.
With the maps on your phone, however, none of these problems will matter one bit, and you'll still be able to see exactly where you're going wherever you are.
Hybrids: offline maps plus live traffic and transit info
Just because HERE offers an offline mode doesn't mean you need to use it completely offline. It's possible to download maps to your phone, offering super-fast loading times, while at the same time benefitting from online features, like real-time traffic and transit updates, too.
If you'd rather stay offline at any cost though, simply tap the menu button and check the 'Use app offline' box. You won't get real-time updates, but you will be still able to search for places, plan routes, get turn-by-turn navigation and even transit connections (without timetables).
Your iPhone's battery lasts longer
One of the extra benefits from using HERE in offline mode is that limited or zero data requirements have the potential to get a much longer battery life from your phone. When you're making a long journey that could be the difference between arriving at your destination on time and seeing your phone die en route.
How to download maps on your iPhone
It's easy to download maps, too. Open the app, tap the menu button at the top left, and click 'Download maps'. You'll be able to view any existing maps on your phone, and you can also download maps for other countries by tapping 'Download more' and then picking the area you're interested in from a list made up of Africa, Asia, Australia/Oceana, Europe, North and Central America and South America.
You can download entire regions if you have enough space on your iPhone, although, with the likes of Europe taking up 9,255.6MB, it may make more sense to add the countries you're more interested in visiting.
You can also download specific states or regions for larger or more populated countries, so if the UK is too big at 658.2MB, for example, and you only plan to travel in Scotland, you'll be able to save storage space on your iPhone by simply adding the map of Scotland, which requires just 221.7MB.
As you can see from the screenshot above, different countries, areas and even states can differ hugely when it comes to size, so it's worth checking out how much space you've got on your iPhone before you start downloading.
Once you select an area or country, you'll be asked if you want to switch to Wi-Fi to save on costs. Click 'continue', and the map will be downloaded to your iPhone.
If you're running out of memory or your amazing journey in Patagonia has come to an end and you don't need maps for Argentina anymore, you can simply swipe left to delete a map you previously downloaded.
What maps have you been downloading lately? And which of the benefits makes the most difference to you? Share your thoughts in the comments section below.
Sign up for our newsletter
Why sign up:
Latest offers and discounts
Tailored content delivered weekly
Exclusive events
One click to unsubscribe