Illinois Institute of Technology's "Team SHAPE" Shines at the 2023 Vamos Hackathon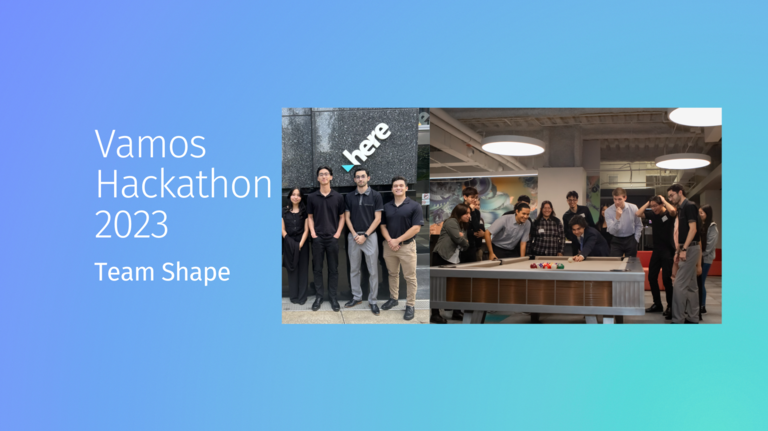 To celebrate National Hispanic Heritage Month, our Latinx employee resource group, Vamos, recently hosted its second annual Vamos Hackathon in 2023. As a proud Vamos Co-Chair of HERE Technologies, I was thrilled to see how this event created a space for Latinx undergraduate students in tech like myself to compete and showcase our talents. What made this year even more exciting was our partnership with General Motors (GM) Latino Network, focusing on electric vehicles and the consumer experience. Our mission? To use HERE Technologies to create a web application targeted at GM Electric Vehicle owners.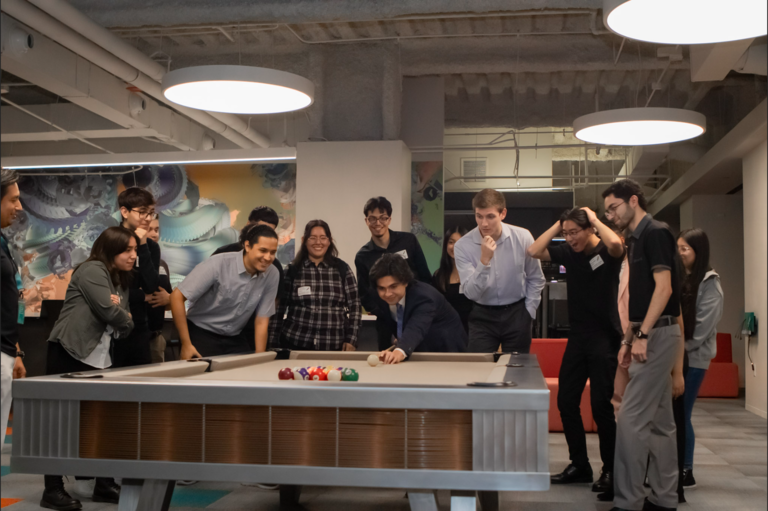 Vamos Hackathon participants in HERE Technologies office in Chicago
Vamos Hackathon
The Vamos Hackathon, hosted by HERE Technologies, has become an annual tradition that brings together undergraduate students from various universities and cities for an exciting virtual hackathon. Its key objectives include providing students with real-world software technology experience and valuable professional career insights. In fact, last year, several participants received internship offers from HERE Technologies, which goes to show the real-world impact of this event.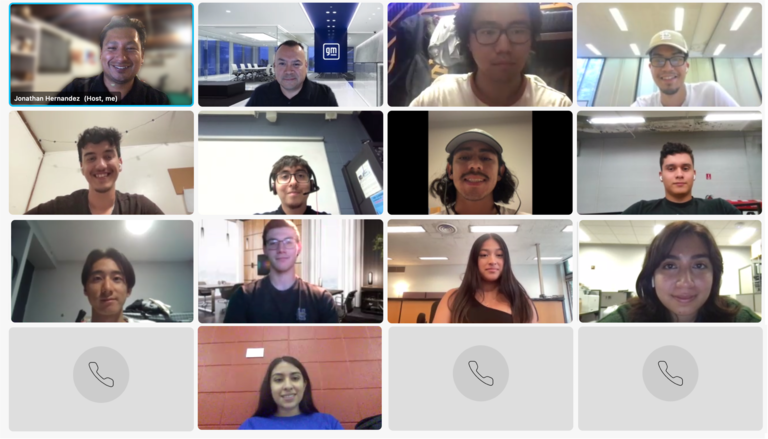 Vamos Hackathon participants during the virtual kickoff event with a representative from GM Latino Network
This year, in collaboration with our partners at GM Latino Network, we were able to offer substantial prize money: $1000 for the first place, $350 for the second place, and $150 for an honorable mention. With about 25 students in attendance and 6 impressive solutions submitted, we decided to interview the first-place winners, Team SHAPE from the Illinois Institute of Technology, to learn more about their all-in-one solution for electric vehicle drivers.
Now, let me introduce you to the first-place winners of the Vamos Hackathon 2023: Team SHAPE from the Illinois Institute of Technology. Their innovative all-in-one solution for electric vehicle drivers truly stood out.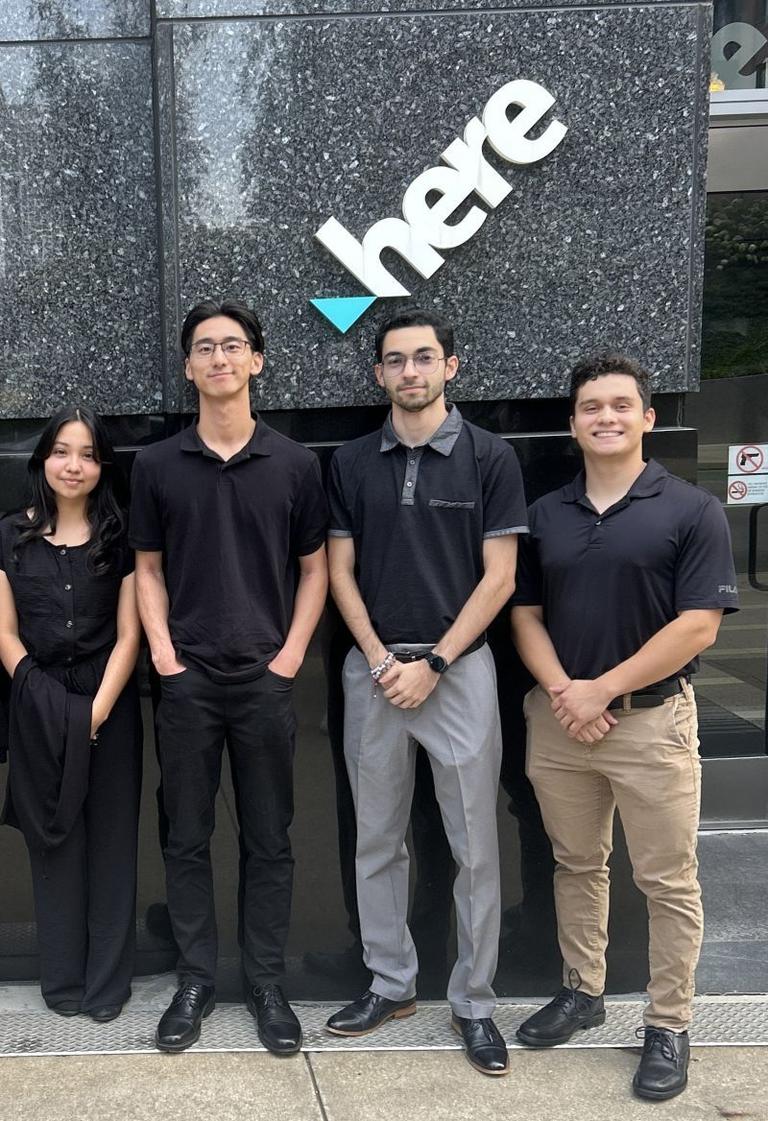 Team SHAPE in front of HERE Technologies office in Chicago
Team SHAPE
Team SHAPE consists of four talented students from the Illinois Institute of Technology, all of whom are members of a student club called SHAPE. Each member brings a unique perspective and passion to the team: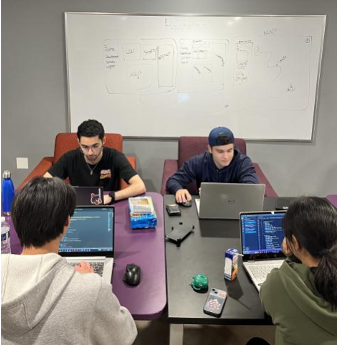 Team SHAPE is hard at work building the solution for the hackathon
Solution Overview
The goal of Team SHAPE's solution was to enhance the user experience for electric vehicle (EV) owners. They designed a comprehensive platform that allows EV users to track their monetary savings, environmental impact, provides efficient navigation, and fosters a social network of fellow EV enthusiasts. They achieved this by leveraging HERE Maps API for Javascript, incorporating data from HERE Geocoding and Search, and utilizing HERE Routing API.
Their solution comprises three main components:
Dashboard 

This component tracks cost and carbon savings from routes, visualizes savings through customizable charts, and offers eco-friendly tips. EV users can input specific vehicle details for more accurate calculations, and the dashboard displays how much money they've saved by using an EV and the grams of CO2 saved per month.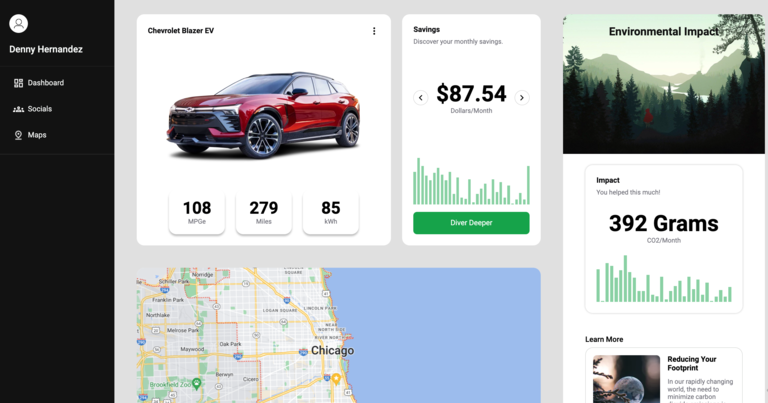 Social

The social component introduces friendly competition by challenging users to save more for the environment. It also allows users to connect with fellow EV drivers, compare stats and achievements, and share their journey towards sustainability.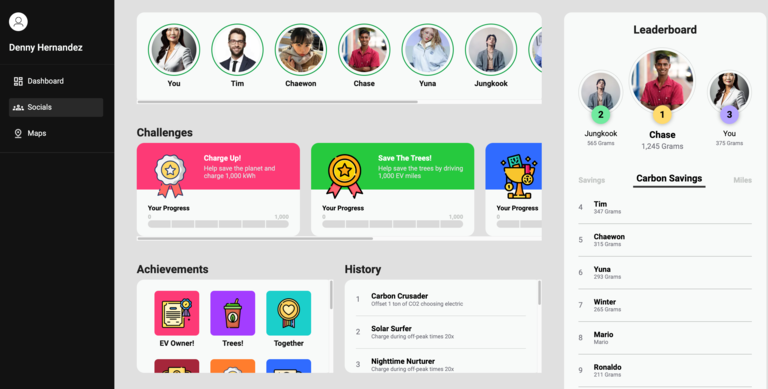 Navigation

Team Shape's solution includes a navigation component that allows EV users to input their origin and destination using HERE Geocoding and Search API. It then provides step-by-step directions using HERE Routing API, with markers showing the origin, destination, and possible EV charging locations. Users can also see the monetary and environmental savings associated with using an EV.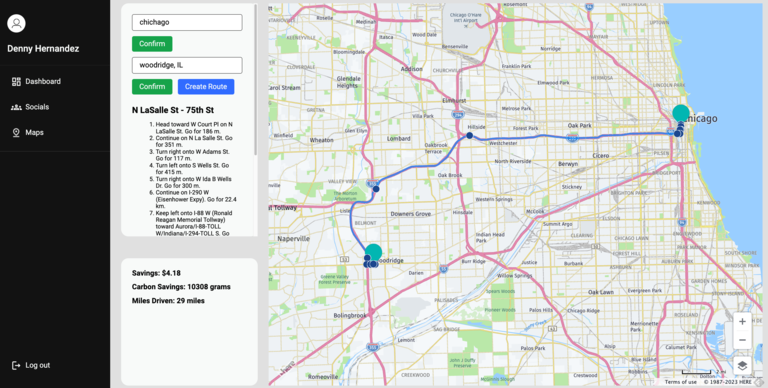 Closing Thought
The 2nd annual Vamos Hackathon 2023, organized by HERE Technologies and in partnership with GM, achieved its objectives with great success. I want to extend my heartfelt congratulations to all the participants and organizers for their incredible contributions and dedication. This event not only showcases the remarkable talent within the Latinx community in tech but also highlights the potential for innovation in the field of electric vehicles and sustainable transportation. Here's to many more successful hackathons and a brighter, more sustainable future!
Sign up for our newsletter
Why sign up:
Latest offers and discounts
Tailored content delivered weekly
Exclusive events
One click to unsubscribe