Our updated roadmap of France is the tool for your travels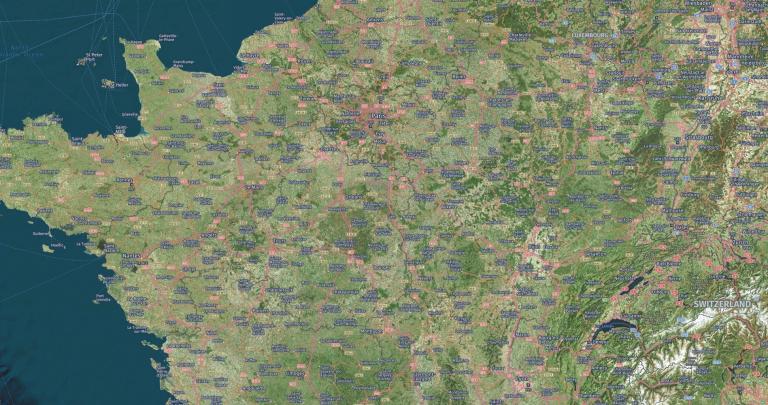 If you're traveling in France this year, either to enjoy the beaches of the south, the castles' route, or even just passing through, be sure to keep an eye on how fast you're going as French authorities introduce speed limit decreases on two-lane roads across the country.
According to the France Road Safety Authority, more than half of France's driving fatalities happen on two-lane roads without any separation between traffic flow. After several years of improvement, progress to reduce these numbers has been stagnant since 2014. In an effort to spur change once more, and with excessive speed being the main cause of these accidents, the French government is reducing the maximum speed limit on non-urban roads from 90km/h to 80km/h as on July 1, 2018. These routes account for around 1 million kilometers of roadways – roughly two-thirds of the total national network. Not only are they used daily by French citizens, but they are also the most common roads used by travelers heading off the motorways to explore rural areas of the country.

A massive map update project
Every HERE business customer is affected by the new legislation, as all car and truck drivers, people using HERE WeGo, and tourists need to rely on accurate speed limit indications on their map. With this in mind, we've taken internal measures to ensure that our map users have the safest trip possible.
Since the beginning of this year, we've been working to create logic that identifies the roads that would be subject to this speed limit reduction, leveraging HERE's extensive set of attributes. From there, we continuously received information from the French authorities about exceptions to the general regulation logic so that we can implement them into our products accordingly.
Beyond orchestration with public entities, we also regularly inform our business customers and partners using our French road network data. For instance, we worked closely with our partner Coyote, a leader in driver safety alerts, to ensure its community of more than 5 million drivers can rely upon a connected navigation engine with accurate and reliable road data.
Make it fresh
As the world changes so do we, and there are millions of changes made to our maps every day, with regular updates packages available for our customers. The new speed limit information is already part of our data base and will be included in the update that we'll make available ahead of July 1.
Speed limit changes are very dynamic and can be implemented in all countries. With HERE providing maps for 200 countries, our deep experience and well-tuned business processes handle such changes smoothly. This ensures that wherever you expect to drive, you can rely on the most accurate and up-to-date maps, so that you can have a good (and safe) trip!
Sign up for our newsletter
Why sign up:
Latest offers and discounts
Tailored content delivered weekly
Exclusive events
One click to unsubscribe