New Features from the Maps API for JS and SDK are now available in HERE Style Editor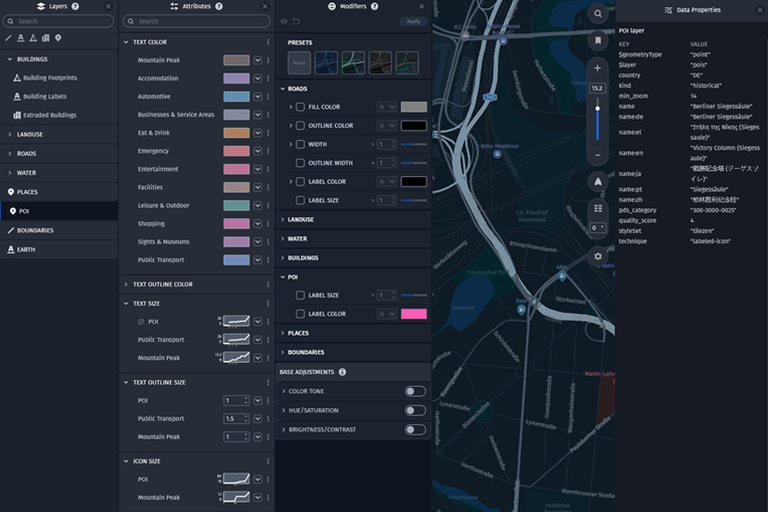 With Trixy Fey - Sr Cartography Design Manager
Note: HERE Style Editor is a web tool that allows you to create custom map styles. Style Editor is based on Maps API for JS (Vector Tile Service / HERE Optimized Map for Visualization (OMV) map data format; the style export itself can also be loaded in the HERE SDK Navigate / Explore (OCM / OMV map data format). 
New features have been added to HERE SDK & Maps API for JS that are now also exposed in HERE Style Editor v1.1.0. These features will allow advanced map style customizations. 
HERE Style Editor supports editing of visual features that have been unified between the native & web rendering engines, as well as between OMV & OCM data formats. More visual features will be added in future releases.
Display and styling of POI (Points of Interest) category label colors 
The Cartography team recently introduced color coded POI labels based on category grouping to improve map readability. Those are now available to modify and adjust.
If you have created styles, please update the existing POI label style as this feature enhancement will cause a fallback to default HERE values. 
Note: Exchanging icon graphics of the icon set itself is not possible yet via Style Editor but is on the application road map. See the available options below: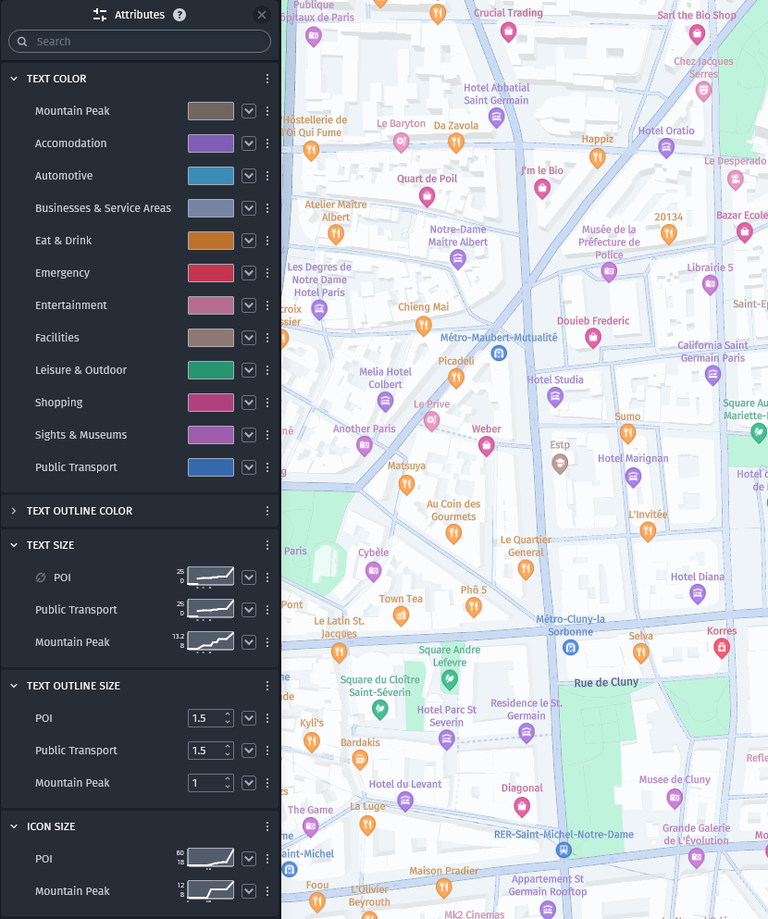 Display and styling of Ski areas 
New features that can be styled are chair lifts (lines, labels & direction arrows) and ski runs (lines, labels & direction arrows). The data is available for ski resorts in USA & Australia. 
You can use this camera bookmarks json file: skiareas_sample_locations.json 
This json can be imported directly into HERE Style Editor for quick navigation to some representative locations highlighting the new data. Example: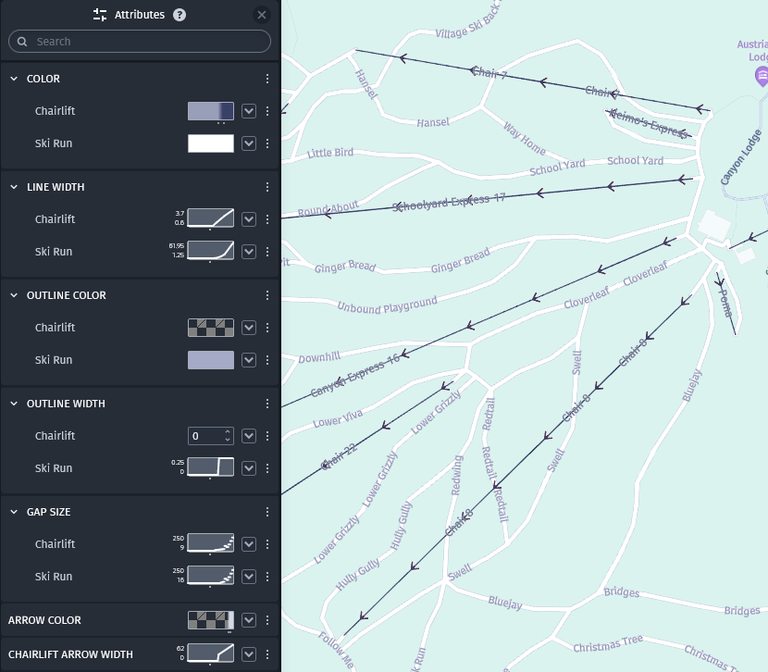 Display and styling of directional (one-way) arrows for roads   
Directional arrows have been added as a feature to Maps API for JS, bringing it to feature parity with the native HERE SDK offering. As a result, styling for the arrows has now been exposed also to users of HERE Style Editor.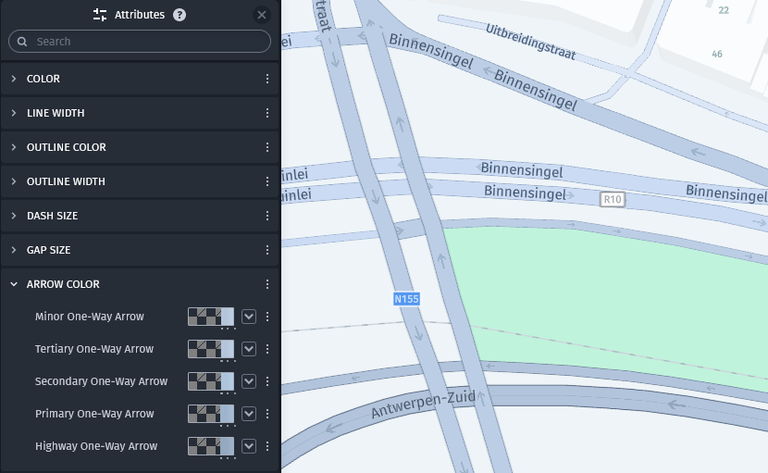 Support for display of VTS data properties per picked object   
After an object is picked you can enable VTS data properties to inspect the data (via Map Settings or CTRL & E). Below are two examples of POIs & highways. 
Please be aware that this only applies to the Vector Tile Service and HERE SDK Explore).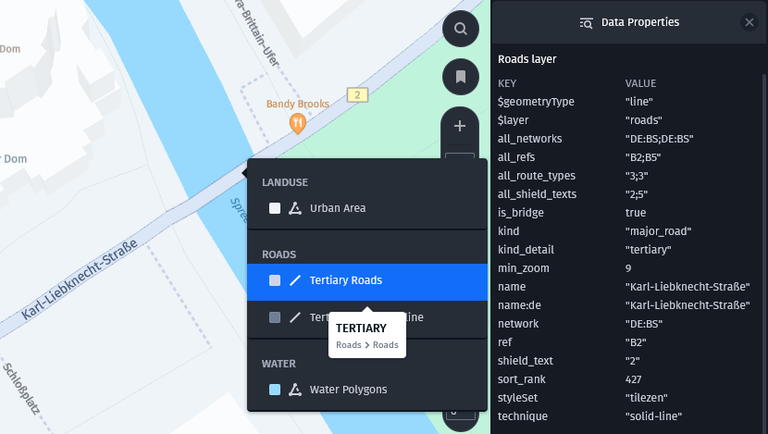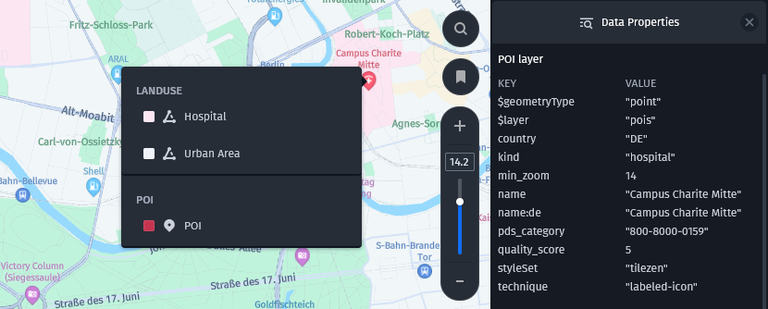 Additional Improvements at this release 
Display of country specific road shields and first technology preview of editing their visual representation 
Improved categorization of the road layers 
Improved the attributes panel filtering when map picking complex objects, such as POI icons 
Added CTRL+Alt+C and CTRL+Alt+V hotkeys for camera view state copy and paste 
Multiple touch-ups for the editor User Interface visuals 
What is next? 
The set of stylable map elements will gradually increase with future releases
New basemap styles will be available in the project templates, such as the much-requested hybrid map styles 
We are also planning a Map Stylathon for you to participate in. This will allow the product team to learn from you about your experience and assess product functionality. Winners will be awarded a prize. Stay tuned for more information on this in the coming weeks! 
Links & Support 
Sign up for our newsletter
Why sign up:
Latest offers and discounts
Tailored content delivered weekly
Exclusive events
One click to unsubscribe