MV Agusta's connected bike app revs up the riding experience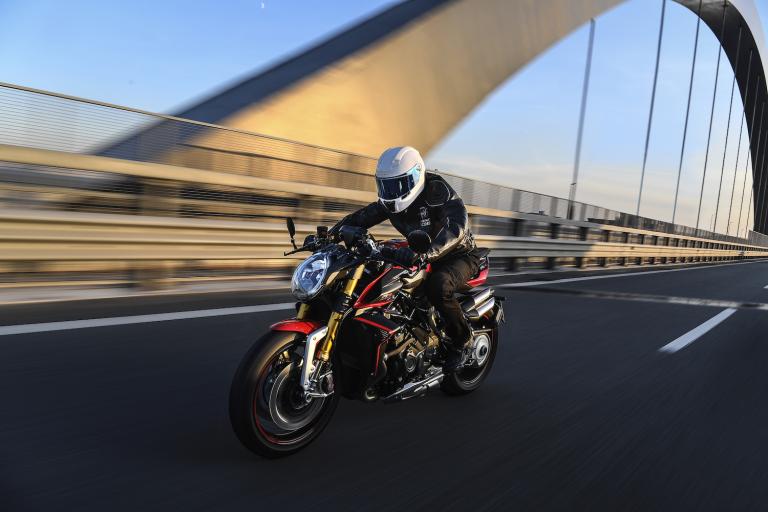 What's cooler than riding a motorcycle? Riding a connected bike with app-adjustable engine settings and shareable itineraries.
There's a new lineage of motorcycles upon us and with them, a new generation of motorcycle riders.
It might be that leather jackets, "Beast Mode" and dark helmets are now less about "tough-guy" attitudes and more connected with innovation.
Today's generation of motorcycle drivers is interested in technological advancements in the motorcycle industry and less concerned about loud engine parts and chrome finishing, although those are still cool. According to Statista, 70% of new light-duty vehicles are connected – which is leading to exciting developments.
In June 2020, Italian motorcycle brand MV Agusta announced a new rider-focused integrated app called, MV Ride. The app marks MV Agusta as a leader in digital motorcycle services as it enables users to personalize almost every element of their motorcycle in harmony with their on-bike navigation system, while also staying connected via their mobile app.
Something other bike companies have yet to achieve.
MV Ride features HERE's navigation tools and is currently available for MV Agusta's Brutale 1000 RR and Brutale Serie Oro models; RUSH 1000; Superveloce 800 and Superveloce 800 Serie Oro, with the long-term goal of making the app compatible for their entire ridership regardless of make.
HERE360 chatted with MV Agusta's Stefano Voltan and Andrea Fondrini to get the scoop on how MV Ride will take motorcycles into the future of mobility.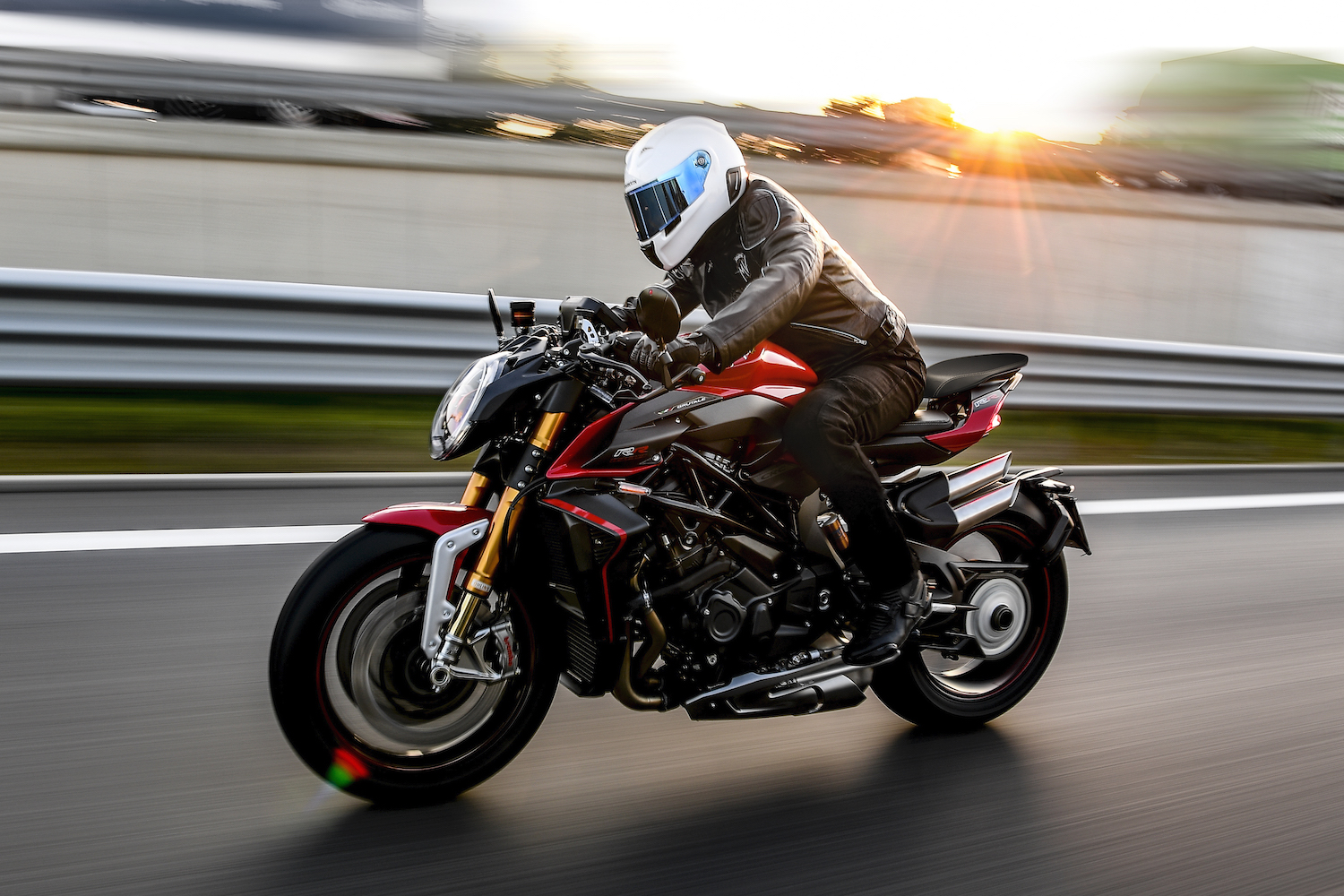 "Using the connective services as a motorcycle rider [on the bike] is even much more [important] than those using an automobile. If you think about weather, for example, it's crucial [to check] when you go out with your bike. If it's raining when you are in your car it's not a problem, for motorcycles, it is," said Stefano Voltan.
Innovation in their veins
From their earliest beginnings in 1907 as a manufacturer of airplanes under the name Agusta Aeronautics Company, being a leader in technological advancements was a priority for the company.
Thus, the MV Ride app opens a new chapter in motorcycle technology and gives the company a highly competitive advantage in the field of connectivity.
In 2020, being in a moving vehicle of any kind is no excuse to lose connection, and consumers have increasingly come to expect driving to be more than getting from one place to another. With the app's integration and high level of connectivity via Bluetooth, MV Ride is taking an important step towards online experiences not only in the motorcycle industry but in the up-and-coming "mobility ecosystem" as a whole.
"We started with the Brutale 1000 Serie Oro because it's a brand-new product for 2020 and it's the first connected bike for MV. You can literally control any electronic parameter of the motorcycle from the map to the suspensions, to ADAS intervention level," explained Stefano Voltan.
"MV Ride is just the beginning of an asset that will benefit the range of all our products."
— Stefano Voltan
Many features that make the app unique.
It's built directly into the motorcycle itself and accessible to the user via their smartphone or the motorcycle's large info-dashboard which is installed directly on the bike.
This means that users can communicate with their motorcycles directly through the app, setting MV Agusta apart from other manufacturers. Voltan explains: "The integration between the smartphone app and the bike is innovative... We thought about how to make people interact with the bike rather than how "standard" features like a Bluetooth headset or a music player could be mirrored on the bike. The integration itself is designed to enhance the user's control over the bike... For MV Agusta, being a performance-oriented brand, this is important because our customers are not looking for the average bike... they are looking to feel like they have a unique product in their hands."
And, this is in keeping with MV Agusta's overall commitment to the people they serve. Their website states, It is not technology guiding their hands, but their hands guiding technology.
More than navigation, it's an "engine map"
Featuring HERE's Navigation on Demand and Mobile SDK, the MV Ride app is scalable, offers Over-the-Air updates and can support a wide range of customizable, connected services. "At the moment we are offering the basic HERE integration system, with [map and routing] directions right on the dashboard. The idea is to...build upon it, adding other HERE services including Weather, Offline Maps, Traffic and Speed Limits...," envisioned Voltan.
While HERE's navigation guides riders using turn-by-turn voice instruction, the MV Ride app and dashboard offers more than just GPS.
Using their smartphone, riders can plan a bike trip using routes while simultaneously programming personal bike settings including engine features, traction control, ABS, suspension, fork and even steering settings. Then as they take photos of the passing landscape or favorite rest spots along the way the user can upload and share them with the MV Ride app community, categorizing each trip according to date, location, and the specificities of the bike.
Connect to the road in a whole new way
The MV Ride app is divided into three sections:
My Bike: Personalize every detail from the "engine", "suspension" and "safety" menus. It also provides access to data such as battery charge and fuel level, through Bluetooth. The user can save up to 10 configurations, recalled "at the touch of a finger".
Itineraries: Perfect for planning trips and group navigation. Save itineraries for future use, which you can share and receive from other MV Ride users. Using the HERE location platform to set and visualize the journey, you can also receive guided, turn-by-turn navigation on the larger, TFT [thin-film-transistor] color screen installed on the bike.
Trips: Collect ride data from past journeys including specifics like lean angles, gear shifts, throttle and other data recorded and associated to the trip. Users can even add photos taken during specific rides to complement the data, and then share them through the app.
Every automotive manufacturer today has an associated app but not all of them use HERE Mobile SDK which enables MV Agusta to create unique mobile experiences by constantly enriching and updating features for their customers; adding more connectivity options that, in turn, make MV Ride more sophisticated and competitive. In combination with the ability to customize the motorcycle's core mechanisms, resulting in a motorcycle that feels built to the individual, MV Ride is a new contender in the field of connected driving experiences.
"The connected bike is relevant to our customers because this is what MV Agusta has always been doing, to be exclusive...just like car ownership is no longer just about parts, it's about services and becoming leaders...This is only the beginning," concluded Voltan.
Enhance apps with rich maps and location context using HERE SDK.
*Stefano Voltan and Andrea Fondrini were interviewed May and July 2020
Sign up for our newsletter
Why sign up:
Latest offers and discounts
Tailored content delivered weekly
Exclusive events
One click to unsubscribe