Global Fusion Team Triumphs: Innovative Approach to Disability Data at MobiDataLab Datathon 2023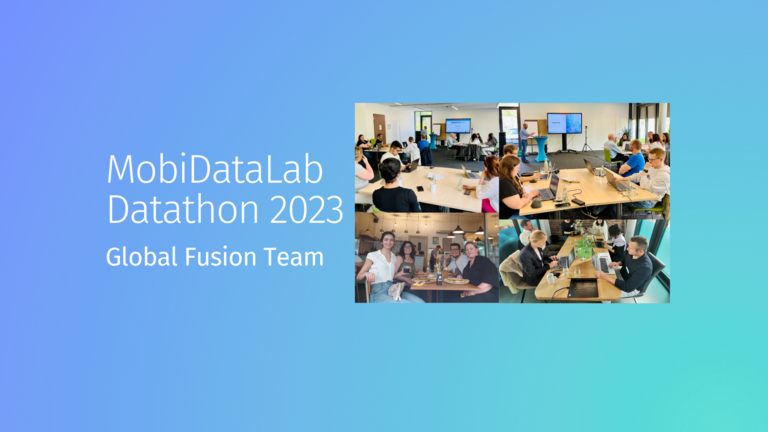 HERE Technologies organized the MobiDataLab Datathon that took place from May 15 to 16, 2023 to support the enablement of mobility data sharing and usage. MobiDataLab is funded by the EU under the H2020 Research and Innovation Programme to improve the findability, accessibility, interoperability, and reusability of mobility data. Through 3-instance competitions, Datathon, Hackathon, and Codagon, the project aims to help new services and tools emerge, which will improve mobility services in cities. Read the event report here.
In this blog, we showcase the winner of the MobiDataLab Datathon 2023, Global Fusion Team with their solution 'an environmental approach to disability data'.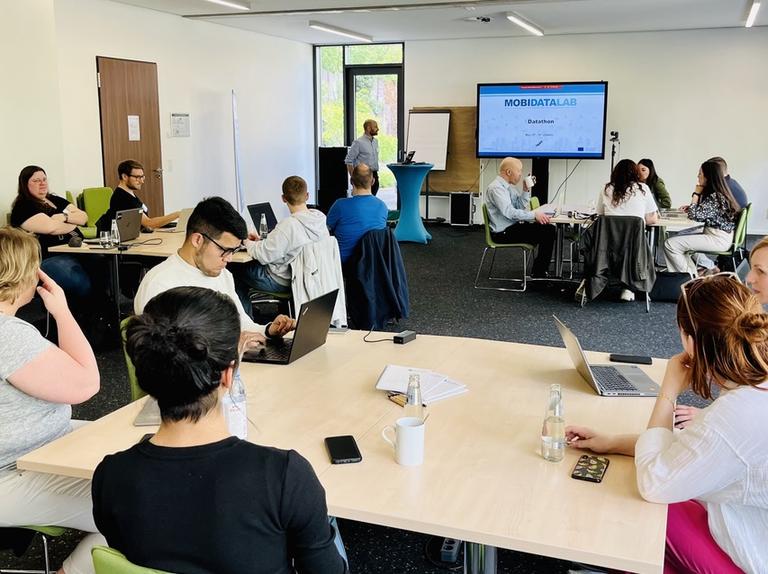 Johannes Lauer (HERE Technologies) presenting in front of MobiDataLab Datathon participants
MobiDataLab Datathon
The Datathon was the first event within the MobiDataLab's Living & Virtual labs, where participants, analyzed the gaps and built bridges to break down barriers and enable EU-wide sharing of mobility data. It was hybrid, open to participants from any EU Member State and H2020 Associated Countries.
The Datathon's key objectives are data analytics for mobility data provided by the MobiDataLab partners and Reference Group members, the development of related services, and improving the usage of sharable datasets within mobility-related challenges of cities and other stakeholders.
About 70 people attended and 11 solutions were submitted, and we interviewed the overall winner, Global Fusion Team with their solution 'an environmental approach to disability data'.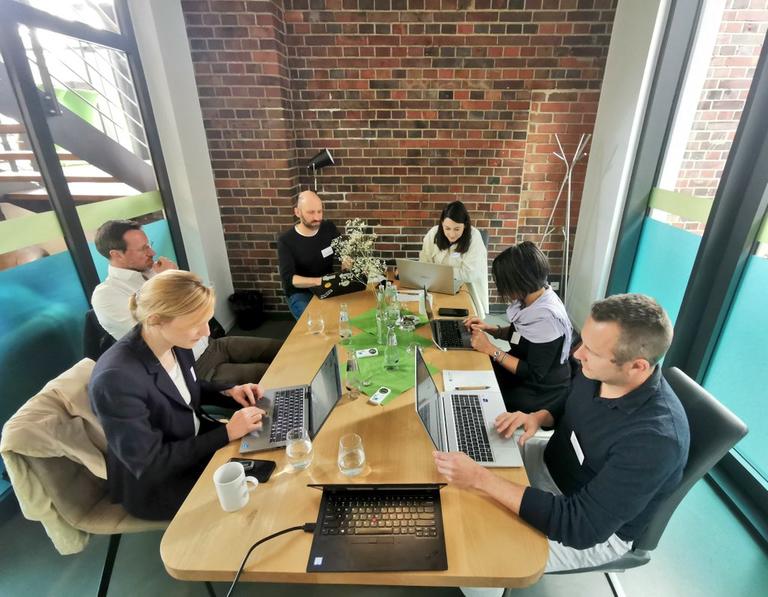 Ferdinand Burgersdijk, Tu-Tho Thai, Lucie Kirstein, and Stijn Vernaillen, along with independent experts and MobiDataLab partners, evaluated solutions from the datathon. They deliberated on winners and allocated prizes to aid solution development. The assessment included input from HERE Technologies, AETHON Engineering, Akkodis, Hove, F6S, and POLIS for a comprehensive perspective reflecting the jury members' profiles.
The Global Fusion Team
The Global Fusion Squad team formed organically onsite and consisted of a diverse group of people in terms of background and nationality.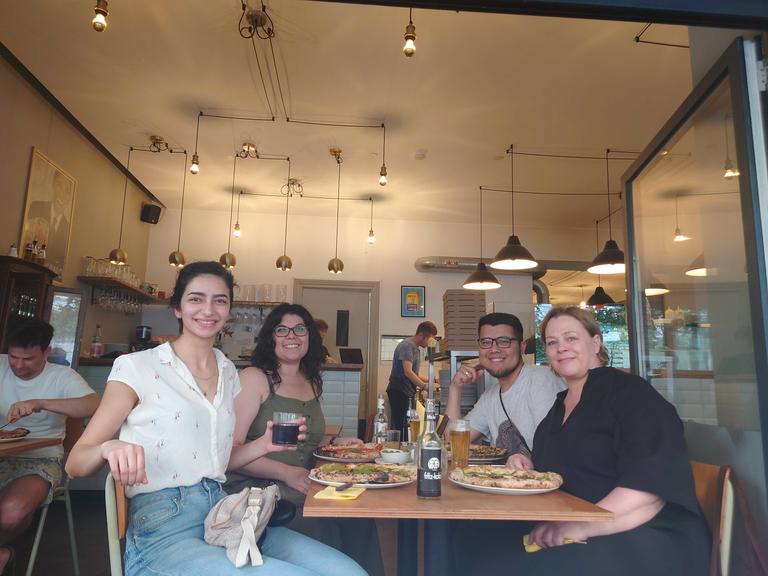 The Global Fusion Squad team enjoying some pizzas and beverages after 2 days of hard work at the MobiDataLab Datathon.
Solution Overview
Approaching the absence of disability-related data from an environmental perspective, they delved into the socio-economic demographic dataset provided by the City of Milan. However, they encountered a notable gap concerning the specific experiences of individuals with disabilities in utilizing mobility solutions. In response, they creatively harnessed the available datasets, which encompassed aspects such as individuals aged 80 or older living alone, disability-related considerations, six distinct areas, and four distinct metrics.
The outcome is captured in this in-depth analysis, utilizing datasets from Comune di Milano: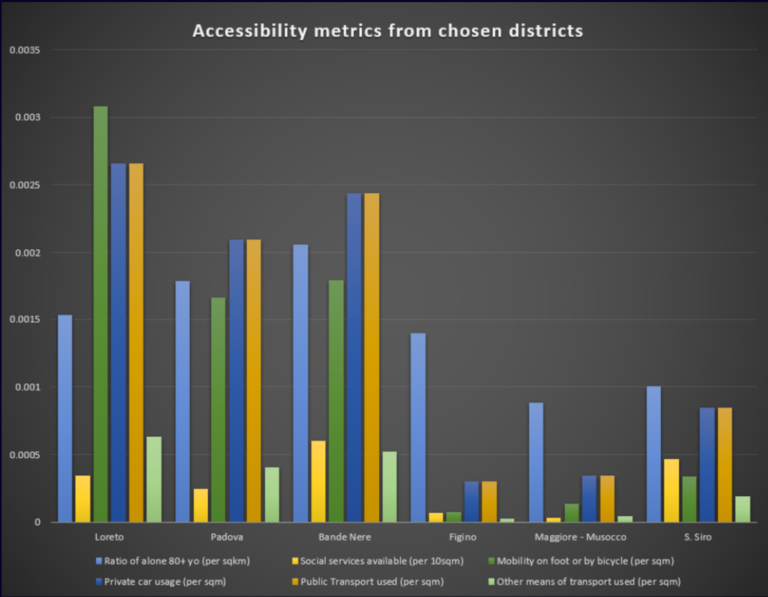 Below are some of the Python scripts that were used in the analysis. 
The number of people of age group 80+ living in different neighborhoods throughout the year

        demographic_df[['Year', 'Neighborhood', '80 and over living alone']].pivot(index='Neighborhood', columns='Year', values='80 and over living alone')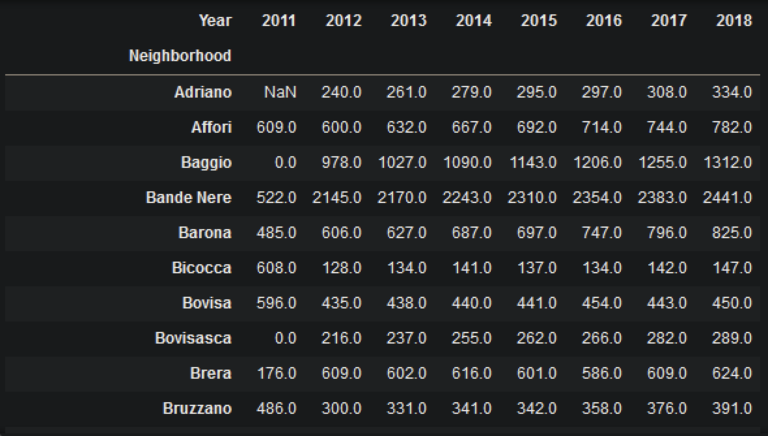 The ratio of transport usage value by neighborhood.

        area_transport_usage_df[(area_transport_usage_df['Prevalent means of transportation'] == 'Mezzi pubblici') & (~area_transport_usage_df.index.str.contains('Parco'))].sort_values(by='Ratio', ascending=False)
  
Closing Thoughts
Uncovering the foundational principles of sustainable and inclusive mobility, viewed through the perspective of the most marginalized, underscores the importance of people-centric urban design. This serves as a pivotal foundation for shaping the trajectory of our urban encounters in the times ahead.
The MobiDataLab Datathon 2023, organized by HERE Technologies, achieved its objectives with success. Congratulations to all participants and organizers for their contributions and involvement.
Sign up for our newsletter
Why sign up:
Latest offers and discounts
Tailored content delivered weekly
Exclusive events
One click to unsubscribe