May 2021 Release Announcement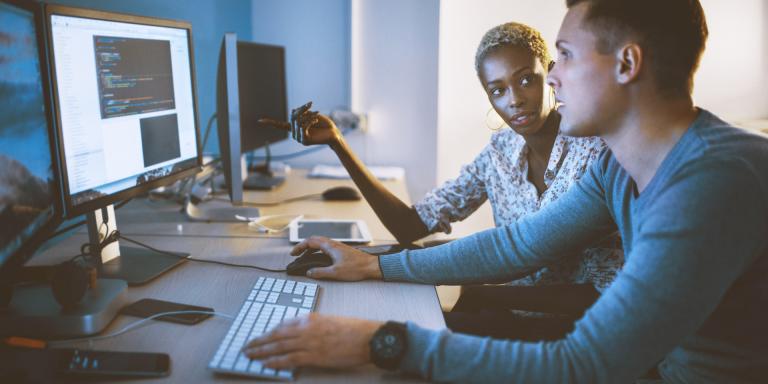 Highlights
New aligned release communication covering all HERE platform products
For better discoverability of new features across the platform, we are bringing together the release announcements covering Location Services, HERE SDK, Workspace, Studio, and Marketplace. We will typically publish the blog announcement and send the email in the third week of the month.
Location Service customers may notice that the time frame we report about has shifted. In the past, we communicated changes that happened in the last calendar month. In the revamped communication we report important changes since the last announcement.
Workspace and Marketplace customers will notice that the announcement versioning that they may have become accustomed to will be dropped. We will simply call it by the name of the month. The Data SDK for Java and Scala will continue to carry that version numbering for the purpose of dependency management in form of the Bill Of Materials (BOMs) files. You will also notice that we have slimmed down the announcement to focus on the big changes. From now on, detailed changes, deprecations, and known issues of Data API, Pipeline API, and Marketplace will be published in separate release notes. Like for all the other APIs, you can find links to these release notes at the end of this post.
Improve localization in your client via the new HERE HD GNSS Positioning & HERE A GNSS Positioning API
The new HERE GNSS Service is offered for various types of client devices to make it possible for them to:
Shorten the time needed to get the first GNSS-based position estimate both

in online

and offline mode.
Achieve continuous position tracking with much weaker signal levels both in online and offline mode.
Reduce power consumption by reducing the time it takes to calculate the current position both in online and offline mode.
Improve the overall GNSS position estimate accuracy to sub-meter range in online mode.
Inspect 3D data and inspect multiple layers at the same time
Data Inspector, the platform's tool used to inspect data exactly as it is stored in our versioned and volatile layers, and its accompanying Data Inspector Library, which allows you to configure the tool for embedding in your own web applications, is adding two new features. It now supports visualizations in 3D, which means that the map can be tilted. Further, the user can choose to project all 3D attributes, like elevation, height and altitude, to be represented by GeoJSON's altitude (for example through the use of the rendering plugin) and viewed in 3D-space.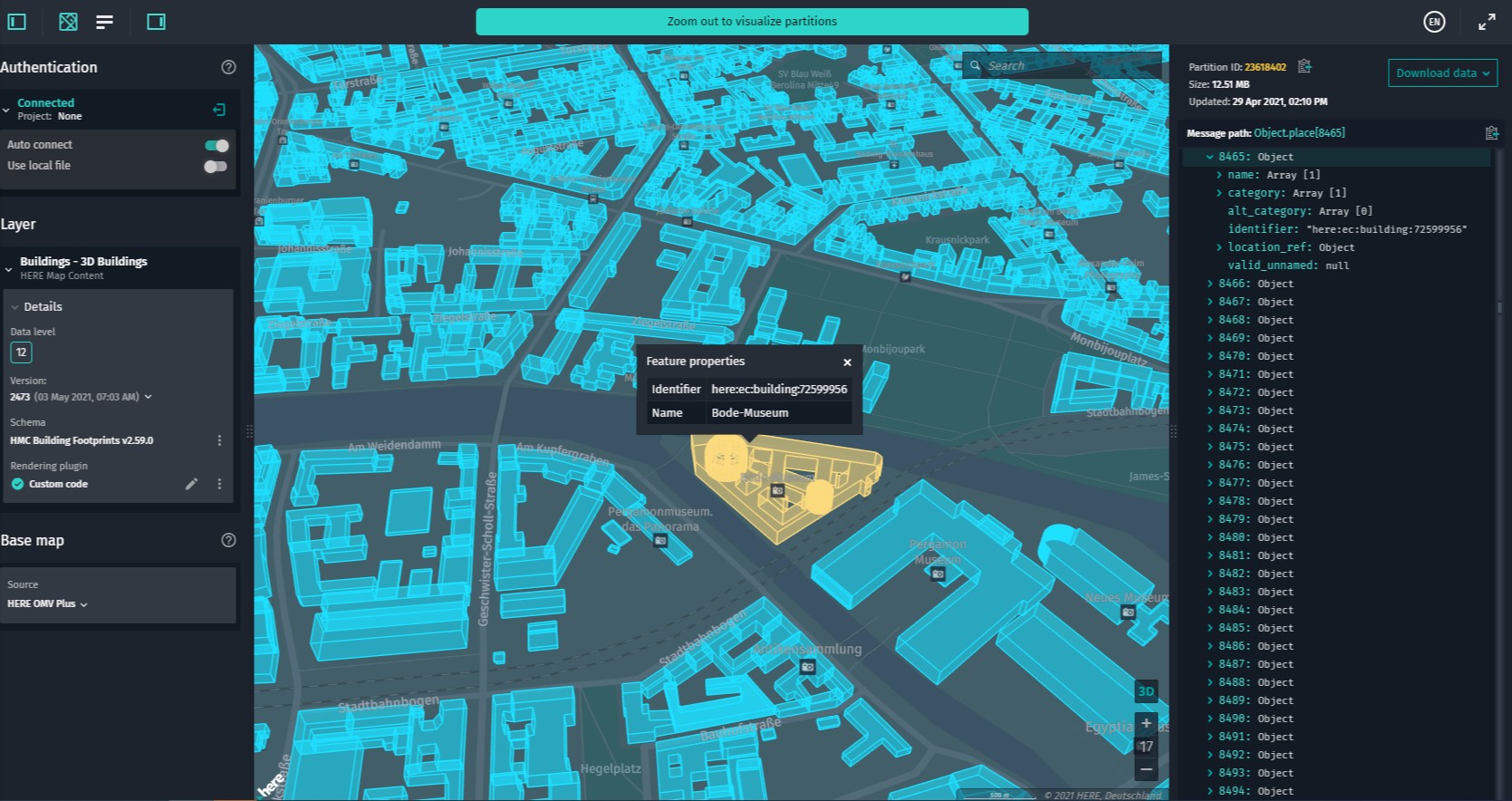 Also new in Data Inspector is the ability to show multiple layers. You can now add multiple versioned or volatile layers so that you can compare different data sources visually on the map. You may also import local partition layers or local GeoJSON files as an extra layer. Every layer will automatically be assigned a different color, which then can be customized by the user. Try out 3D and multi-layer support on https://platform.here.com/data-inspector.
Find a route indoors with HERE Maps API for JavaScript
The HERE Maps API for JavaScript supports the integration of Venue Maps for map display. With the latest release, the integration of indoor routing enables the calculation of the route within private and public venues. Read more ...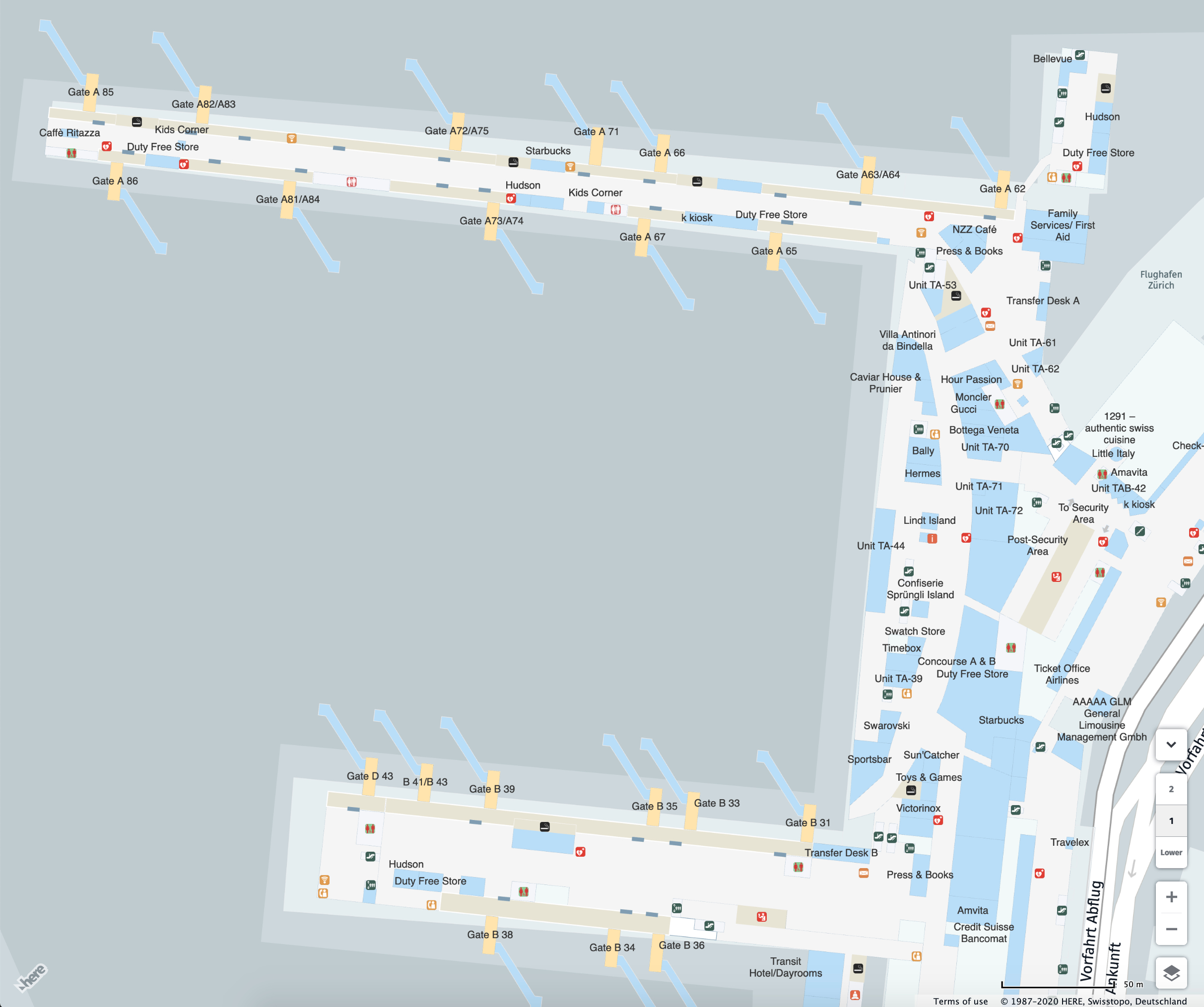 Browse and subscribe to HERE map data products and rich location content data in Marketplace
Marketplace Consumers can now search, browse and subscribe to HERE location-based data products being map data and content offerings on HERE Marketplace.
The map data is supported in specific file formats, such as Relational Database Format (RDF), NAVSTREETS Shape and File Geodatabase (FGDB) formats. Additional content offerings are supported in further formats, e.g., XML, SVG, as applicable. For details, please check the individual Marketplace listings. The data is available on request via subscription to the individual listings on Marketplace. Once entitlements are granted, Marketplace Consumers can download this content through the Download Center on the HERE Platform, via bulk data transfer.
For existing customers using the Download Center the download user experience remains unchanged as well as their existing ordering logic is kept.
The initial introduction includes the following 25 Marketplace listings:
HERE 2D Landmarks

HERE 3D Landmarks

HERE Census Boundaries

HERE Census IDs

HERE Commercial Vehicle Regulations

HERE Digital Terrain Models

HERE Elevation Contours

HERE Environmental Zones

HERE Geodata Models

HERE Maneuver Assist - Advanced 2D Generalized Junctions

HERE Maneuver Assist - Advanced 2D Generalized Signs

HERE Maps

HERE Natural Guidance

HERE Places

HERE Premier 3D Cities

HERE Recreational Vehicles

HERE Road Curvature

HERE Road Elevation

HERE Road Roughness

HERE Signs, Signals and Warnings

HERE Speed Limits Static

HERE Toll Costs Static

HERE Trucks

HERE Vehicle Regulations

HERE Voice Phonetics
Changes, additions, deprecations, and known issues
This blog post focuses on highlights. However, a lot more has happened since our last announcement. Our APIs, SDKs, and tools publish their detailed API level changes in form of changelogs or release notes. For the recent changes, refer to the corresponding changelog or release notes directly:
HERE Map Rendering

HERE Geocding & Search

HERE Routing

HERE Real-time Traffic

HERE Transit

HERE Positioning

HERE SDK for Android

HERE SDK for IOS

HERE SDK for Flutter

Tools

Data SDKs
Sign up for our newsletter
Why sign up:
Latest offers and discounts
Tailored content delivered weekly
Exclusive events
One click to unsubscribe