How we built a map showing UK's top 'Zoom Towns'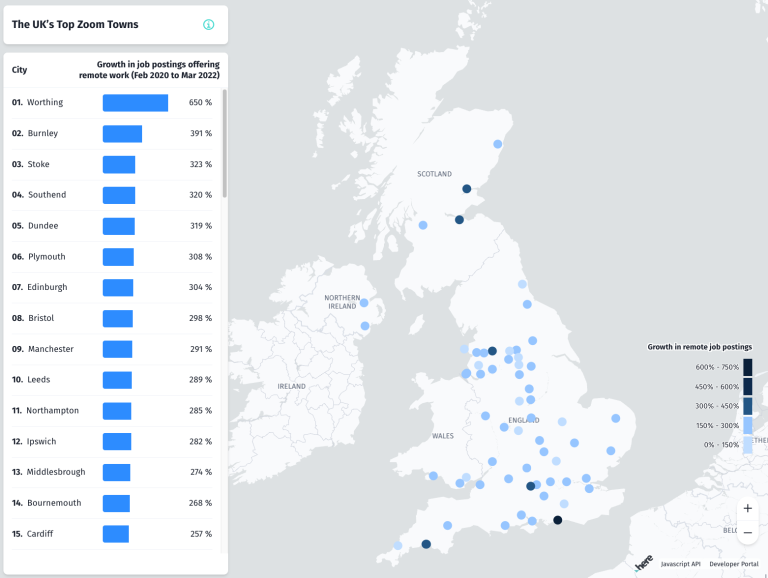 If there is one thing we have learned through this global pandemic, it's that remote work is not going anywhere. In collaboration with Indeed.com, Zoom has aggregated recruitment data from the listed job adverts on its platform to identify the locations across the UK that have seen the most significant growth in remote working opportunities between February 2020 and March 2022. Using this data, we built this map to illustrate the distribution of UK's top 'Zoom Towns'.    
'Zoom Towns' are areas that have seen new regional activity as workers have relocated from traditional city hubs since the start of the pandemic.   
Data   
Postings are classified as open to remote work if the job title or description includes terms like "remote work", "telecommute", "work from home", or similar terms, or if the location is explicitly listed as remote. Indeed aggregated job postings on its own website by Primary Urban Area (PUA) — a measure of the built-up area of a city — based on the location of the job. PUAs provide a consistent measure of economic activity in urban areas across the UK, making them distinct from city regions or combined authority geographies. 
User experience and UI 
This app displays a grayscale map of UK overlaid blue points showing the distribution of UK's top 'Zoom Towns'. Cities are also listed on the card on the left. By default, cities are listed in descending order by the growth in job postings offering remote work from February 2020 to March 2022. The distribution of growth in remote job posting is represented by a set of blue color palettes, with information on the exact percentage available on hover.  
Embedding the map 
The map can be embedded as an iframe, with detailed instructions for desktop and/or mobile devices available under the About modal. 
HERE data and products used 
We used the HERE Maps API for Javascript with custom grayscale styles to render the basemap. 
Sign up for our newsletter
Why sign up:
Latest offers and discounts
Tailored content delivered weekly
Exclusive events
One click to unsubscribe