How RouteSmart optimizes route planning with HERE data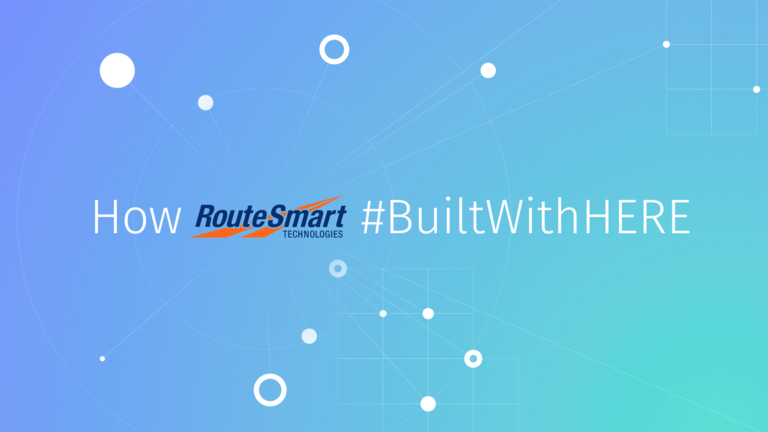 Welcome to the #BuiltWithHERE series, where we showcase how developers use the location services and data from HERE to solve real-world challenges. In each post, we highlight transformative and innovative solutions created by developers.
Commercial route planning is often associated with deliveries and logistics, but it impacts our daily lives in many other ways. RouteSmart, a leading route planning company, serves a variety of critical but lesser-known industries where routing plays an important role. In this blog post, we'll explore how RouteSmart uses HERE data to solve the complex delivery challenges faced by these industries. 
Industries and Applications
Let's talk about some examples where RouteSmart uses HERE's data and their industry expertise to create customized route planning solutions to their customers:
1. Newspaper Industry
Newspaper routing is a logical puzzle, that requires careful planning and execution. RouteSmart sequences more than 6.8 million subscribers across 45,000 carrier routes every night. They automate and optimize the daily routing processes by using the most recent subscriber file sent to RouteSmart Online each night. In addition, the HERE street data gets updated regularly, providing a reliable routing solution. 
2. Public Works 
Managing waste and recycling collection routes efficiently is critical for both private companies and local governments. HERE's data helps RouteSmart to create routes that take into account factors such as the location of waste bins, traffic conditions, and the weight and size of waste collection vehicles. 
For instance, residential waste & recycling collection focuses on right-side only service for safety, while commercial route planning balances weekly patterns and adheres to strict time windows. Field service, inspections and work orders create routes by priorities and job qualifications. Street sweeping restricts changes based on street signage, models odd-even street side service and develop efficient routes based on sweeper speeds. Winter maintenance prioritizes snow emergency routes and major roads, and builds efficient routes to plow every lane.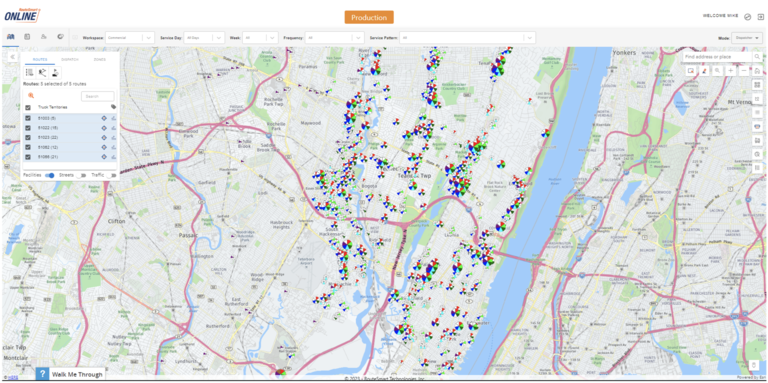 3. Postal delivery
RouteSmart has a significant presence in the postal and local delivery segment, collaborating with some of the world's largest national postal agencies, including Australia Post, the United States Postal Service, Posti, Ontrac, Swiss Post, DX and other posts. They also maintains a strategic relationship with a major logistics company, taking responsibility for the daily route planning of up to 80,000 drivers across North America. In addition to these partnerships, RouteSmart works with several regional last-mile delivery companies. HERE's data helps RouteSmart to create routes that meet all of these requirements while also minimizing travel time and distance with address-specific, side-of-street level detail.
4. Utility meter reading and maintenance 
In the utility sector, RouteSmart serves clients in electric, gas and water utilities. RouteSmart initially focused on meter reading route planning, helping personnel who read utility meters optimize their routes. Overtime, as meter reading process has become mostly electronic, there is still need for field service work, such as inspection crew. For example, SoCal Gas, the gas company in Southern California has a mandate to inspect all six million meters on a three-year recurring cycle to prevent gas-related issues. This involves complex planning due to the large geographic area of Southern California and requires accurate geocoding. RouteSmart relies on HERE data to perform these routing calculations. They integrate HERE's street data and geocoding services into their proprietary routing solutions to create efficient route plans for inspection crew. In some cases, HERE data is also used for turn-by-turn route guidance for the field workers.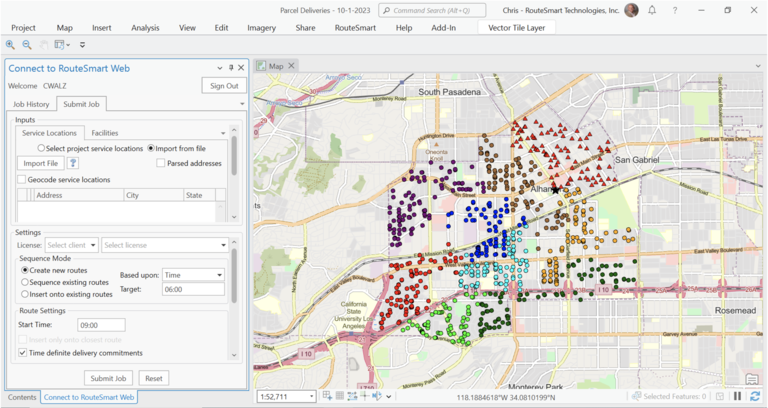 How HERE data is used
RouteSmart heavily utilizes various HERE location services. About a year ago, they switched to the HERE Geocoding and Search API as their default geocoding service. They also use HERE base maps for their web applications to provide the cartographic experience. Additionally, they use historical traffic pattern data collected by HERE to refine their travel time calculations when computing distances and times. They also use the planned known incident data from HERE traffic incidents, mainly for long-term notifications of road closures. This data is used every time they solve a route to ensure they're not routing across a street segment that might be closed. 
As a specific example of their parcel and postal route planning domain experience, RouteSmart is responsible for the dispatch of tens of thousands of weekend e-commerce delivery routes for a nationwide postal client. To perform this route planning, the client uploads delivery data to RouteSmart's web service environment which relies upon HERE location services such as traffic pattern and planned known incident data to identify any closed streets in the delivery area. The processing is performed with demanding requirements for both safety and efficiency of the delivery order sequence for the postal personnel.
Consider the billions of dollars of commerce that HERE and RouteSmart are responsible for every day. Our systems depend on HERE data. If our systems don't work, nationwide e-commerce last mile services will have a bad day. In the promise to support a high-quality route planning experience, the HERE brand is encumbered. It's part of the experience. It's part of the promise.
Safety is a key consideration in RouteSmart's route plans. For instance, if a street is heavily trafficked, their routing solution will ensure they don't deliver on both sides of the street, which could be dangerous. They also avoid making left-hand turns across traffic and ensure that vehicles like garbage trucks don't make U-turns, which could be unsafe and impractical.
The precision of RouteSmart's routing calculations requires accurate data. If there are errors in the street data or geocoding information, it can affect the route plan. Therefore, they rely on HERE data and location services to be as accurate as possible. Many of their clients are trained in the HERE Map Creator portal and provide feedback to HERE by noting changes in roads, routes, places, and house numbers to improve the accuracy.
Conclusion
RouteSmart provides precision routing across the globe. By using high-quality street data and location services from HERE, RouteSmart ensures critical logistics, from postal services to utility inspections, run smoothly every day. 
Sign up for our newsletter
Why sign up:
Latest offers and discounts
Tailored content delivered weekly
Exclusive events
One click to unsubscribe