Discover the Potential of HERE Anonymizer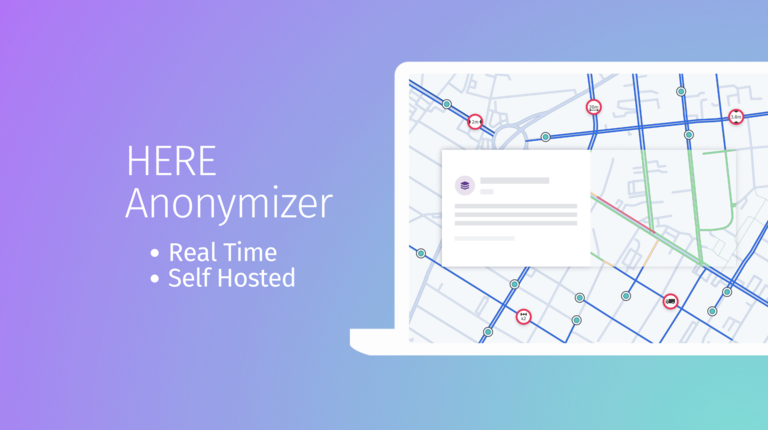 Preserve privacy as you unlock the true value of location data​
As data privacy regulations continue to evolve, enterprises face increasing challenges in processing large-scale location data while upholding compliance. We have the perfect solution – HERE Anonymizer. Our powerful tool empowers businesses to achieve full compliance with data privacy regulations while efficiently handling vast amounts of location data. HERE Anonymizer enables customers to process location data at scale while reducing the privacy risks associated with data. The product allow to preserve the maximum value and utility of data. 
With a focus on adhering to specific privacy regulations, such as the GDPR, CPRA, and APPI, HERE Anonymizer is designed to cater to diverse global requirements. By adopting our solution, you can foster trust among value chain participants and protect your organization from the adverse effects of privacy breaches. 
Two Formats, Endless Possibilities:
HERE Anonymizer is offered in two formats to meet the different use cases and needs of our customers: HERE Anonymizer Self-Hosted and Real-Time Anonymizer as a pipeline in the HERE platform. 
Features:
Calibration tool that calculates utility metrics for anonymization strategies and provides guidance on anonymization strategies.
Visualization tool that displays data utility and user anonymity results.
Location Data Anonymization Challenges
Extremely rev​ealing - Location information has two components - spatial and temporal. Location data describes probability to be "at the right time at the right place". 
Technically challenging - Location data is particularly technically challenging due to its sequential nature, spatiotemporal inter-data relations, rich semantic meaning behind it and publicly available adversary knowledge. 
Location Data Anonymization Process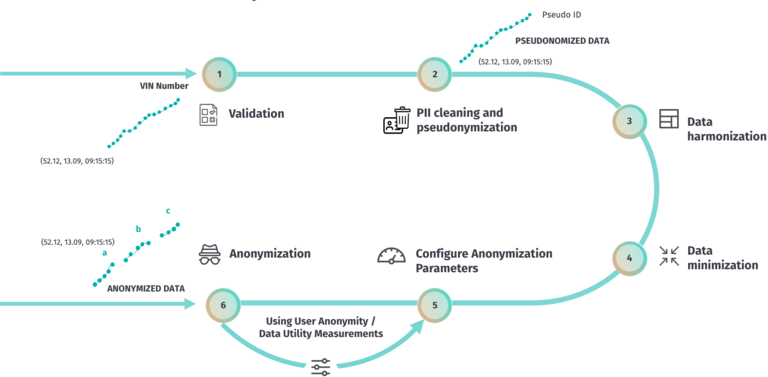 HERE Anonymizer Real-Time
HERE Anonymizer Real-Time offers a comprehensive collection of algorithms designed specifically for anonymizing trajectories, probe data primitives, and event data. By leveraging various anonymization methods, it caters to different use-cases and input data requirements. This powerful tool allows customers to personalize the configuration settings of the anonymization strategy, empowering them to strike the perfect balance between privacy protection and data utility. Additionally, the Real-Time Anonymizer supports both real-time (stream) data and batch data, accommodating the needs of various data processing scenarios.
Features of the service include:
Loading location data: The data can be loaded SENSORIS or SDII format. The data needs to be ingested into the HERE platform to be anonymized using HERE data catalogs.
Loading Use Case / Data / Anonymization Method Config.
Performing Anonymization of location data with specific method and parameters: The method is dependent upon the how the data is intended to be used. For developing traffic use-case we implement Split and Gap method. 
Outputting anonymized data: The output anonymized data is published as SENSORIS/SDII data messages in a HERE Platform.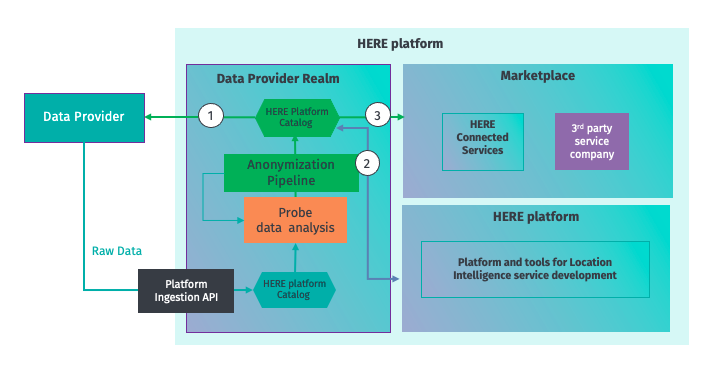 HERE Anonymization Self-Hosted
HERE Anonymizer Self-Hosted offers an exceptional solution for anonymizing probe data, providing customers with the flexibility to deploy it in a range of environments under their management. This server application serves as a powerful tool, taking location-based data as input and utilizing advanced anonymization algorithms to process and deliver anonymized data as output. The application is designed to support various input and output data formats, ensuring compatibility with diverse data sources. With the inclusion of built-in connectors, integration with data sources such as the HERE stream layer or RabbitMQ becomes seamless. Customers can easily deploy the HERE Anonymizer Self-Hosted to their desired environment by utilizing the here_anonymizer.jar archive, which houses the Apache Flink application at its core. This comprehensive solution empowers customers to safeguard data privacy while maintaining control over their deployment infrastructure.
Sample: Raw probe data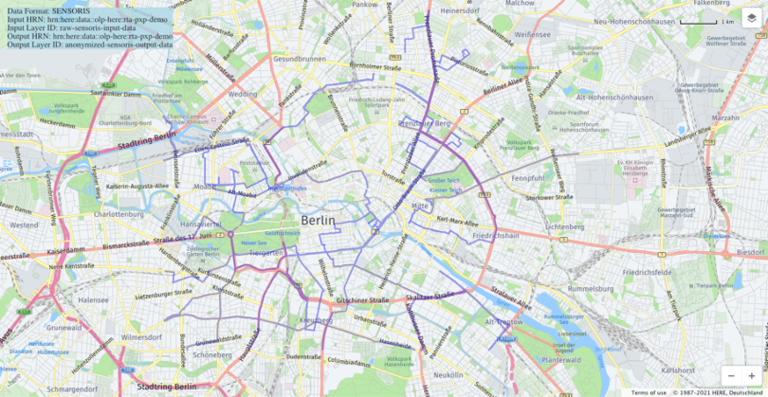 Sample: Anonymized probe data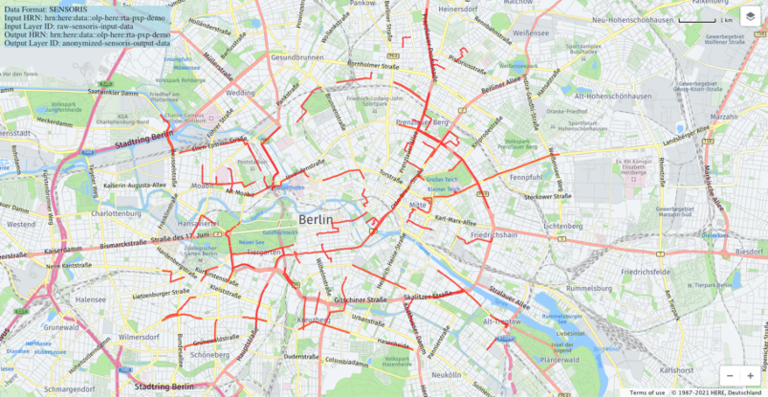 Sample: Raw and Anonymized data combined
What's Next
Looking ahead, our focus is on staying compliant with GDPR requirements, and to achieve this, we have a dedicated in-house research team. This team is constantly engaged in the following activities: identifying new privacy threats such as attribute linkage, developing innovative user anonymity metrics to counter these threats, and enhancing our anonymization strategies specifically designed to combat these emerging threats.
Furthermore, we are expanding our offerings beyond being a single data provider for traffic use cases. Our goal is to broaden our scope by accommodating new use cases, such as hazard detection, and handling multiple use cases simultaneously, such as hazard and traffic analysis, all from the same data source. Additionally, we are actively working towards enabling the handling of data pools, where multiple data providers can be anonymized together to provide comprehensive and integrated solutions. This forward-looking approach ensures that our customers can benefit from a continuously evolving and adaptable platform that addresses their changing privacy and data needs.
Sign up for our newsletter
Why sign up:
Latest offers and discounts
Tailored content delivered weekly
Exclusive events
One click to unsubscribe