Give your golf game a competitive edge - with location data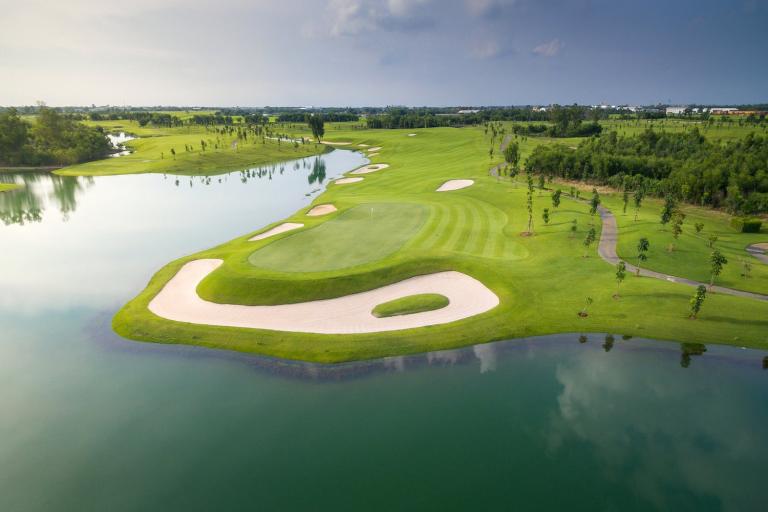 Half of Europe's golf courses are temporarily closed due to the Covid-19 crisis. Use this unprecedented downtime to discover a new technology that could help you ace your game when you hit the course again.
Today's golfer needs more than a bag of clubs, patterned pants and a sun visor in their armory if they want to play at their prime.
If you're serious about improving your game, you'll also want a smartphone app or watch to help you excel on the fairway.
It's well established that golf is one of the most difficult games to master, requiring a blend of talent and falcon-like ability to judge distance. But tech can help you take some of the guesswork out of the game.
Even the professionals and their caddies sometimes use distance-measuring devices to complement their yardage books to give them an advantage on the course.
The professional golfer Justin Rose said of range finders: "We don't play 'one number' golf. We want to know [how far it is] to the back edge of the green; we want to know the distance over a bunker. We want to know what the distance is to a certain slope. It's not as basic as, 'I have 179 to the pin.' You kind of make decisions out on the golf course based on what's around the pin."
Last year, golf's governing body relaxed the rules on using GPS or laser range finders to help golfers plot their way around the course, allowing them to now be used in competition unless course or tournament rules prohibit it.
Fellow professional Bryson DeChambeau is another fan of range finders: "It's the best thing they could possibly do. I definitely think it's something that could help speed up play."
GPS range finders allow you to see your position on the course, giving you an instant calculation of how far you are from the green or a hazard. The more advanced versions even show elevation, obstacles and wind direction. They're like a digital caddy, giving you expert course insights that allow you to choose the right club for the shot. But they require very accurate data to work effectively.
"We've had handheld devices through the years," Paul Calabrase, national sales manager for GPS watch maker SkyGolf, told MyGolfSpy. "Technology is now catching up and giving us hardware advancements, so we can give golfers close to the same detailed information Tour players use in their yardage books."
Turn your bogeys into birdies
Until now, GPS has lacked the precision and speed that can help you take your golf game to the next level. There are two problems: the time it takes for a device to lock on to a signal and the accuracy of the positioning. Anyone familiar with GPS range finders will understand the frustration of waiting for the device to find a satellite as you walk between shots.
"The precision for apps and smartwatches is somewhere around 3-10m accuracy. In general, that's an average of five meters of error," says Artem Vassilyev, the product owner of HERE HD GNSS, a new technology that makes GPS more precise and faster.
"HD GNSS improves that to less than one meter. It's also quicker to get a precise position: in some cases, it only takes one second to get a fix."
The best bit is, golfers don't need to buy any special equipment to take advantage of this technology. As Artem explains, all you need is "an internet connection and a compatible device".
Mobile phones and some IoT trackers are already equipped with dual frequency chipsets that automatically provide the necessary data for HD GNSS, but if you're a developer or device manufacturer HERE can provide you with the API tools to improve the functionality of your sports tracker.
"The mapping of courses can also be improved," adds Artem. "You can start to improve the placement of hazards for example. When you combine that with better positioning, the end user experience is much better because this technology gives golfers a greater understanding of where they are on the golf course. It's a really valuable thing for golfers."
In the words of the legendary golfer Bobby Jones, who co-founded the Masters and designed the world-famous Augusta course: "The secret to golf is to turn three shots into two". Could HD GNSS be the answer?
Sign up for our newsletter
Why sign up:
Latest offers and discounts
Tailored content delivered weekly
Exclusive events
One click to unsubscribe