Is 2022 the year urban mobility takes flight?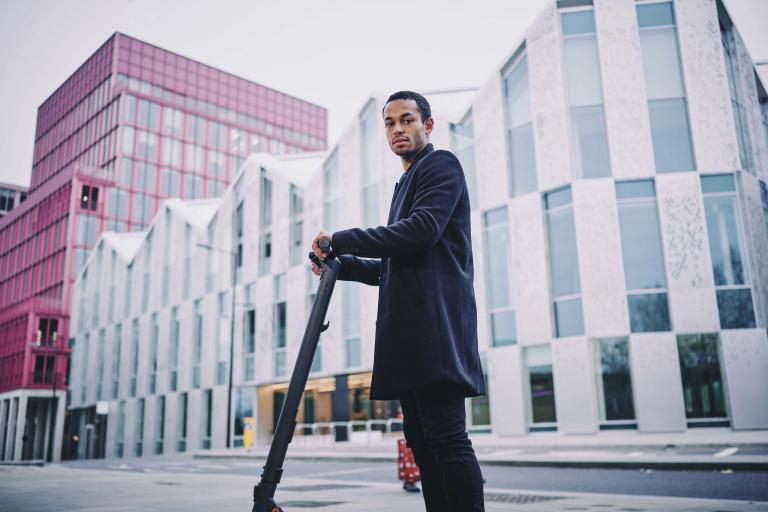 HERE360 looks at upcoming urban mobility trends for 2022 and how tech is helping to resolve problems, improve quality of life and enhance how we move through our cities.
The pandemic years have seen plenty of innovation in the urban mobility sector. This will continue into 2022, as society seeks to solve emerging dilemmas — work/life balance, remote living, sociability and connection.
This year, we'd argue, is also when the big themes of social, environmental and health equity will come to the fore.
Here are our five stand-out trends for 2022. 
Baidu has unveiled Xi Rang, China's first metaverse platform.
Virtual immersion
Love it or hate it, the metaverse is firing the imaginations of the corporate and cultural world right now, with the possibilities of using virtual reality (VR) and augmented reality for work and life in a mobile cyberworld. Facebook rebranded to Meta, while Microsoft has integrated Mesh — a cloud-based mixed-reality platform — into Microsoft Teams.
As we entered 2022, Chinese search provider Baidu launched XiRang, an app that gives access to a "Creator City" that contains visitor attractions and buildings that can host meetings and events. Baidu's CEO Robin Li says the metaverse will kick off a "golden era of AI over the next ten years" and the start of "man-computer symbiosis." It looks like virtual meetings could become more intriguing in 2022 and beyond.
Outside of corporate tech, the art world is harnessing the possibilities of the Metaverse and NFTs, creating immersive galleries, artwork and auctions.
These initiatives change the boundaries between real-world and virtual experiences, reconfiguring mobility. Patterns of travel, commuting and socio-cultural experience will adapt, and people in remote areas, those with disabilities and caring responsibilities may access the benefits of urban mobility virtually.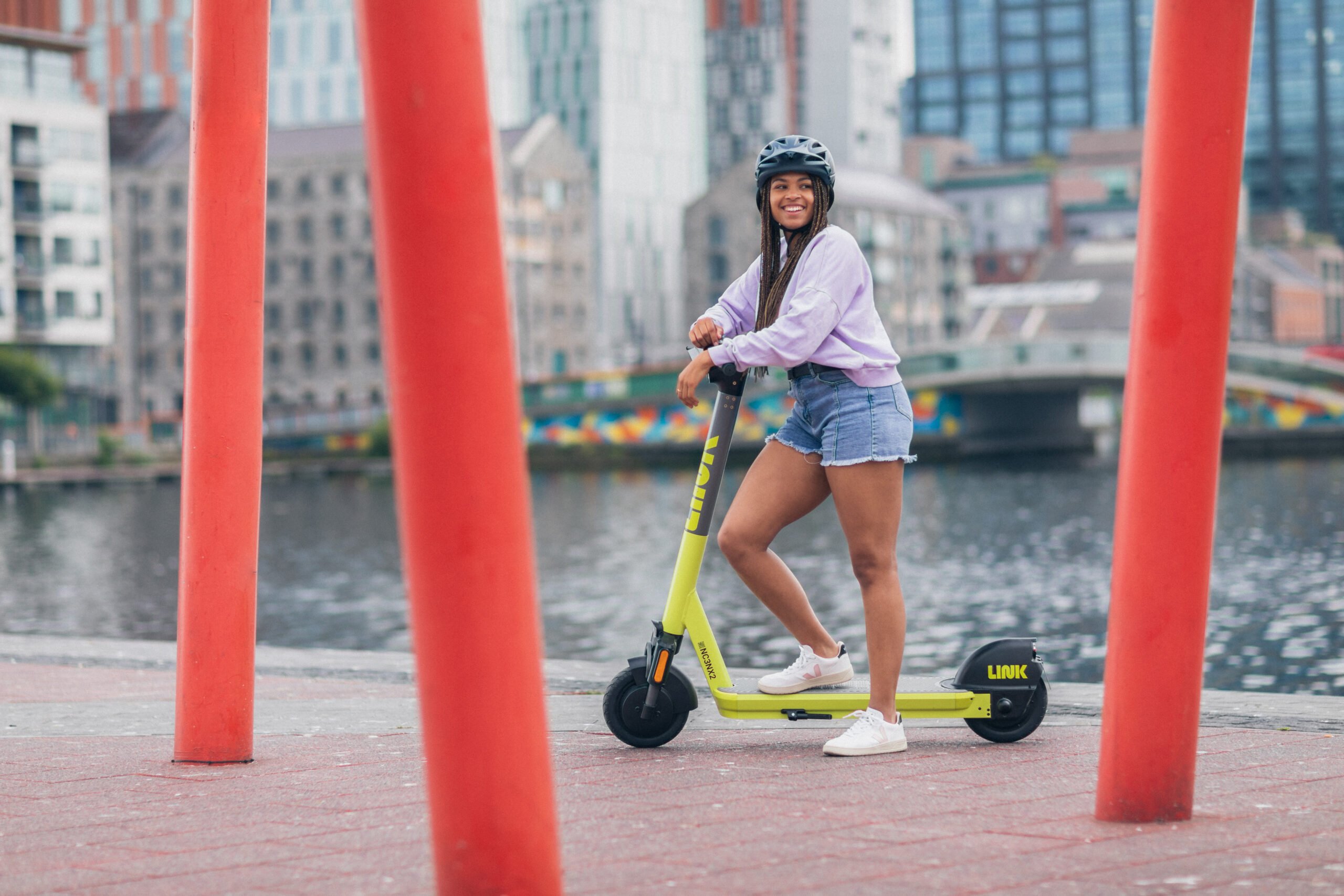 Could location technology streamline the adoption of e-scooters? Image credit: Superpedestrian.
Democratizing micromobility
Vastly cheaper than electric cars, e-scooters make a vital contribution to greening urban mobility as well as an accessible way of staying COVID-safe and mobile. The rental sector is thriving, yet these e-scooters have been seen as disposable.
In Cologne, Germany, around 500 rental e-scooters from five companies have found their way into the Rhine, causing an obstruction and leeching toxins from the lithium batteries. The city had deployed underwater robots to locate and remove them.
Is there a better way? Yes. E-scooter provider Superpedestrian developed Link, a technology-packed e-scooter currently collaborating in 40 cities across Europe and the US. Ilya Sinelniov, Director of Product Management for Superpedestrian, says their e-scooter combines GPS, phone and scooter sensors for precise location detection. It can detect errors or misuse in nanoseconds and, if necessary, respond by shutting down. Data is communicated to the cloud as a pick-up task in seconds, which initiates recovery.
The e-scooter and battery are sealed, making it water-resistant, and the company says 83% of components are recoverable.
"There is a strong ecological and business case for recovering submerged scooters," says Sinelniov.
E-scooters are an accessible, eco-friendly form of urban transport, and in 2022, tech needs to make sure they work for everyone.
The Epowar app has been designed by a team at Bath University who hope it will reduce the number of attacks, particularly on female runners.
Street safety for women
The murder of Sarah Everard in the UK brought women's mobility in cities to the forefront of our minds. Many apps have been created to help women navigate the safest routes for women, such as Microsoft's Guardian app or Walksafe. However, they don't offer real-time assistance if a woman is attacked or followed.
Researchers at the University of Bath, UK, are developing a new product, Epowar, to combat this problem.
Epowar connects with smartwatches (currently Apple WatchOS and Android WearOS) to sense if the user is in danger by monitoring body motion and heart rate. If these signs of distress are detected, the app will share your GPS location with emergency contacts, set off a loud alarm and save any evidence to the cloud should the watch be lost or destroyed.
Researchers are conducting extensive trials to train the system through adding data, such as critical variables of age, social background and health conditions, ready for launch in the next nine months.
Co-founder E-J Roodt said: "Right now, our focus is personal safety. However, the data created by today's smartwatches are incredibly valuable, especially when AI is used to add meaning. We are excited about the opportunities this creates to build amazing products that solve real problems."
Telangana's 'Medicine from the Sky' project seeks to send medicines to primary healthcare centers using drones.
Drone-delivered healthcare
The pandemic has brought home with force inequalities of global access to healthcare, including vaccines, with critical consequences for the world's ability to control the virus.
Now, the government of Telangana, India, in a joint initiative with the World Economic Forum, NITI Aayog and Apollo Hospitals, has launched "Medicines from the Sky", which will aim to deliver medicines and vaccines to remote places using "beyond the visual line of sight" (BVLOS) drones.
The consortia Skye Air Mobility and Blue Dart Medical Express led the first test flight, one of eight of the partnerships chosen. Skye Air is an end-to-end provider of drone technology, says Wing Commander S Vijay (Veteran), COO, Skye Air Mobility. It will "operate drones, develop applications, perform data analytics, integrate workflows with government systems, design and develop drones."
It is unusual for drones to be granted licenses to operate as BVLOS, but Skye Air is one of the companies leading technology in this area. Vijay says that BVLOS has been made possible by better sensors and GPS equipment: "The sensor tech helps use artificial intelligence and machine learning. These tools running on the sensors make the applications efficient and productive."
If successful, BVLOS drones could transform delivery logistics for food, goods and medicines, fundamentally impacting urban resilience and rural inclusion.
Airport mobility
Air travel has always been complex, with travelers having to navigate large, complex airports and security protocols. On top of this are new demands of COVID-safe travel.
In response, airports have turned to tech for help. AGS Airports, for example, has introduced a wayfaring app for its Scottish airports, enhanced by the installation of Bluetooth iBeacons.
Another innovative app is AenaMaps, developed from a collaboration between Aena, Telefónica, location intelligence platform CARTO and Situm Indoor Positioning. The app helps passengers navigate around the airport, displaying facilities, boarding gates and finding the best route for getting there.
Through wayfaring tech, airports have responded to the distinct challenges of flying in 2022. But they also have enormous benefits for people with limited mobility. AenaMap includes features to help people with reduced mobility and real-time transit times at security checkpoints.
Tech innovation is accelerating as it rises to the challenges of the twenty-first century. If tech for urban mobility can help solve key social, health and environmental issues, it is going in the right direction.
Sign up for our newsletter
Why sign up:
Latest offers and discounts
Tailored content delivered weekly
Exclusive events
One click to unsubscribe