This is what the dashboard of the future looks like

LUXIA, a collaboration between games engine Unity and HERE, showcases the next generation of in-vehicle entertainment and navigation.
Your car's dashboard will look quite different in the future.
Using HERE 3D city data, Unity has created a futuristic, wide-screen demo of an embedded infotainment system called LUXIA.
Known as a human-machine interface (HMI), this screen shows you where you are in a 3D map of the surrounding area. Information and alerts relating to that location will pop up on the screen as the driver approaches them.
HVAC, navigation and entertainment imagery can all appear on the screen at different times as appropriate.
The same 3D display can be used for screens of different sizes. It can be adapted for a high-end vehicle just as well as for a more affordable car with a more basic display.
LUXIA has already attracted the interest of several car manufacturers.
Unity is a games engine company that has more recently turned its hands towards creating products for the business world.
"We have a real-time 3D engine, and that can be used for AR and VR, digital twins, simulations and in-car experiences," said Senior Product Manager Yao Zhai, speaking to HERE360. "You can visualize and render things in real-time, and it requires much lower hardware resources than traditional 3D technologies."
The idea to revolutionize the car dashboard came about from a common experience.
"I hated my in-car navigation application, which I paid $2,000 for as an add-on. I always used my smartphone with a cheap bracket on the dashboard," Yao said.

The display, shown here at night-time, adjusts according to the light.
Yao thinks there are several reasons for that. Firstly, people have become inseparable from their smartphones. Secondly, traditional navigation systems from 10 years ago did not have the same connectivity as our phones, so they did not have all the latest information such as real-time traffic updates.
Thirdly, the user interface on most smartphones was generally much easier to use than many in-car navigation systems.
"That led to our discussions with HERE: can we do something unique, that changes the perception that in-car navigation systems suck?"
It was the start of a bold experiment that pushes the boundaries of what we expect to see on our dashboards.
Next generation
Thankfully, a lot has changed in the past decade. "If you look at the new generation of cars and the hardware behind them, they are much more powerful and the experience is getting closer to the smartphone," Yao said. "Cutting edge 3D displays have started to emerge as well. These new technologies have laid the foundation where we are able to significantly improve what we can offer compared to a decade ago."
The results speak for themselves.
"The experience is much better because you have a really immersive feeling. You are also presented with a lot more information which makes your driving easier," Yao said.
Drivers can interact with the HMI screen by visuals, touch or voice. "It is like you are driving with a co-pilot," Yao explained.
Keeping eyes on the road
One of the main concerns about large HMI screens in cars is that they could distract the driver.
But Yao said LUXIA manages to avoid this. The brightness of the screen adjusts according to whether it is night or day, and designers can use Unity to make prototypes very quickly to validate the human-machine interaction and make sure it is not too distracting for the driver.
LUXIA also adjusts according to the different scenarios the driver is in. For instance, the screen will be different on a busy shopping street compared to traveling at high speed along a highway, with different levels of detail. It can show completely different information again when the car is parked. For instance, while an electric vehicle is charging, it can show the driver a game or stream a video.
"We will continue with testing and validation," Yao added. "And by using Unity, fast prototyping and iteration become possible." All car manufacturers have to subject new user interfaces to a standardized testing procedure, required by NHTSA, called human factor testing to ensure the driver can still concentrate when needed.
"One of the most important goals is to make driving safer," Yao said. LUXIA achieves this by bringing relevant information to the driver when it is needed, instead of the driver having to scroll through a phone to find it.
After safety, the second priority is convenience. The driver will be presented with location-based service information to help them park, find their destination or receive up-to-date traffic information, for instance.
Generating revenue
The problem of how car manufacturers can maintain their connection to customers post-sale has existed for a long time.
"Today, every car is connected," Yao said. "There are multiple ways to update your content – in that sense, a car has become a true mobile platform. It is a smartphone on wheels."
And they could become addictive in the same way. Yao points out that Tesla has developed an in-car gaming hub, powered by Unity.
"People can do a lot of things that make their lives more convenient than before, and they are willing to pay. It is a great opportunity for OEMs," Yao said.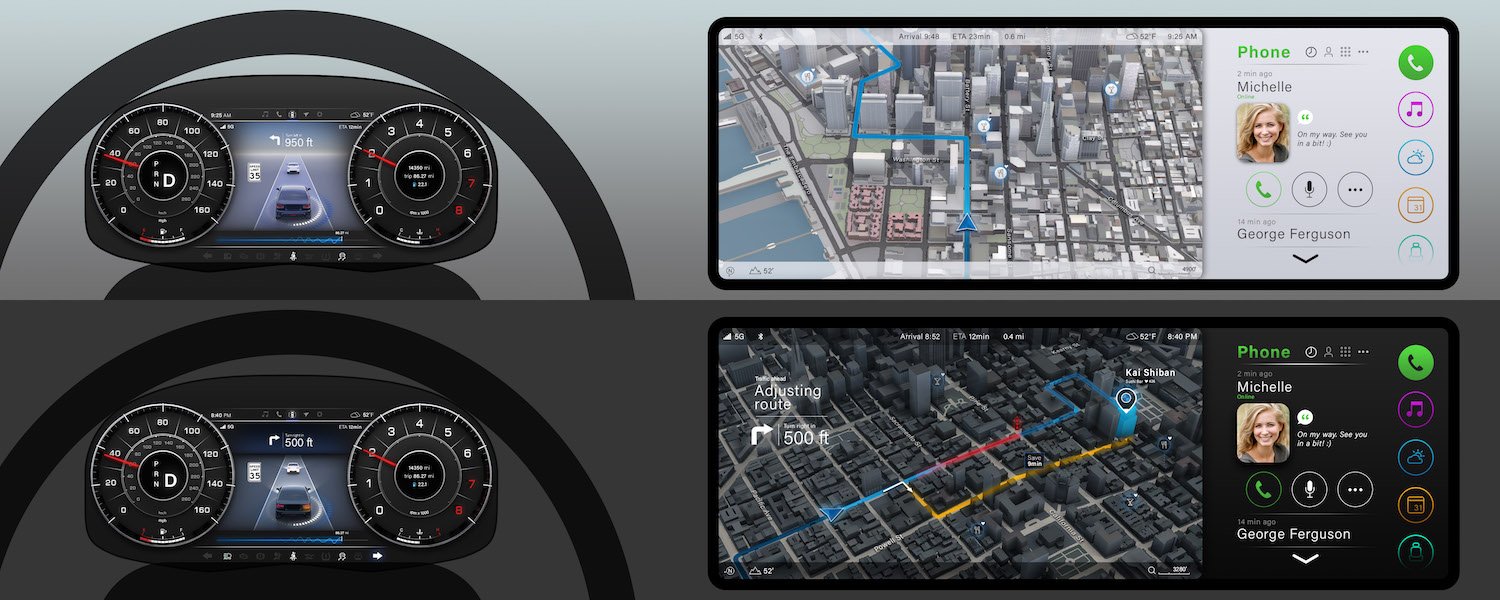 The dashboard adjusts according to the conditions outside the car.
Several car manufacturers have already expressed interest in LUXIA, which will now go through the proof-of-concept phase with these OEMs.
In the future, we might expect to see even bigger display screens in cars, as they move towards greater levels of automation. When the driver no longer needs to focus on the steering wheel, the interior of the car will alter significantly.
"Beyond traditional map and navigation use-cases, future IVI systems need to include the display of new autonomous UX concepts like situational awareness, contextual maps, and shared control dialog," said Michael Limber, Principal Designer at HERE Technologies. "And, as a new form of integrated mobile device, clearly reveal communication and media functions."
Yao believes the nature of cars themselves will change.
"Cars will no longer be there to move you from A to B," he said. "They will be an extension of your living space."
He can imagine a scenario where a small gym containing a Peloton bike could drive itself to you when you need it. Windshields or windows could become additional screens, where AR images are projected.
The car of the future could find its own way to you – and it will look a lot different inside.
Visualize cities in 3D with scalable, accurate and global data sets.
Sign up for our newsletter
Why sign up:
Latest offers and discounts
Tailored content delivered weekly
Exclusive events
One click to unsubscribe