The future of roadways is coming to you from SAP and HERE
We're joining SAP to produce a range of supply chain, mobility, transport and logistic solutions that work in all sizes of industries, bringing innovative location services such as real-time tracking, mapping and traffic, to a new generation of companies.
SAP customers and developers have been putting HERE location intelligence to work stretching back to 2014, and we're proud of the relationship that has continued to grow since then. Next week, we'll be attending SAP Sapphire, one of the largest business technology conferences in the world, and we'll be discussing some of the advancements HERE and SAP have made together.
SAP Transportation Management
Worldwide, hundreds of companies are using SAP Transportation Management. It's a solution that enables fleets and logistics managers to increase productivity, improve end-to-end visibility and service, standardize logistics processes and operations, and accelerate decision-making with real-time insights.
Customers in the transport and logistics industry can benefit from embedded, intelligent location services that help increase productivity and efficiency. Among the new functionalities enabled by the HERE Open Location Platform are optimized fleet routing based on real-time and predictive traffic, real-time tracking and post-trip analysis.
A key point about this, which is quite important for logistics managers, is the ability to create a reliable ETA for each vehicle in the fleet. This helps with simple ideas like making sure a delivery is made before a facility closes — and it helps much more advanced areas for efficiency such as scheduling time at a loading dock, and keeping the receiving area clear of traffic.
In providing this intelligence, we also take into account semantic data based on the trucks and the routes. Is the truck in question allowed to take that exit on a particular road during rush hour? When the truck is carrying hazardous materials, is it allowed to take that particular road? These are the intelligence attributes we're providing with SAP.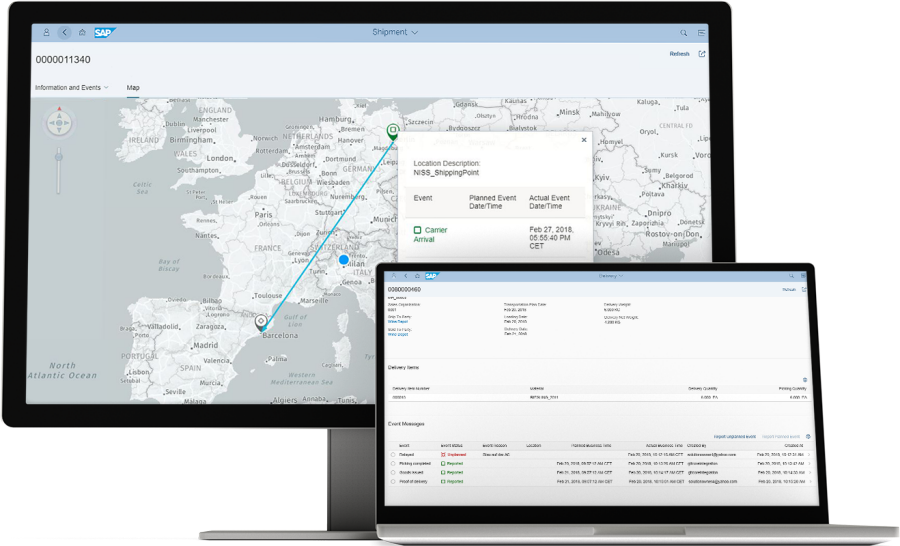 Real-time location tracking by SAP Global Track & Trace and HERE Tracking, finally bridging the gap between actual and planned data visualizations.
HERE Tracking plans to integrate real-time tracking services into the SAP Global Track and Trace solution, providing developers with the ability to take advantage of real-time, low-energy, high-accuracy technology to track goods across the supply chain, indoors and outdoors.
Where things are developing is in the area of providing business logic. Through the HERE Tracking Platform, we provide the exact real-time location of a tracking sensor. But, we don't know what that sensor is attached to, or what the intended route for that sensor is.
With SAP at our side, we're developing a solution that will integrate all the pieces of information. What is in the container, who is it intended for, where is it going, and where should it be according to the plan versus where it actually is right this moment? All of this is being built into a singular view, so logistics planners have a robust, informed understanding of where their packages are.
Services get smarter in the SAP Vehicles Network
Today, all of us pay for things with cards, many of us pay for things with our phones, and some even pay with our watches. SAP Vehicles Network will enable us to pay for things with our cars.
The SAP Vehicle Network can connect roadway service providers like gas stations and off-street parking providers. In fact, in the U.S. and Western Europe, they're working with the majority of the off-street parking providers. Now, SAP allows HERE Connected Vehicle Services, built into your vehicle, to connect to that marketplace as part of a smarter journey.
To make it clearer, imagine you have a meeting later in the afternoon. You can plug that location and send it to your car — and when you finish the route, the location intelligence from HERE provides recommendations for where to park.
With the integration of the SAP Vehicles Network, we can go another step further — you can not only see where you can park, but you can also see the real-time rates for parking, and you can pay for that parking service without having to stop on the way in or on the way out, by just clicking the parking icon on your navigation screen.
Now you can imagine that same transaction model when it comes to refueling vehicles. The information we provide to drivers doesn't just account for traffic, payloads, and timings – it takes into account the marketplace for services in the area and enables fluid, seamless payments for services in that market.
Sign up for our newsletter
Why sign up:
Latest offers and discounts
Tailored content delivered weekly
Exclusive events
One click to unsubscribe