Part train, part bus – trackless trams are the new congestion killers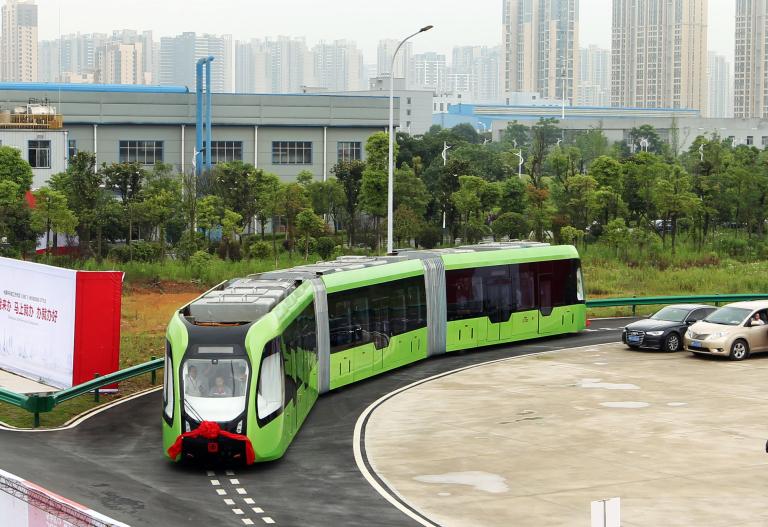 Trackless trams have been getting a lot of hype lately. But what are they exactly — and how can they help cities improve common public transportation issues?
As urban congestion increases and cities around the globe search for smarter, cost-effective solutions to public transit problems, trackless trams — also known as autonomous rail transit (ART) — have become a frequently offered solution. The technology is being embraced in China, France, and Australia, where municipalities are looking for easy solutions to their transportation woes.
Riding the invisible rails
What about trackless trams has allowed them to gain so much traction (no pun intended) in urban planning? Essentially trains on rubber wheels, they offer a middle ground between quick (but costly-to-implement) light rails, and cheaper (but less comfortable) buses. Like a light rail, a trackless tram follows a devoted lane and a predetermined path, but its route follows "virtual rail" lines. LIDAR and differential GPS — working with camera sensors positioned around the vehicle – allow it to follow markings painted on the road as if it were the tram's "rail."
By incorporating the best of both worlds, trackless trams avoid the pitfalls of buses and trains. While the core technology has been in use since the 80s, current advances in electric vehicle technology and vehicular autonomy have allowed trackless trams to become widely implementable. Quick-charging batteries and a modular design allow cars to be easily added or removed from the tram, and the addition of automation allows them to give a faster, smoother ride typical of trains. As all that's needed is a dedicated road lane and the cost of paint to make the virtual "rail" line, trackless trams can thus offer the experience of using a train at a fraction of the cost.
Adaptable transit reaches where rails can't go
The ease and speed of trackless trams' implementation have made them particularly attractive in Australia, where high urbanization and a relative lack of public transit infrastructure make it difficult to construct new rail lines. For this reason, city planners there are embracing the possibility of trackless trams. Furthermore, recent designs incorporating steerability in all four wheels and improved automation features has made it highly attractive to urban planners in China. However, the technology's price and effectiveness make it an attractive solution for cities around the world.
As of now, the biggest challenges facing the implementation of trackless trams is devoting the road space to it, explaining the technology to the public, and proving it in the field. But once the technology has been demonstrated in more cities, its affordability will likely prove irresistible to congested urban municipalities everywhere.
Sign up for our newsletter
Why sign up:
Latest offers and discounts
Tailored content delivered weekly
Exclusive events
One click to unsubscribe