Sweden's one-minute city success story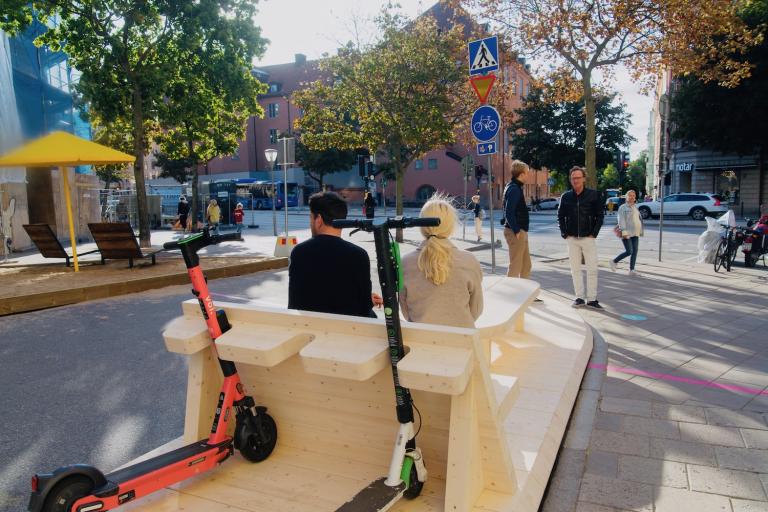 City dwellers across Sweden are replacing parking spaces for pop-up parks, benches, and electric scooter charging points as part of a new "one-minute city" urban mobility experiment.
Take the creativity of Minecraft, the modularity of LEGO, and the flexibility of IKEA furniture and you've got the concept behind Street Moves, a hyper-local Swedish project that allows people to make better use of their immediate curb space.
The design scheme, which is replacing parking spaces for meeting places, has been running since September last year. Yet despite the controversy of taking away parking spaces in a busy, compact city, the sustainability trial has been a huge success and has since expanded into the Swedish cities of Gothenburg, Umeå, Helsingborg, and Västervik.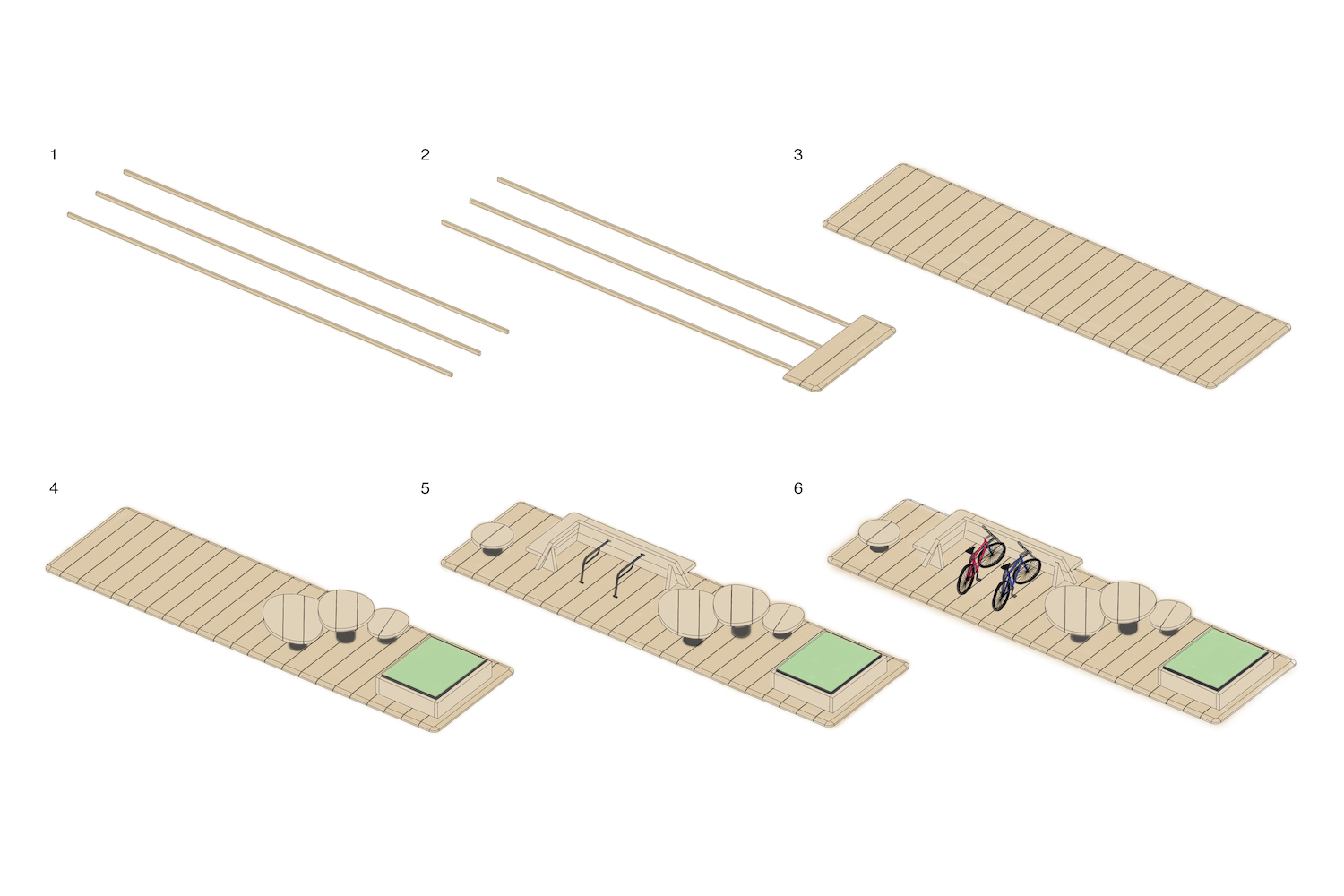 A modular, interactive wooden kit is replacing parking spaces on Sweden's streets and giving people more freedom with how they use the curb. Image credit: Street Moves
"We surveyed 320 people last fall on the streets of Stockholm," Daniel Byström, project manager at ArkDes, the think tank behind the idea, told HERE360. "70% were directly positive, and there were very few negative reactions. That is quite remarkable".
The idea of micromobility has been popularized by the 15-minute city concept, where you live, work and play within a short radius of your home. But in Sweden, they are refining this concept one step further.
Working with designers at Lundberg Design, and backed by the Swedish innovation agency, Vinnova, the proactive one-minute city project is built around a set of modular street furniture that's been created to fit inside a standard parking space. It's been designed to be interactive and adaptable, so residents can quickly redesign the streetscape to suit their needs, whether that's benches, gyms, child-friendly play areas, or gardens.
The kit is also designed to work with charging points for shared electric cars and scooters and addresses the scourge of abandoned shared e-scooters with neat, parking points built into the modular seating areas. The scheme brings together shared mobility partners such as Voi scooters and Volvo Cars' shared mobility brand M to address how to better plan infrastructure around human needs.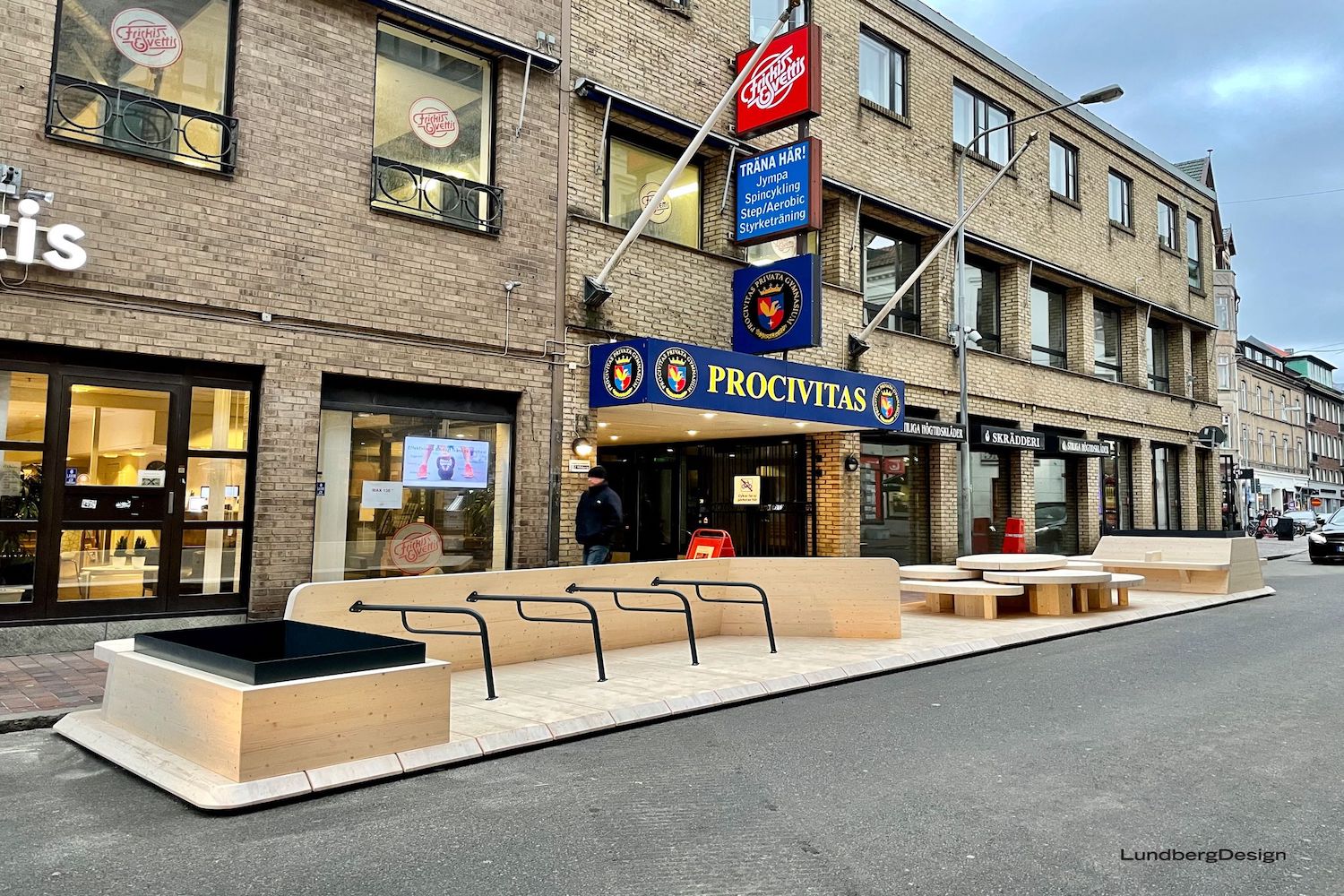 The scheme brings together shared mobility providers to seamless connect people's needs to travel with their desire for better outside space in cities. Image credit: Street Moves.
"It's interesting how this [urban planning] is moving from the traditional such as the traffic office making all the decisions about the streets, traffic, and cars," adds Daniel. "Now we're shifting towards a model where the residents have more ownership of the streets. That's what we mean by one-minute cities. Giving people back this space outside their doors to do whatever they want with it."
Since the pilot scheme launched, the wooden kit has evolved to include lighting, as well as planters for trees and flowers. Integrated electric charging points for e-scooters are also on the horizon and will help weave these spaces into a more connected infrastructure.
"New technology with smart city solutions and Internet of Things can connect everything from mobility to retail to food system to delivery," Daniel said. "But we couldn't take that step in the beginning, because it would have been too complex for us to have all of those solutions in the first year."
What's more, location technology could give residents access to the sort of traffic and flow data that allows city planners to make infrastructure decisions. For instance, an app could show residents when they should prioritize parking over parks, or help them manage a shared car mobility scheme.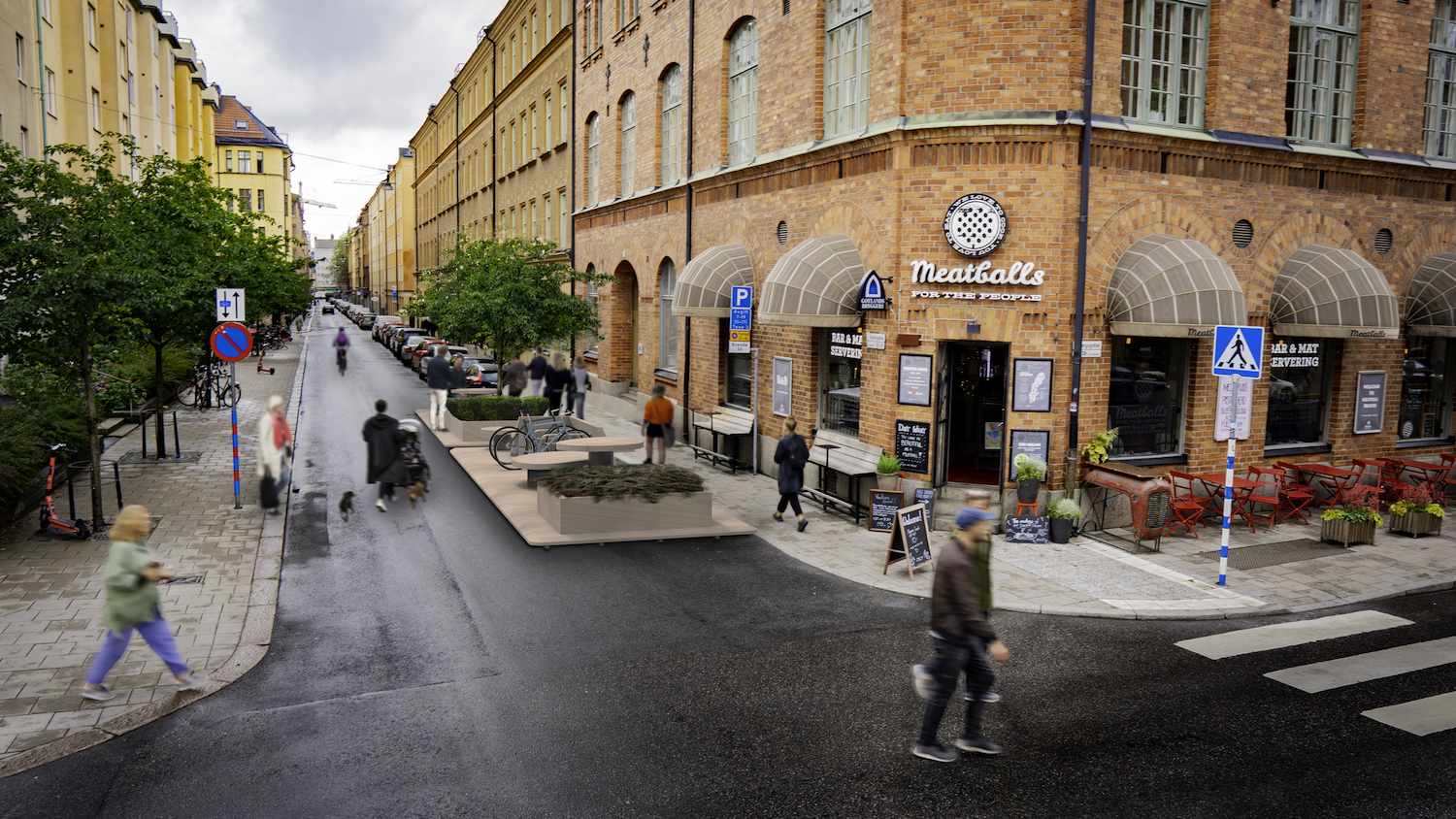 As part of Sweden's net-zero emissions target by 2030, it's looking at how it can replace cars on city streets with smart shared spaces that will transform how people live. Image credit: Street Moves
This idea of shared mobility is something that excites Daniel. ArkDes has been working with M, the shared mobility service run by Volvo Cars. "We need to make cities more liveable and sustainable. One study by Volo showed that putting one shared car on the street in Sweden would replace up to 10 private cars. Another study showed that, in general, a private-owned car is parked 97% of its lifetime."
As cities become more connected and smarter, could they also become more sociable? Could technology actually bring people together? That's what Carlo Ratti, architect, inventor, and head of MIT's Senseable City Lab, believes: "A truly smart city should be a palimpsest of creative, bottom-up civic engagement. It should allow "hacking" by its smart denizens, empowering them to augment their collective space through the exploding constellation of urban apps."
With Street Moves, we might just be looking at the future of city living that puts people first.
HERE's location platform has a suite of data and tools that can aid in the planning and managing of urban mobility schemes.
Sign up for our newsletter
Why sign up:
Latest offers and discounts
Tailored content delivered weekly
Exclusive events
One click to unsubscribe