Building a Mobility Solution with the help of Location Technology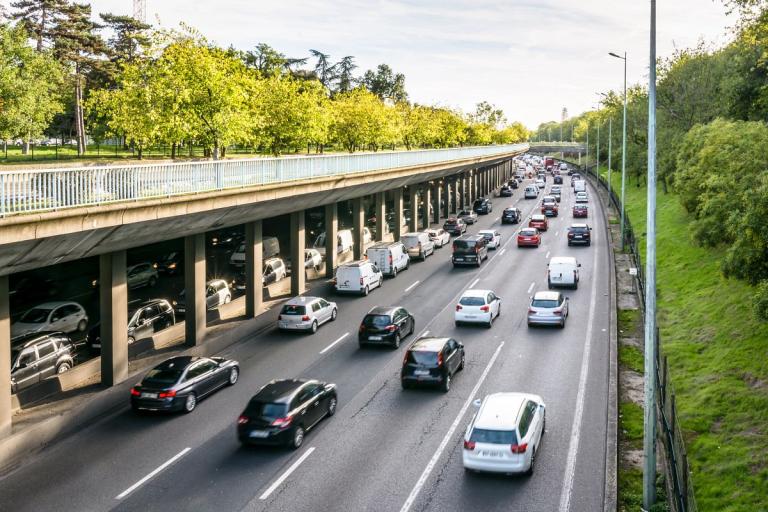 In today's time moving assets in urban areas has become challenging, mostly because of the influx of population in the cities. People are moving for different reasons like studies, jobs, medical facilities or even as tourists. Traffic is the major issue we face today in Urban mobility that requires immediate attention.  
Developers and companies have realized this and have come up with innovative solutions and have even started companies to tackle this problem.  
For making Urban mobility solutions, companies face different challenges. 
Challenges 
Building an Urban Mobility solution has its own challenges which need to be analyzed and addressed. The challenges vary depending upon the size of your company, the presence of domain expertise, and the availability of resources. We can broadly classify them as  
Competing with big players

 

Lack of development resources 

 

Building everything from scratch

 

How to gain location intelligence from data

 

Building robust infrastructure

 

Need for one place for all the solution

 

Handling real-time issues

 
Apart from the above-mentioned challenges we also have certain market-related challenges which actually are going to make your offering attractive in the market. Let us take an example of a ride-hailing solution where you have a network of partner drivers who are responsible for moving your customer across the city. The focus is on three main areas: 
How to improve user experience

How to improve driver experience

 

How to create a seamless travel experience

 

Most of these market challenges can be easily solved with the help of HERE Location services and map content(content (see the above image).  
But what about the issues faced because of the incomplete location data captured by drivers or how to anonymize the data to protect the privacy of customers or how to get the geometry of certain locations like university or residential housings. We need more than a map for this, we need specialized tools and a platform to add the contextual data to complete your solution. 
Solving the Challenges 
You can solve these issues with the help of the HERE platform. There are three steps you need to take:  

Step 1
Bring your own location data 
(Collecting, uploading, processing missing data)    
Let's say that you have built a ride-hailing application and you collect the probe data from the fleet of cars you have taking advantage of the local roads' knowledge of some of your drivers. It gives you a competitive edge over others. Once you have collected the probe data, you would want to anonymize it. So, you can do it with the HERE platform and the HERE anonymizer tool. Once anonymized, you can use the HERE workspace to automate the creation of  
New geometries of areas like private residential zones, industrial 

areas,

 or university campuses

 

New attributes like dangerous roads or hazards spotted by the drivers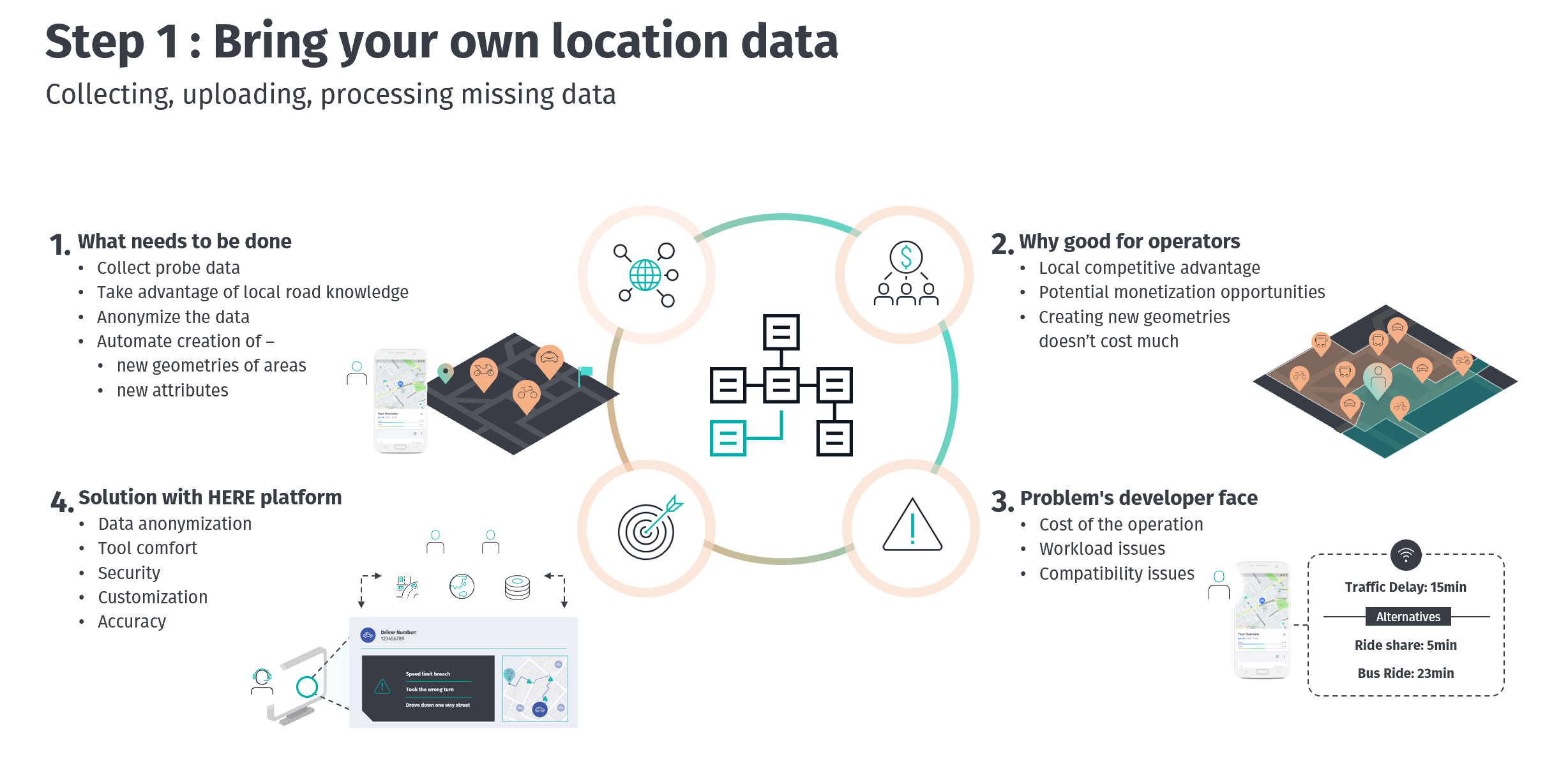 Step 2  
Bring your own location content 
(Combining data) 
After having created new geometries and attributes, you need to conflate them with your private map content and with the HERE map content. The outcome is a more accurate and complete map, with new attributes, geometries, and information to build a service on. 
After having created a new unique combination of maps, you can use it in the HERE router, a unique feature of the HERE routing API that does not require the standard HERE map to be used and it can also be used on any map.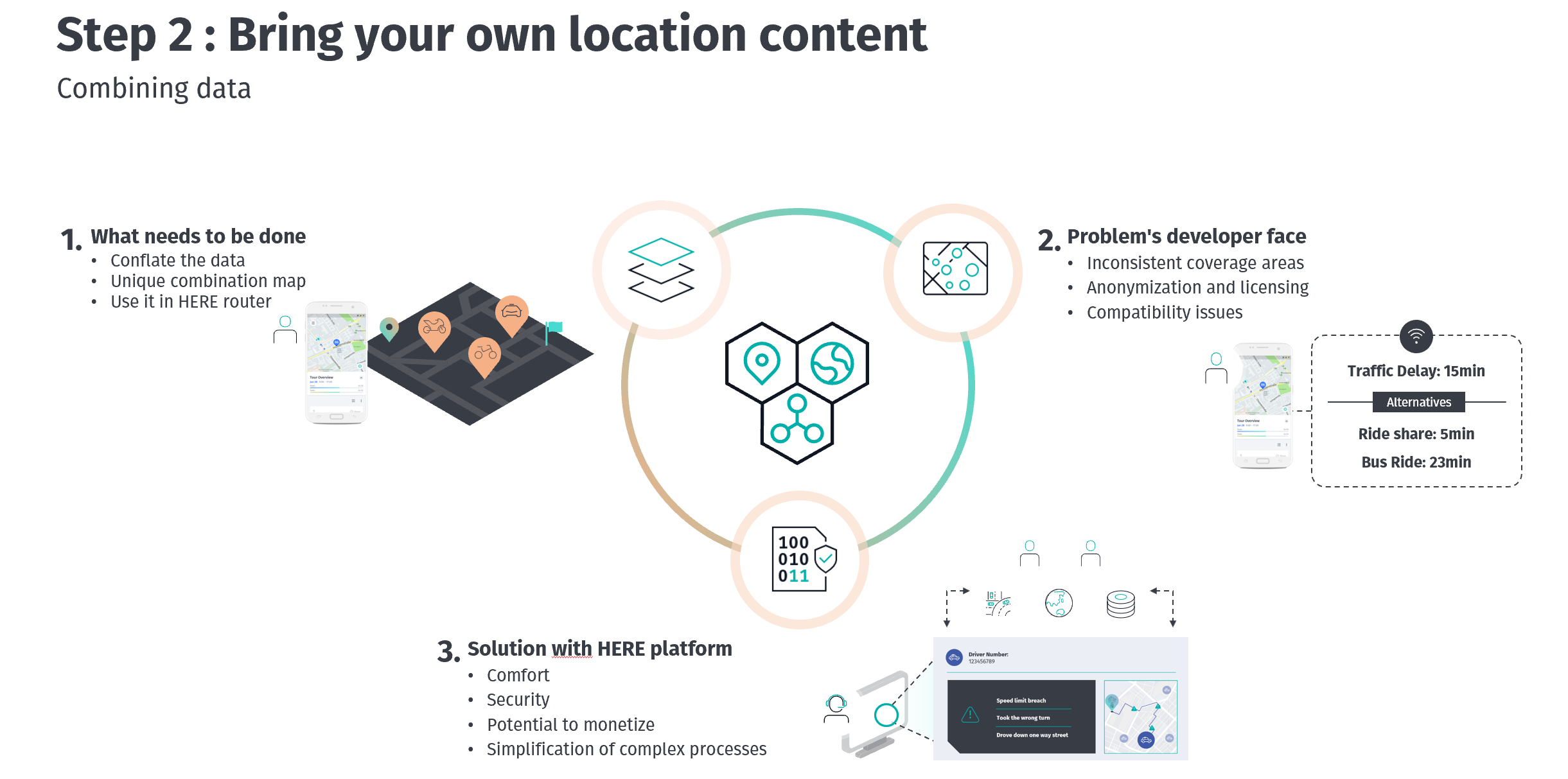 Step 3 
Bring your own logic to location data 
(Personalization) 
After having created a newer, more detailed map, with new geometries and attributes, you will need to adjust the business logic of the HERE router in a way that meets your business objectives and take advantage of the new-refreshed and detailed map. Specifically: 
You might realize that the experienced drivers reach a higher average speed, and want to adjust the routing in a way that avoids speed cameras

 

You want to avoid dangerous crossings to preserve the safety of users

 
You want to take advantage of the new private zones geometries you have added

 

You want to set up the safe and preferred pick-up and drop off points

 
So, you will take as a basis the standard HERE router and adjust it (without changing its core functions) only where necessary to meet the new needs 
This is a very important final step that allows the company to hyper-personalize its services, tailored to the specific cities' needs.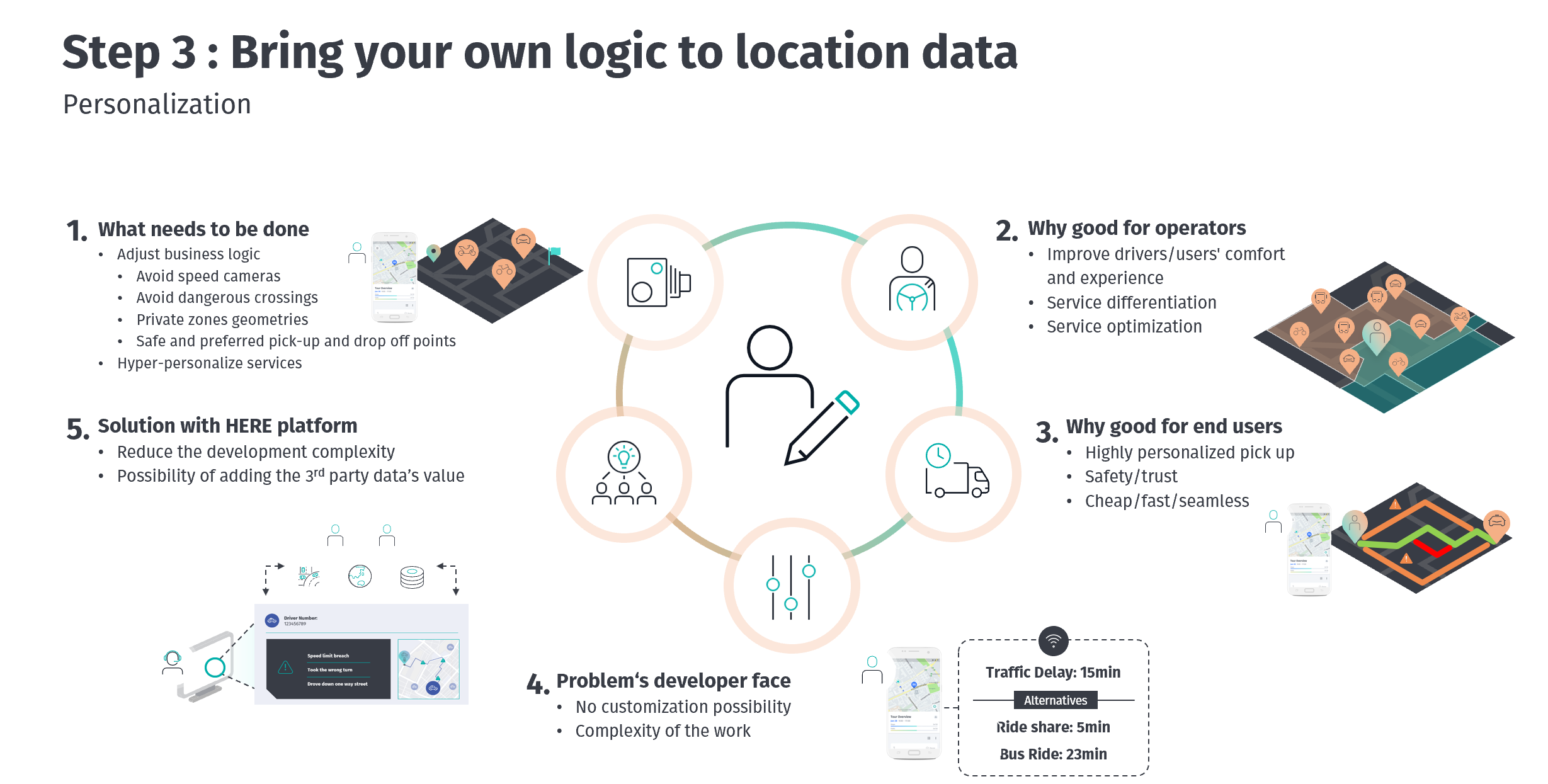 After following the above three steps, you will finally have a well-tailored and customized solution for your specific business need. You can watch the webinar here.
You can explore and learn more from the developer portal and HERE platform. 
We hope that this information would help you solve your location and mobility-related problems. We at HERE are constantly trying to make innovations in the field of location tracking and simplifying the user experience with actual and correct interpretation of data. Finally, we thank you for always reading and supporting us. 
Sign up for our newsletter
Why sign up:
Latest offers and discounts
Tailored content delivered weekly
Exclusive events
One click to unsubscribe