ISA data capture, accuracy, and processing - How speed limit data gets into automobiles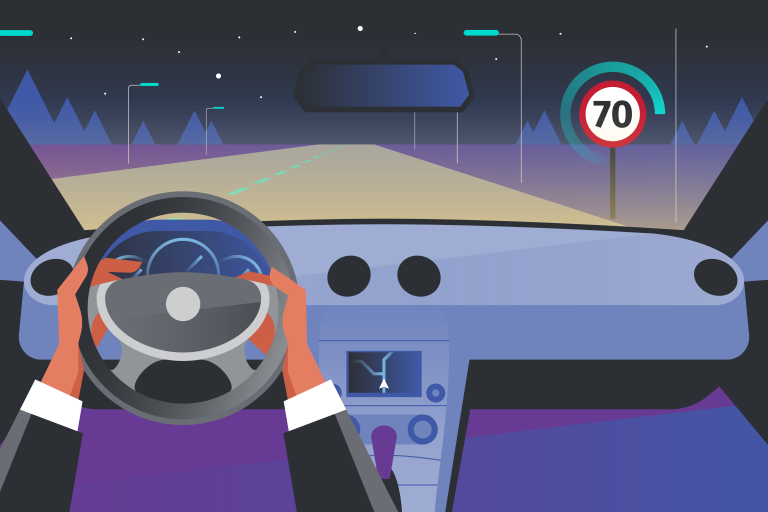 With Tom Hoenderop, HERE Product Owner Manager
What is ISA?
ISA, or Intelligent Speed Assistance, is an in-vehicle safety system that warns or prevents drivers from exceeding the legal speed limit. It provides accurate and reliable speed limit information with the current speed limit always displayed within the vehicle (advisory) and even allows restricting acceleration to ensure compliance. Alerts can also be done manually (voluntarily) or automatically (automated). 
To achieve this, ISA draws from various data points to determine the current speed limit, and these data points need to maintain a degree of accuracy to align with regulation. Speed data capture has been occurring at HERE for decades through various teams and sources. 
This blog post will cover the accuracy standards for speed limit data within ISA systems, where this data comes from, how it is processed and eventually gets into the cars. 
The EU has set standards around speed limit accuracy 
The ISA regulation mandates a minimum of 80% accuracy for each road type (highway, urban and rural roads) with the overall system performance needing to be correct 90% of the time. That is to say, the requirements do not apply to the map data in isolation, only to the overall system (which is at minimum a (camera) sensor in the vehicle). HERE's data will support the overall system performance by providing the speed limit data on the road segments, including those data that are difficult to detect by a camera.  
How speed data is kept up to date 
Keeping speed limit information up to date is a constant process. In general, about 10% of the speed limits in the European Union change on an annual basis. To keep the data up to date, different inputs are being used. Depending on the availability and update frequency of these inputs the accuracy of the information will vary. To ensure consistent data, the input mix is optimized throughout the European Union. This means that in some areas more data sources are used and in other areas more data is captured by our own fleet. Over time the input mix might change, due to data becoming available in certain areas or more connected cars delivering sensor data information to HERE. 
Capturing Speed data 
Speed Limits have been captured in our database already for many years. In the early 2000's this data has been incorporated and coverage has been expanded to more countries and lower road classes since then. Where it initially started with capturing speed limits on highways, nowadays this information is available on all road segments in the ISA territory. 
Sources for speed limit data capture and how it gets aggregated into HERE maps 
Speed Limit input comes from a variety of sources. These include, but are not limited to, governmental data, commercial datasets, probe & sensor data, data collected by our own HERE True collection fleet, changes detected via media monitoring, etc. What data inputs are available differs per country, region, city, etc., hence the mix used to capture and maintain speed limits differs accordingly. 
Several teams at HERE are involved in capturing and aggregating speed data for ISA-related maps. It starts with Product Management and the Content Product Owner team who define the overall product strategy and translate this into concrete requirements. Based on these requirements, our Data Partnership & Acquisition teams work with road authorities and commercial parties to retrieve speed limit information from them. This team also builds and supports our Map Creator communities. The Data Capture & Ingestion team supports the processing of probe & sensor data ensures and ensures our own HERE True collection fleet is at the right locations to capture information in the real world and then makes this available for ingestion teams to process this into the map data.  
The Local Data Intelligence team sees to it that changes on a local scale are monitored, captured, and processed. This team is located throughout the world and has a local network to effectively capture changes. Our ingestion teams work with all available data that needs manual review and processing and ensure this gets implemented in our data sets. The GIS Data Engineering team creates ingestion pipelines for available datasets to ingest the data in an automated and structured order, ensuring that whenever new datasets become available these get processed again. Finally, our Database Engineering team validates the information to ensure that there are no abnormalities in the data (e.g., avoiding a scenario where there was a speed limit of 279 km/h (173 mph) in the map data somewhere). 
Processing speed limit updates and delivering it to automobiles  
How speed limit updates are processed depends on the type of input. E.g., a source from the government follows a different process than ingesting data from probe or sensor data. It all has to do with normalization of the data, processing the data format and comparing the information in the input versus that in the map database. All differences are mostly processed automatically with some done manually. Speed limit data is then delivered to the vehicle via several channels, think here via an SD card, or DVD, but also OTA (over the air) data is made available to systems in the vehicle. 
Sign up for our newsletter
Why sign up:
Latest offers and discounts
Tailored content delivered weekly
Exclusive events
One click to unsubscribe