Introducing third-party content to make HERE more personal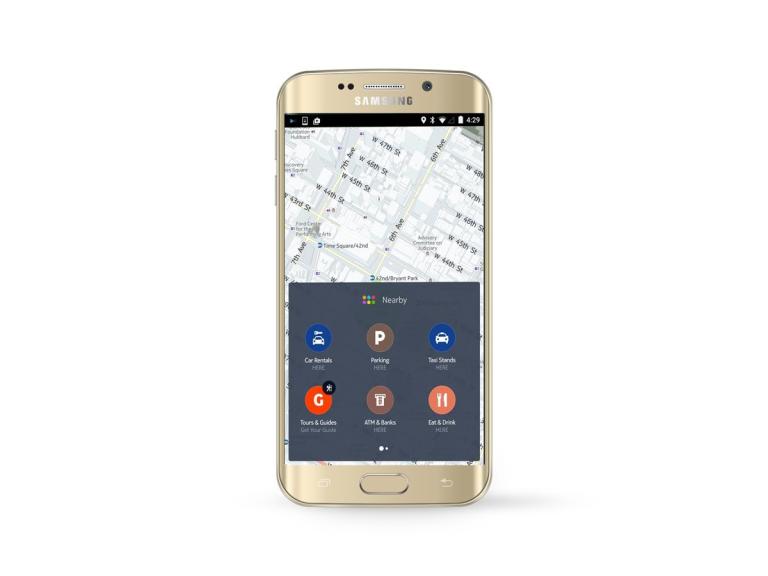 Earlier this month at CES, we demonstrated a more personal way of using HERE maps, and it's technology that we're including in today's HERE for Android beta update. Read on, as HERE app maestro Alex Osaki explains the latest additions.
When we demonstrated more personal mapping at CES, the reaction was extremely positive. Alex explains: "It was definitely a case of 'when can I get it, and where can I get it from?' You'll be pleased to hear that you won't have to wait much longer, with our latest version of HERE for Android beta including partner content, and it means you can find what's going on around you with fewer taps than ever before.
 There will be some differences to the apps we showed at CES, but Alex adds: "We're making completely new content available — in the past you'd go to the search bar, and maybe select 'eat and drink' to see what's around me. Instead, we're now moving that from the search bar and we're adding a new icon to the bottom of the screen, there will be a dedicated nearby option."
That makes a big difference when you're navigating with HERE, as it means you'll be able to select and get to your destination with fewer screen presses. "If you look at what we've done with Android and iOS applications, it's all about removing steps to what you want to do. One tap tells how long it's going to take on your commute home, for example.
"We want to remove steps. Even by just moving the search into a separate area, we're letting people do more with just one tap. We're also allowing people to see more, and in addition to just showing a search for restaurants or ATMs and things like that, we're also beginning to show how we can highlight third-party content."
Introducing Get Your Guide
"For example, our first partner is Get Your Guide, which offers up tour guide information, things you may find interesting or want to visit in a city. They have information about places like we have, but they can also provide curated content because they know what's interesting about Midtown, say. You can integrate that now within the HERE app. 
You'll be able to see the guide, you'll be able to read more about it and we will take you to Get Your Guide's mobile website to book it from there. Using HERE means you can see where it is on the map, you can see how long it'll take to get there, you have one-tap access to directions which lets you make an informed decision about how you want to spend your day.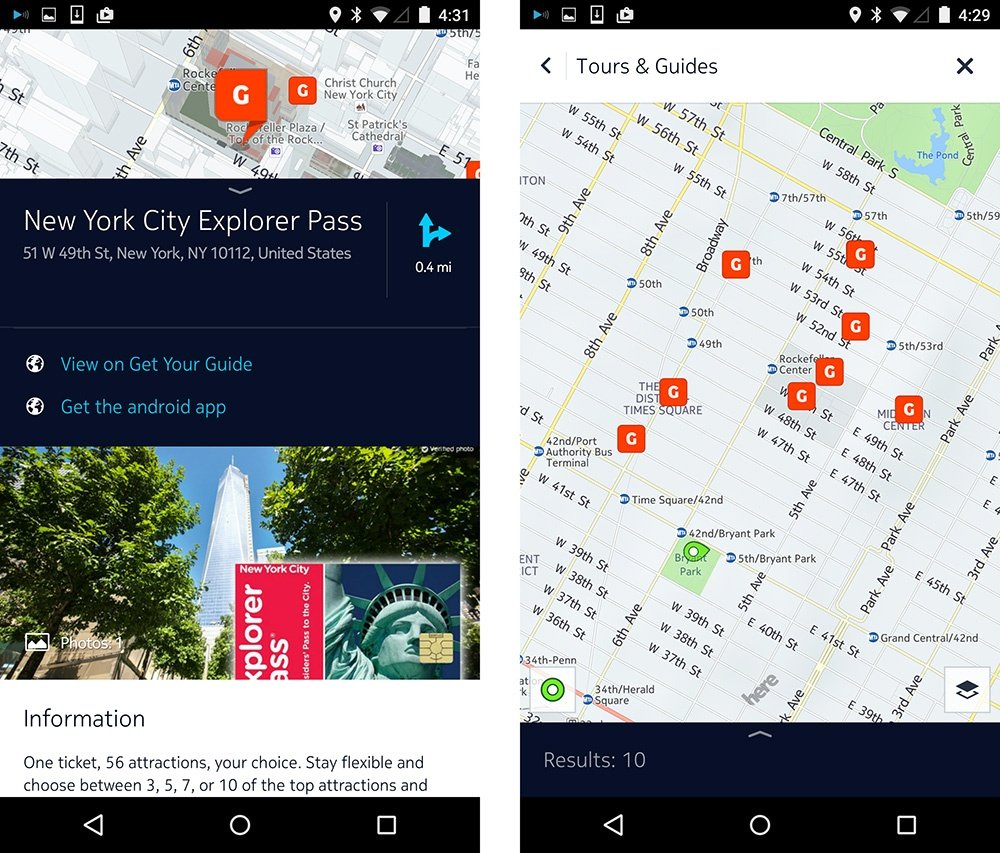 "Before the integration, Get Your Guide doesn't know where you are, maybe it doesn't know the train routes, for example. It's a way we can create a synergy and we can do things we haven't been able to do before. You can see all of this information in one place.
"We're talking now about content and opportunities that extend outside the HERE application. It's a big benefit for people using HERE — being able to link directly outside the HERE map enables people to see more information or to book something directly; that's a new opportunity for us and it transcends our application — it's how HERE maps can be an enabler for our partners and our consumers to do more with mapping."
Get Your Guide is just the start though, and with more partners, it will be possible to make HERE for Android even smarter and better suited to your needs.  "Get Your Guide is the first partner we'll show," Alex adds, "but there are a lot of opportunities that suggest themselves."
Sign up for our newsletter
Why sign up:
Latest offers and discounts
Tailored content delivered weekly
Exclusive events
One click to unsubscribe