How flygge built the ultimate camper vacation planning app using HERE Technologies
#BuiltWithHERE is a series that celebrates innovation and technology by showcasing how developers are using the HERE platform to solve location-related business problems. Each blog post highlights developer solutions and apps that are timely, innovative, transformative, and use HERE services, API's, and SDK's.
In this blog post, we are catching up with flygge, who have built the ultimate camper vacation planning app using HERE Technologies.
Fly What? 
First things first. What does "flygge" mean, and how do you pronounce it? Flygge is pronounced flu-guh, and team flygge has said that it is a hybrid word that combines the German term "flügge werden" with the Nordic term "hygge." In common German, "flügge werden" represents the process of growing up and the desire for freedom and independence. Whereas "hygge" signifies a sense of happiness and coziness. "Therefore, when you experience the feeling of being "flygge," you are savoring the freedom of simplicity," says platform lead Steffen Strobel. 
In addition to Steffen, the team is comprised of lead developer Karin Berg, Sebastian Grimm, who heads up marketing and strategy, and Ronald Feuer, the business development lead. The common thread that binds them? Campers (AKA motor home, RV), though they have a wide array of experience in app development, telematics, digital mobility and the automotive industry.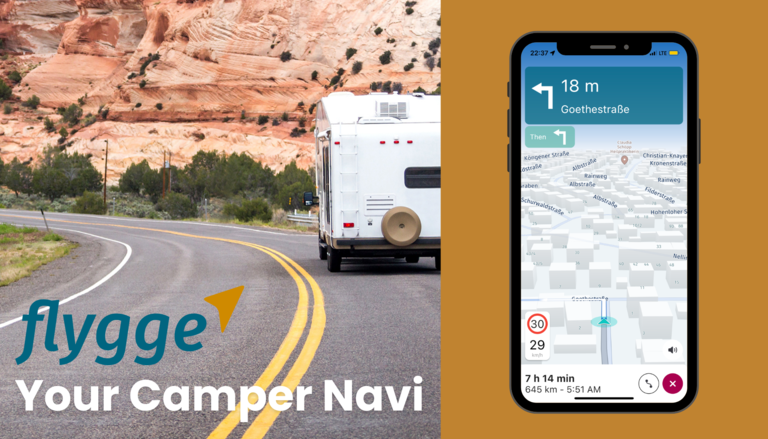 From Inspiration to Implementation 
The genesis of flygge as an app came from a member of the team who had purchased a camper van. The concept of integrating a hardware box into the camper came up. This box could monitor its position, lights, and water levels came up. Essentially, they wanted to create a smart home on wheels, however, they soon realized that breaking into the hardware market was quite challenging. This is when the idea of developing an app that catered to the needs of camper van owners emerged.
The original app started as a simple navigation tool, but after they identified a pain point for app users who struggled with simple navigation due to the specific dimensions of their camper vans, it grew into a feature-rich app built with HERE's SDK for Flutter (navigation edition). Lead Developer Karin Berg summarized this by saying that "the goal was to create a navigation app that took (camper) dimensions into account while providing a sense of security." 
the goal was to create a navigation app that took (camper) dimensions into account while providing a sense of security.
Why flygge went with HERE Technologies 
As the flygge team embarked on developing their app, it was established early on that they wanted the possibility of building a multi-platform app on the flutter framework. There was familiarity with HERE Technologies from a members past work at an automotive OEM, and after some additional market research with an outline of the desired functionality, (navigation based on vehicle measurements and multi-platform support with Flutter) HERE came out on top for building the app for both iOS and Android from a single codebase. They chose the Navigate edition of the SDK for Flutter specifically, as it is the most feature rich edition and includes premium features such as turn-by-turn navigation, offline map data as downloadable countries or regions, offline search and offline routing, to name a few. Some screenshots of this functionality:
Deeper Dive-Implementing the HERE Technologies Stack 
To achieve the ambitions of their caravan app, flygge has extended the capabilities of their app by offering in-app purchasing for premium features. In addition to the routing functionality in the Navigate edition of the HERE SDK for Flutter, the app can handle caravan/camper dimensions via truck navigation parameters that look at weight (max tonnage), and rely on the light-truck option as traditional truck navigation does not account for caravan behavior. So the app seeks to find the right balance between a truck and a standard automobile: On one hand, the size and weight is closer to trucks but a caravan does not conform to the truck-specific restrictions.
They also use a traffic layer for restrictions, such as determining road restrictions and the max height of a bridge, for example. An additional challenge was to show speed limits for turn-by-turn navigation where existing truck routing does not apply. They implemented the Flutter speech engine for the turn-by-turn functionality.


What else can it do?
As mentioned, flygge allows you to customize your experience. In addition to defining the dimensions and weight of your RV, campervan etc., you can also add a photo of your camper, specify a route profile and save routes. You can ensure you are able to navigate on safe but scenic roads through the avoidance of tight corners and narrow streets with several route types and settings available to personalize: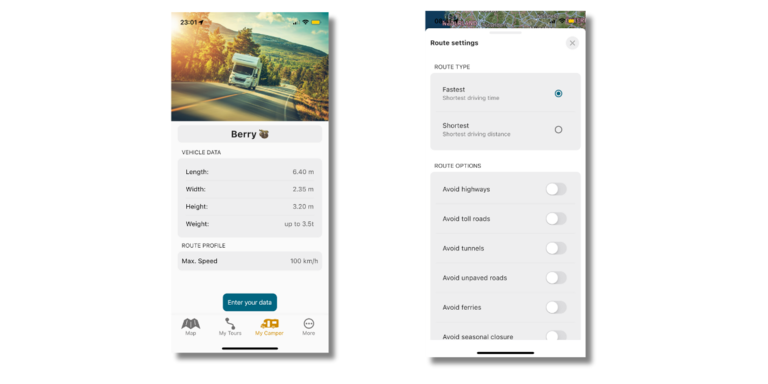 The app also leverages the latest HERE map content which is the freshest in the world, currently used in 4 out 5 car navigation systems in North America and Europe: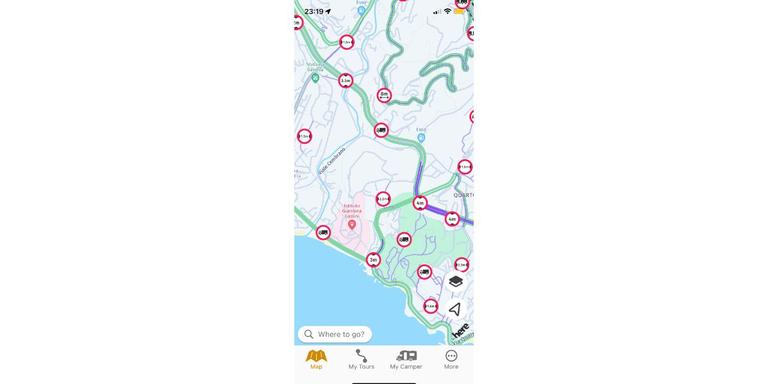 Extending Boundaries: flygge Coverage Areas 
As you may have deduced, the app is EU specific at present. The current coverage areas are the following countries: Germany, France, Luxembourg, Netherlands, Austria, Italy, Poland, Switzerland, Belgium, Denmark, Spain, Portugal, Lichtenstein, Iceland, Greece, Malta, Finland, Sweden, and Norway.
Future Aspirations
flygge is actively being developed and is seeking investors as they look to scale the app as their ambition is to become the largest independent and open platform in this market. You can learn more about this here.
With numerous features in the backlog and an agile approach to releases, they hope to continue to bring innovative features to market. A few of the planned feature enhancements include:
Near-feature concentration on trip-planning to plan multi-stop trips

Showing weather as a map layer overlay to find cooler destinations during the summer months

The ability to see roads with steep slopes

Showing POIs (points of interest) for camping and fresh water
Conclusion
Sign up for our newsletter
Why sign up:
Latest offers and discounts
Tailored content delivered weekly
Exclusive events
One click to unsubscribe