How active logistics modernizes their fleet with HERE Tour Planning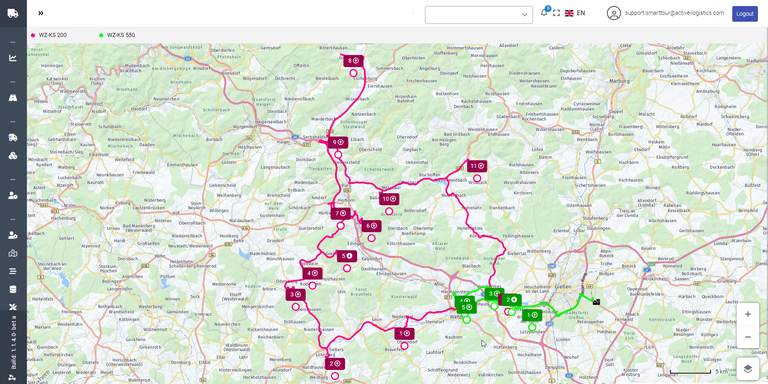 #BuiltWithHERE is a series that showcases how developers are using the HERE platform to solve location-related business problems using location data. Each post highlights developer solutions and apps that are timely, innovative, and transformative.  
In this blog post, we will take a look at active logistics, who has been developing simple and efficient complete IT solutions for companies for over 40 years! The company's main focus is building solutions for logistics sector and the manufacturing industry. The applications cover all areas of the supply chain and all modes of transport. 
Key challenges in today's logistics industry
One of the key processes in logistics is dispatching. This means that a logistics depot in the active logistics branch, for example, has 2000 delivery and pickup orders as well as 100 trucks per day. The dispatcher needs to match those shipments to the trucks in the most efficient way. This is already quite complex but gets even more complex because a lot of constraints need to be considered, e.g., opening times at locations, traffic flow, priority customers, resource capacities, driver and vehicle skills, and many more.
The active logistics team needed a product that solved the current logistics challenges with tour planning, provided geocoding and search, mapping and other logistics services. As all of these were available with a single provider, it was an easy decision for them to develop their application with HERE.  
Developing the active smart tour application with HERE Tour Planning
The application active smart tour automizes the entire dispatching process, which is usually done very manually. It uses the HERE Tour Planning as the algorithm to solve complex dispatching problems, therefore reducing the dispatching time from several hours (between 4-7h) to just a few minutes. In order to get the best results possible, users are provided with a lot of settings that enable them to customize the result as much as possible. Users can also connect their telematics systems to smart tour and can follow their fleet while being able to communicate with the driver and react to incidents, such as traffic jams, breakdowns, etc. As a result, the logistics companies can tackle staff shortages, reduce their process costs and increase their productivity in several process steps.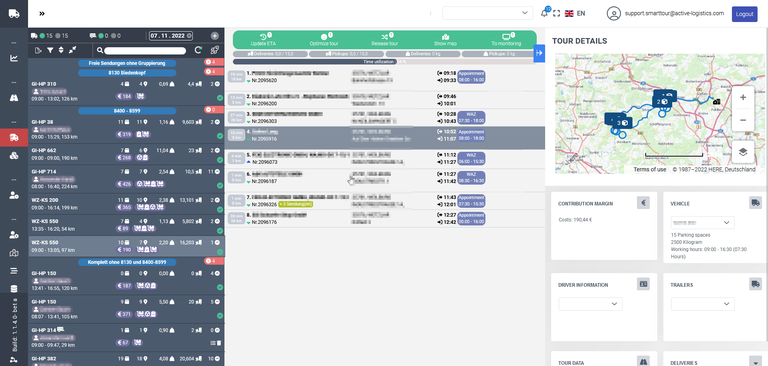 As a full web application with innovative UI/UX, smart tour is very easy to use, makes work more fun and ultimately increases the transparency of the whole dispatching, delivery and pickup process. Standard use case is dispatching of a freight forwarder, especially for deliveries and pickups around their depots. In general, smart tour can be used wherever dispatching processes occur, e.g., CEP (Courier, Express and Parcel Services), pharma transport, service companies, food delivery, etc. 
The smart tour application is connected to a transport management or ERP systems, from where the shipment and fleet data is received. Data quality is dependent on the customer. Very important are, for example, longitude and latitude of shipment destinations. In order to ensure high data quality, active logistics uses HERE Geocoding. If an address is not valid, the user can change within seconds to the correct address by using the embedded Search service. HERE Map and Fleet Telematics API is used to visualize the route of the vehicles as well as providing ETA.
Currently, customers are using active smart tour in Germany, Austria and Swiss. It can be used in any other country and any language.
active smart tour uses HERE Tour Planning to reduce the dispatching time from several hours (between 4-7h) to just a few minutes.
What's next?
active logistics is making sure the whole dispatching and monitoring process can be done end to end in active smart tour. After that, they are planning on extending the functionality to target other segments, such as CEP, pharma transport, service companies, food delivery, etc. 
Sign up for our newsletter
Why sign up:
Latest offers and discounts
Tailored content delivered weekly
Exclusive events
One click to unsubscribe