Empowering driverless vehicles with the Audi Autonomous Driving Cup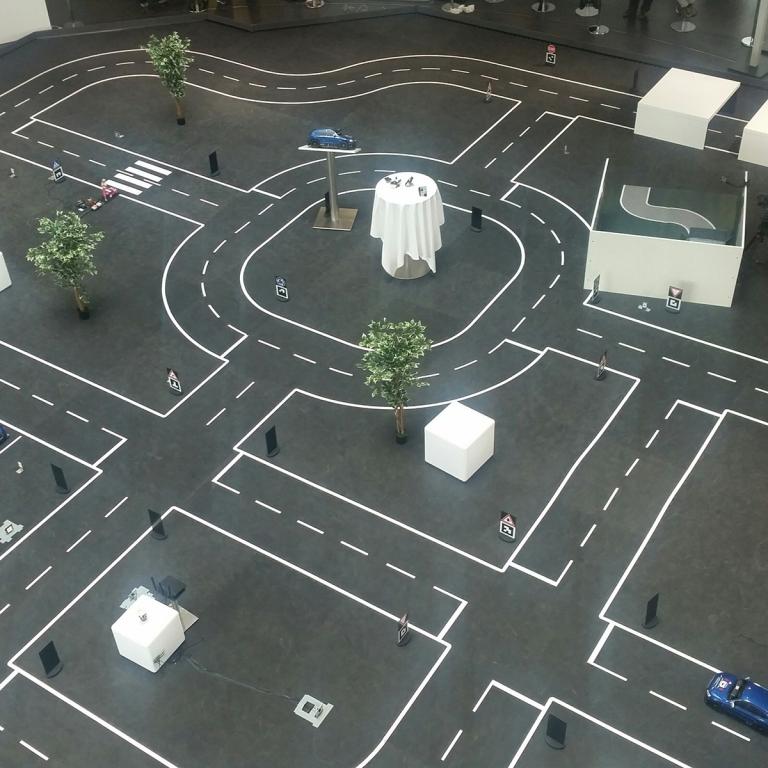 Over the past year, the autonomous car has generated countless headlines. Every major automaker is looking to embrace developing technologies to realise what is fast becoming an inevitability: the driverless vehicle. Of particular note, the Audi Autonomous Driving Cup looks to equip a new generation of students with the skills to make this a reality.
HERE demonstrated its technology at the event, held last week at the Audi museum mobile in Ingolstadt, Germany. We spoke with Lars Mesow, competition committee member at the Audi Autonomous Driving Cup, and Jari Syrjärinne, senior manager at HERE for positioning services, who told us about the tournament, what it means for the competitors, and how HERE will play a part in its future.
According to Lars, "The Cup came about when we realised that students were becoming very good at solving theoretical problems but weren't learning the practical skills required to develop autonomous driving, like robotics and data science. As a result, we decided to create a competition to help teach students these skills."
Scaled down yet realistic
The event, launched in 2015, sees eight university teams compete to develop an autonomous car, with Audi providing the test vehicle with a scale of 1:8. Lars tells us, "We wanted to make sure that the car was not too big, but not too small to place all the electronics inside. The aim was to build the same architecture that we have in our real development cars. Just a little bit smaller."
The students then must use the basic software provided by Audi, and build upon it to create an autonomous car capable of navigating a circuit, which includes obstacles and diversions. HERE began working with Audi when it became clear that its mapping and data could enrich the competition.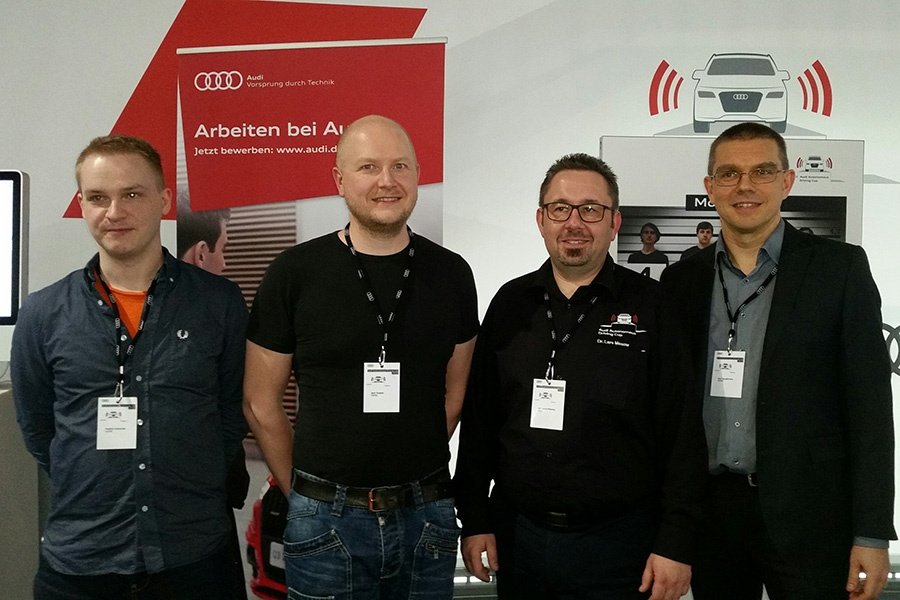 The Team (l-r): Heikki Holstila, Jani Käppi, Lars Mesow and Jari Syrjärinne
"Precise map information, and a constantly updated, always available online map is very important for the future of autonomous driving," Lars explains. "The idea this year was to work with HERE to demonstrate something that showed the students, visitors and journalists why autonomous vehicles need technology like that developed by HERE."
The demonstration shows two cars driving autonomously and meeting several obstructions along the way. The first encounters these obstacles and shares the information with the cloud. The second, which has gained access to this data before meeting the construction work, uses this insight to drive more slowly through the area without any risk of accident.
Asked about the process of creating the demo, Jari says, "We didn't have a great deal of time, but thankfully had very good teams around us – the guys from our Automotive team, the HD Map development team ­– who helped make it possible. We actually created a small-scale test track in one of our offices, using black carpet for the road and hockey tape for road markings. We created these based on Audi's specs, and had a lot of fun building and testing our vehicles over the past few weeks."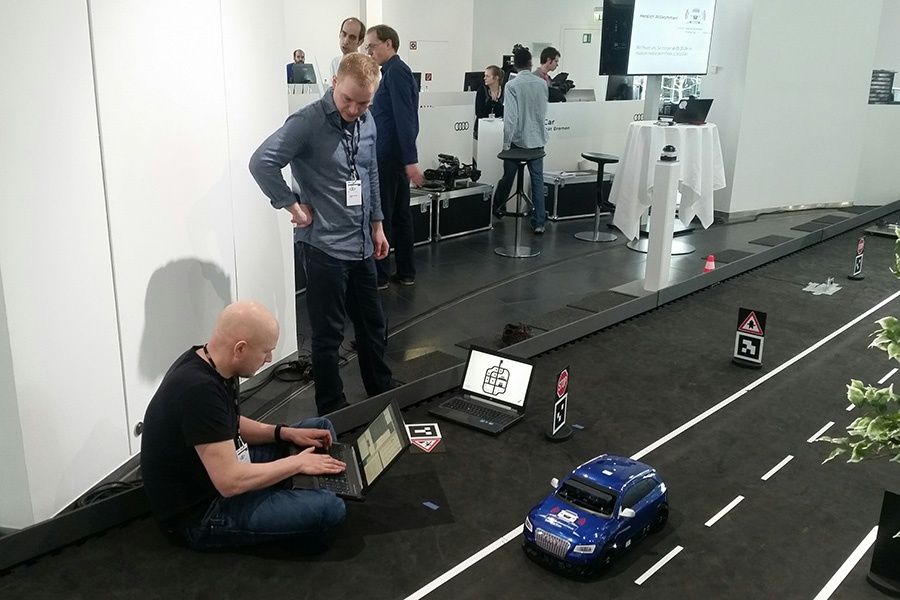 The aim is for HERE and Audi to work together for the 2017 Cup, with technology from HERE potentially becoming a key part of the competition, letting students work with map data to help their vehicles better navigate obstacles. In doing so, the students will learn a lot about how to develop software for very complex driving scenarios and transfer this into a suitable software architecture.
Target 2017
Jari says, "There are three main features we would like to introduce in 2017 – first, is HD Map, our highly-precise maps for automated driving purposes. These are simple to integrate, but rich enough to be used as a platform for all types of use cases.
"Second is positioning. The system must be able to establish the position of the car. This is relatively easy, using information from cameras and other prompts in the vehicle, but we are also starting to work with radio technologies – e.g. Wi-Fi ­– to establish the location and position of vehicles.
"Third are live updates. If the car is driving and sees something unusual, it is able to share this information, reroute data traffic and slow down early enough to avoid a collision. This relies on the fact that the car knows not only its own location, but the coordinates of these events."
These capabilities, demonstrated last week, will be brought to the Audi development environment later this year. According to Jari, "These capabilities will enrich the experience for the students, and provide a better idea of how these technologies can empower the autonomous vehicle."
Cream of the crop
Asked what the goal of the competition is, beyond the monetary prizes for first, second and third place, Lars tells us, "This is about giving students the opportunity to learn practical skills, and to showcase these skills. By impressing at these events, winners and runners up from these events have a better chance of securing internships and employment. It's also an opportunity for us to learn more, and find talented people."
Discussing the part HERE has played, Jari explains, "We wanted to show how our map data and services can make a significant contribution to the development of the autonomous car. We want to show what we can do."
Sign up for our newsletter
Why sign up:
Latest offers and discounts
Tailored content delivered weekly
Exclusive events
One click to unsubscribe