Is driving an e-motorcycle from Argentina to Los Angeles even possible?
Actor Ewan McGregor and his friend Charley Boorman took the 13,000-mile trip on an e-motorcycle – and the biggest challenge was charging it.
A trip on a motorbike across the Americas from Ushuaia in Argentina to Los Angeles would be a challenge on its own.
Doing it on an electric motorcycle made it a step into the unknown. Would actor Ewan McGregor and his pal Charley Boorman be able to charge the vehicles regularly enough to complete the trip in the planned 100 days?
It was clear from the start of the adventure, which the pair filmed for the Apple TV show Long Way Up, that range was going to cause continual anxiety.
South America had no fast chargers at all. That meant the pair relied on household plugs to charge their bikes, which presented a huge logistical challenge.
Going through 13 countries in just over three months was not going to be easy. The Harley-Davidson LiveWire bikes they chose to make the trip can take hours to charge.
What they learned about charging and range on e-motorcycles
At the planning stage of the trip, it looked as if it might be impossible.
Then Enel X created a corridor of 220 JuiceBox fast chargers throughout Latin America to North America.
Working with HERE, Enel X previously traced the movement of people in Italy as a way of tracking COVID-19 infections.
They would help the pair complete their trip and serve as a legacy for future electric adventurers.
"Most people start in LA and head south, which starts easy and then gets harder, but we went full-on in at the deep end by starting in Argentina," Charley told Motorcycle News. "It was so cold that the batteries' range was instantly reduced so we could only do about 120-130 miles a day and the cold affected the charging," he remembered.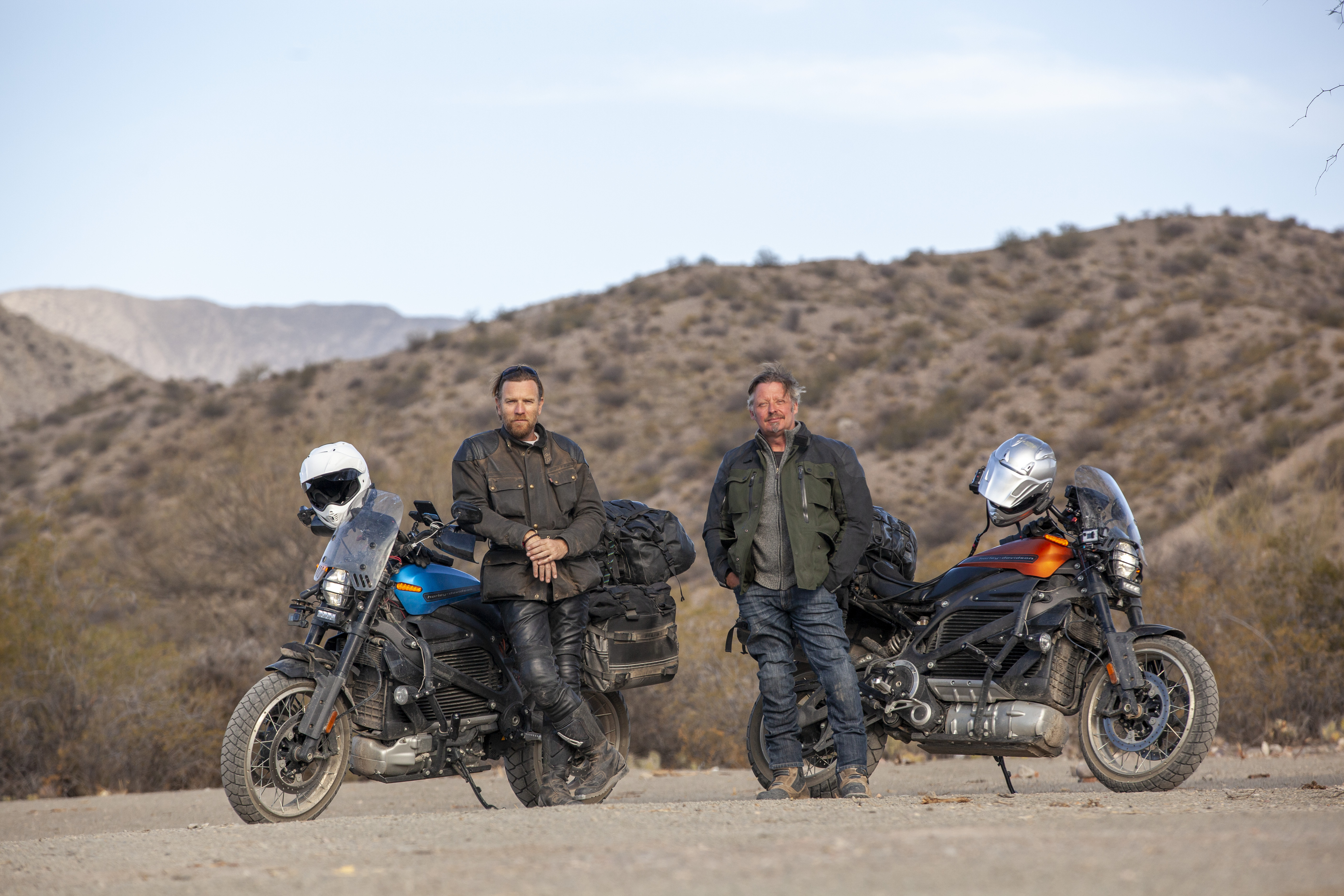 The bikes had to survive tough off-road conditions in remote areas. Image credit: Apple TV

Several times in remote areas, the electric power in homes and hostels was too weak to charge the bikes. Ewan and Charley had to rely on a diesel generator to get life into them again. Ewan's bike was towed for the final part of his journey to a ferry in the early part of the trip in Patagonia – the only way to make it as there was only one ferry per day.
But they found talking to the café owners and even border staff who offered their electric power was part of what made the trip special.
"We would knock on people's doors and say, 'Look, I know this is an odd request, but do you mind if we plug in?'" Ewan said. The pair had to apologize after their charging attempt blew a fuse and plunged a home into darkness.
Fear of being stuck in such inhospitable places as a freezing desert at night caused anxiety about whether the power would last.
But there were also experiences such as the descent the two riders took in Peru. Going from a height of 14,000 feet to sea level over three hours only used 6% of the battery.
Looking to the future
The big difference once the pair entered the US was being able to use fast chargers.
Instead of waiting overnight for the bikes to charge, it took less than an hour.
"It was like seeing an escalator for the first time," Charley joked.
The trip, which began last September before COVID-19 and social distancing, is being shown on Apple TV with new episodes every Friday.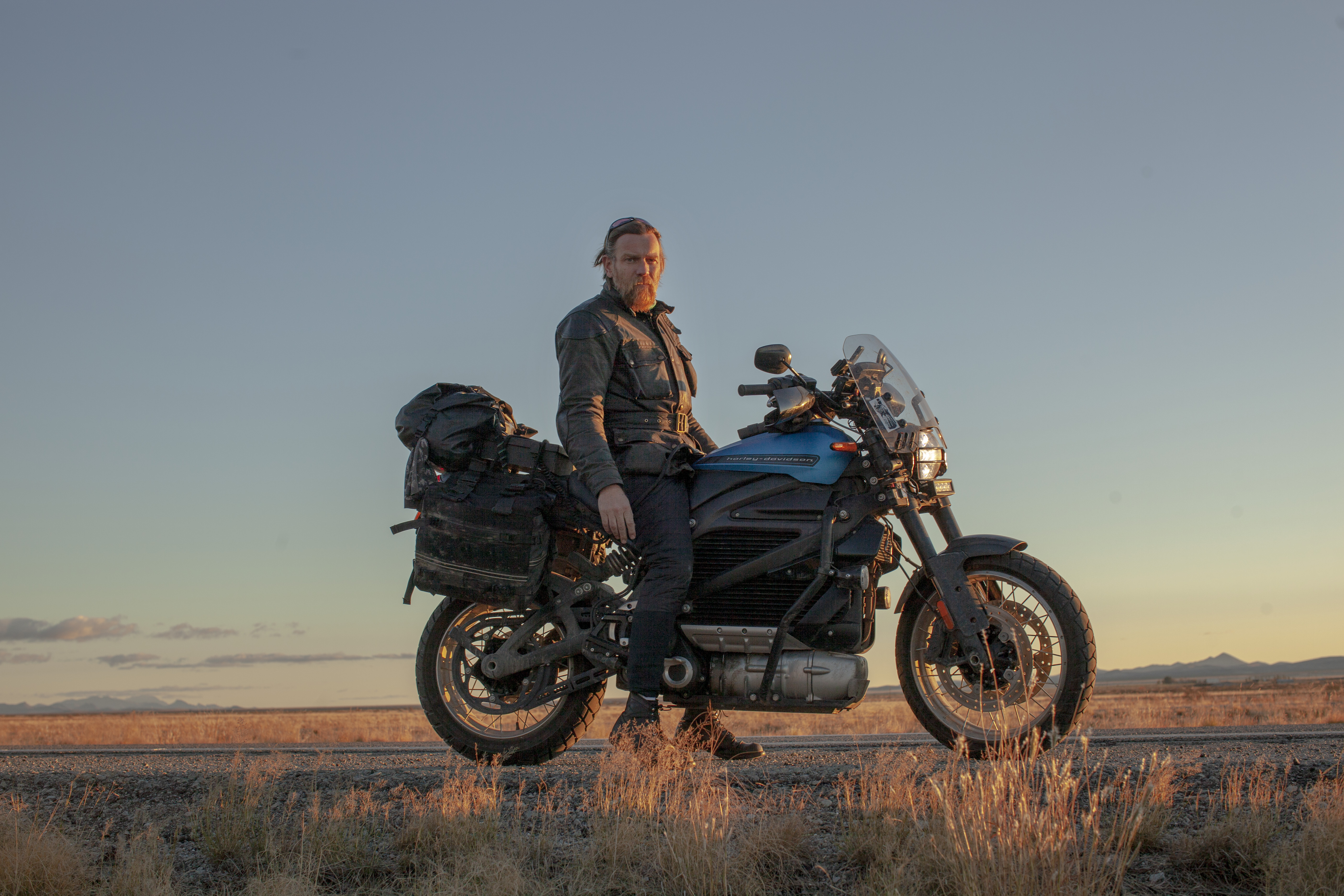 Harley-Davidson modified their LiveWire bikes for the 13,000-mile trip. Image credit: Apple TV

Ewan and Charley were the first to test the Harley-Davidson LiveWire on a trip of this kind, much of it off-road.
The 2020 LiveWire bikes were modified to last the distance on tough terrain, including salt flats, snow, gravel roads, and sand.
Other adventures
Ewan and Charley are not the only intrepid riders to take the LiveWire on tough trips.
Earlier this year, Felix Stellmaszek rode his LiveWire from coast to coast in the US.
While there were mishaps along the way, he pointed out in an interview that the motorcycle's screen, which gives directions and shows how much range is left on the bike, was helpful.
That was until he lost his phone on the highway.
Thankfully, Felix was able to turn back and find it again.
"Nowadays, you need your phone for pretty much everything on a trip like this," he said.
It is even used to activate the charging stations.
But he added: "I'm absolutely convinced that the LiveWire — and electric motorcycles overall — will expand the overall appeal of motorcycling.
"The sport has lost more and more fans over the past years — and in Europe, you have talks about banning motorcycles altogether on Sundays and holidays due to noise pollution. That's where I believe electric motorcycles will make a huge difference," he told Revzilla.
Meanwhile, Diego Cardenas took his LiveWire from the US-Mexico border to the US-Canada border.
He completed the challenge in part thanks to the West Coast Green Highway, a solid network of consistently-spaced charging stations running up the west coast all the way to Canada.
Diego describes the group of enthusiasts who gather on social media to discuss the LiveWire as a movement.
"I wanted to be a part of Harley-Davidson history and have my future grandkids be able to talk about how their grandfather was the first H-D electric motorcycle owner to do such a ride," he said. "I wanted to show the world that electric charging infrastructure is growing too."
As for Ewan and Charley, they were keen not only to explore the Americas but also to be part of history.
"It's definitely the future. We'll all be driving electric-powered vehicles, I'm sure," Ewan said.
Range anxiety can be an issue for fleets, too. HERE's Route Planning API can calculate delivery plans based upon an EV's specific capabilities. HERE Technologies' director of product management Christoph Herzig said: "When [HERE] plans the routes, and optimizes the tour plans, we can take into account the actual range of the vehicle based on real-time battery-charge information, which comes from the connected telematics system."
Know where to find your next EV charge here.
Sign up for our newsletter
Why sign up:
Latest offers and discounts
Tailored content delivered weekly
Exclusive events
One click to unsubscribe