HERE and connected cars in 2014: the path to CES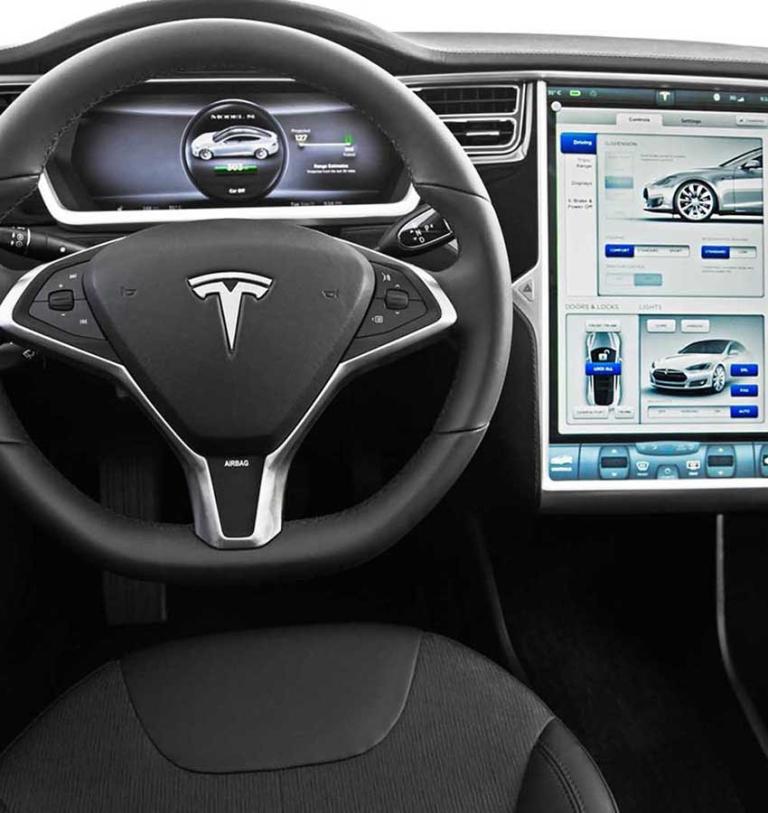 Announcements from HERE in 2014 saw some big steps towards remaking the vehicles of today, next year and a fully autonomous future.
We take a look back at what the year had to offer when it came to tech-filled autos, and what we can expect looking forwards. It should certainly be a bright future, and we've already revealed a new chapter in the story with BMW at CES.
Remaking the dashboard
As cars get smarter, we're seeing huge jumps when it comes to cockpit design, with much more intelligent dashboards required to help deliver all the information on offer. HERE Auto led the way during the past year, developing modular solutions that are perfect for all occupants, providing everything from navigation and heads-up displays to systems that can connect and control multiple devices.
A staggering amount of work has gone into the design of the latest dashboards, with ergonomics, ease of use and safety being some of the biggest drivers behind the latest cockpits. And the modular design of HERE Auto means it can show information on the screens that need it most. That could mean bigger maps on the central console, with more time-sensitive information appearing on the dash in front of the driver - when to turn right or left, for example.
Cars are also becoming more connected, and HERE Auto makes it possible for multiple tablets and smartphones to communicate with the car, letting passengers use companion apps to interact with in-car computers, from controlling music to suggesting alternative routes.
It's certainly been interesting watching the evolution of the dashboard, but it's the future that really excites us, and Enrique Galler, the director of design for HERE Connected Car explains that while people generally have preconceptions when it comes to digital displays, cars have the potential to shake things up, and we're already starting to see that happen.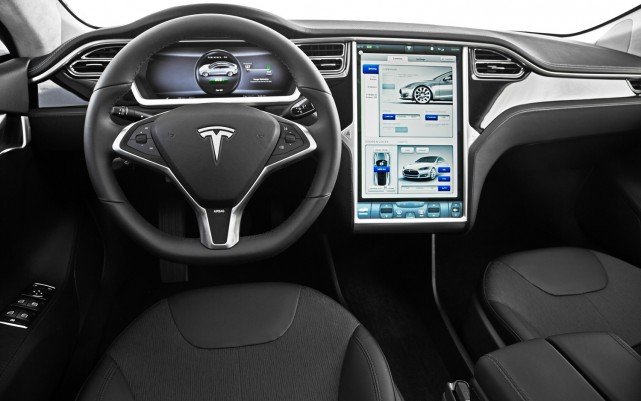 "Within 3 to 5 years, digital screens spread throughout the cabin will likely become the norm. Along with that, we're already seeing car manufacturers beginning to implement larger heads-up display elements or refocus the all-in cluster."
Making an impression on the industry
The new Volvo XC90 already packs in plenty of tech developed by HERE, and the XC90's in-car control system has been designed to let drivers keep their hands on the wheel and eyes on the road as much as possible. That means interfaces that can control your smartphones and mapping from HERE that offers everything from regular navigation to a brand new embedded Park&Pay app.
The Volvo is just one of the dozens of new cars that uses HERE in-car systems though, with 50 out of 62 new models packing in mapping from HERE. The latest Audi TT is a great example, and it made an appearance at the Mondial de l'Automobile car show in Paris this year.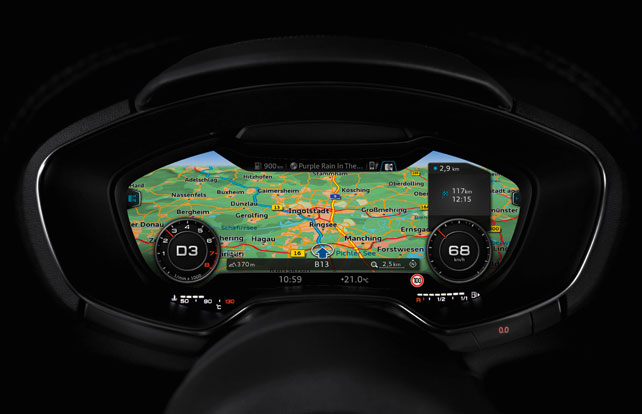 Audi has taken an unconventional and more driver-focused route with the new TT, eschewing a central screen and instead using a huge TFT panel behind the steering wheel to provide everything from mapping to speed information. Or how about the new Opel Corsa supermini, which offers more affordable in-car navigation by pairing a smartphone and BringGo app with a large display, in turn using HERE mapping stored on the phone itself.
Fully autonomous cars may still be a little while away yet if the technology we've seen during 2014 is anything to go by, the cars we'll be driving in the meantime still look a whole lot smarter than anything that's gone before. A potential 152 million connected cars are expected to be on the road by as early as 2020. The future is happening faster than you might have expected.
The path to autonomous driving
We've spoken to some incredibly inspirational people in the automotive world during the past 12 months, and it's provided a fantastic insight into what we can expect in the future. More specifically, what we can expect to see between today's connected vehicles, and fully autonomous cars making a more widespread appearance over the next decade or more.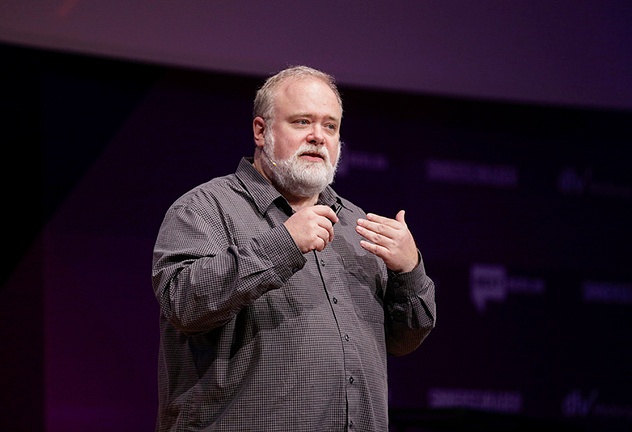 Brad Templeton, the director of the Singularity University, and a well-known guru on autonomous cars, highlighted some of the changes and challenges we'll see as cars get more advanced. Brad explains that cars will become cheaper, more convenient and much less energy-consuming. In short, they'll change our cities, and they'll change the way we live. That's a view we couldn't agree more with, and we highlighted similar benefits back in July when talking to Ogi Redzic, HERE's VP for Connected Driving.
According to Brad, it's only testing that stands in the way of a fully autonomous future, with the need to ensure that vehicles are safe in as many situations as possible. Before then though, we'll see both manned and driverless vehicles mixing it out on the open road, and Brad adds: "Of course, they have to mix, there is no other option."
We'll see highly automated cars make it to the roads first, with fully automated cars heading along a few years after that. The difference? According to Ogi, the need to be fully awake, sober and on hand to take control of the vehicle if required – think of adaptive cruise control as a good example, and then imagine if your car could also steer, change gear and do most other things for itself. Continental's Electronic Horizon platform shows off this tech perfectly, using real-time data to find out about incidents on the road as soon as they happen, helping your car to avoid traffic, to have prior knowledge of accidents just around the corner, or simply to stick to local speed limits.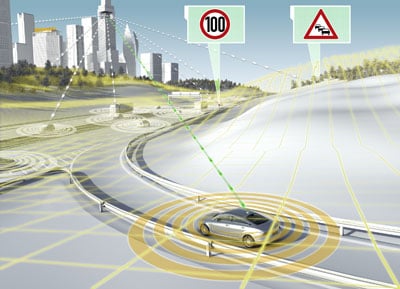 Before cars can take control though, maps need to get even more accurate, with Peter Skillman, the head of design at HERE adding: "It's not just any map. It needs to be highly precise, contextual and infused with intelligence." That means getting down to 20cm precision, and for them to contain a vast number of attributes from slope, to curb height and lane configurations.
Although lots of us will lament the ability to wholly control our own vehicles, it's easy to see why so many people are pushing for change. "With 90 percent of accidents caused by human error, this technology is intended to save lives," says Ogi. The best bit? The technology is already around for cars to drive themselves, as demonstrated by the likes of Mercedes, with its self-driving S500.
And while 2014 may be over, we're not done yet; as well as our partnership with BMW, we'll be showing off more at CES this week, so be sure to visit our booth or check the site for more information over the next few days.
Sign up for our newsletter
Why sign up:
Latest offers and discounts
Tailored content delivered weekly
Exclusive events
One click to unsubscribe