ADAS tech can save lives by helping you and your car drive safer at night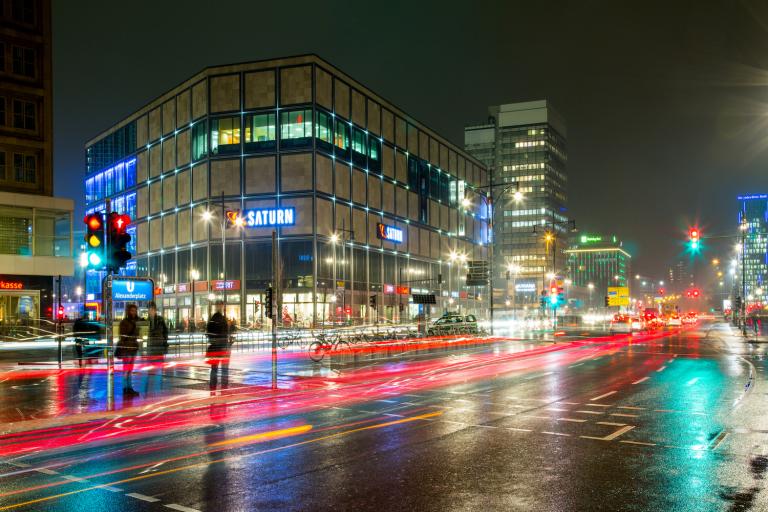 After dark, streets are most dangerous for pedestrians and cyclists. ADAS car tech can help save lives by empowering drivers to make better informed decisions.
If you walk or cycle at night, take heed: city streets are getting more dangerous.
Last year 6,482 pedestrians were killed by drivers, marking a 3.4% increase since 2017. Cyclist fatalities also increased, by 6.35%, marking the highest recorded death rate for both groups since 1990.
What's not obvious in the above information is that streets are getting riskier for those outside of cars, but people inside vehicles remain safe. In fact, the number of people killed in vehicle crashes fell by 2.4% between 2017 and 2018.
The most curious thing about these statistics is that no one knows the exact reason for the shift. But luckily that hasn't prevented the design of Advanced Driver Assistance Systems (ADAS) from creating solutions to help keep people safe at night.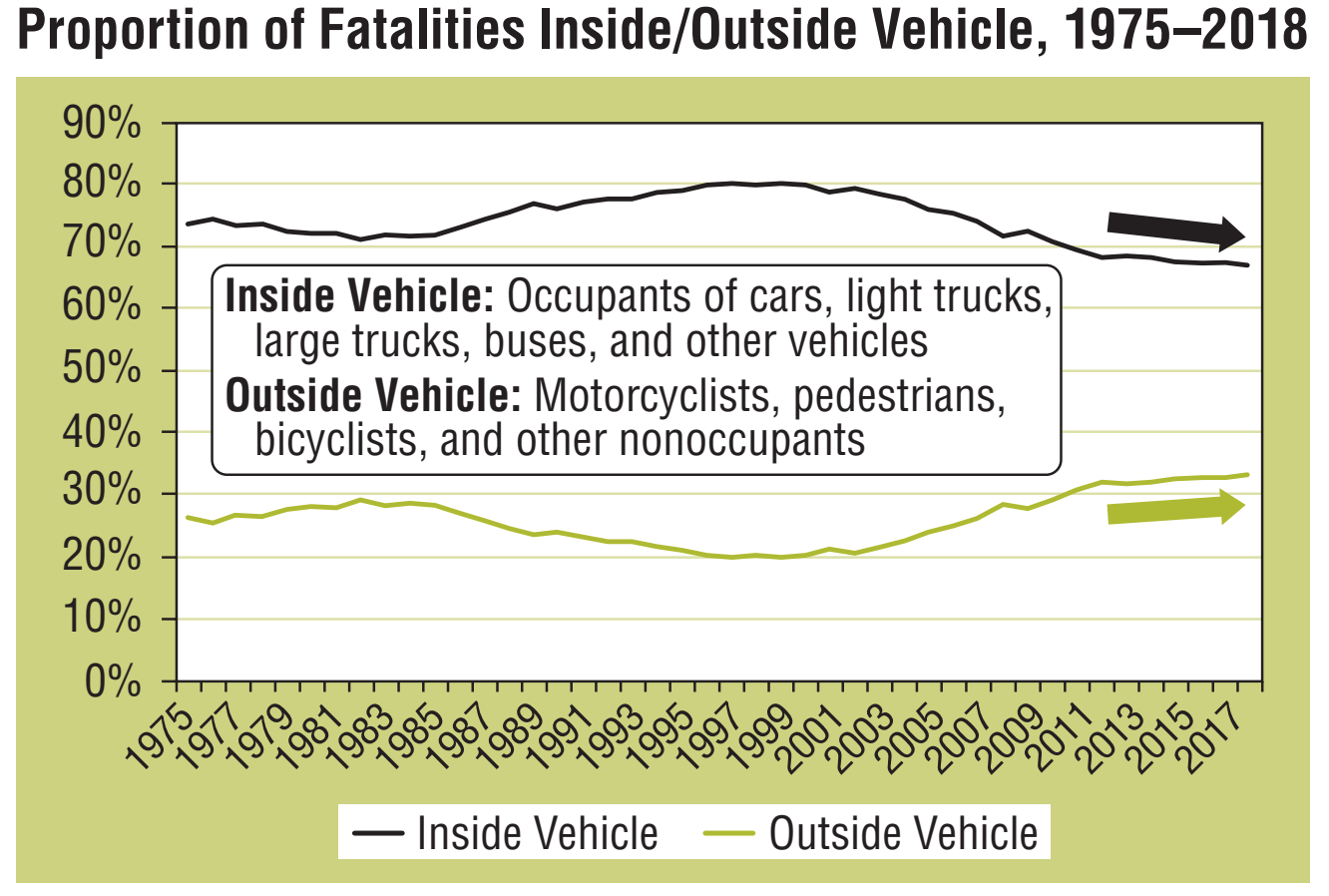 While those inside cars remain safer, fatalities for pedestrians and cyclists are on the rise. (Source: National Highway Traffic Safety Administration).
What goes on after dark
Due to variables including lifestyle, environment and city-specific road conditions it's hard for experts to pinpoint a cause, but they do suggest the following:
In addition to more pedestrian and cyclist deaths, the times at which accidents are occurring has changed. The National Highway Traffic Safety Association found an increase in fatalities between the hours of 6pm and 6am. My guess is that unconventional hours caused by the increasing expense and necessities of modern life are manifesting more night owls.
I was right.
The Population Reference Bureau (PRB) states that 2 in every 5 Americans work "irregular" hours: evenings, nights, rotating shifts, or weekends. These jobs have the most projected growth, meaning streets aren't going to be emptier after dark anytime soon. Interestingly, the PRB also reveals that poor workers (those with incomes below the poverty level) are more likely to start work at non-standard times. I suspect that most of these people aren't driving their own vehicles and rely on other forms of transportation such as walking or cycling.
And of course, there's the speculation that after dark people are more likely to have consumed alcohol or drugs, and/or to drive carelessly as they perceive there are fewer people on the street.
While you won't find a hard conclusion here, what I can do is suggest a way to make streets safer at night.
Night vision goggles on…
Using detailed map and data services our HERE ADAS solution makes roads safer for those outside, and inside, vehicles. Their Advanced Driver Awareness System has a variety of features to help drivers make safer decisions:
Alerts that equip drivers with detailed information regarding hazards, upcoming traffic, speed limits, cameras, stop signs and more

Street-level data that provides updates on road curves, slopes and lane demarcations (even without sensors), increasing visibility and control

Road, lane and traffic data that integrate seamlessly with automated driving technology and decrease the possibility for human error
Driver awareness technology not only provides increased information on road conditions, it has the potential to help the driver assess situations involving pedestrians and cyclists, helping to reduce accidents.
ADAS that includes collision warning, obstacle detection and automated lane changing and breaking services can draw attention to approaching cyclists and pedestrians, alert drivers to cyclists situated in blind spots, assist the driver in making informed decisions/take calculated actions and provide advanced information on upcoming traffic conditions.
HERE recognizes the important role that ADAS technology  will play in reducing fatal accidents and increasing road safety. In fact, HERE was recently included in Forbes' Top 25 for Autonomous Tech, making them a competitive player in the ADAS market.
ADAS: an intelligent nightlight for drivers
A recent AAA Foundation for Traffic Safety review showed that ADAS are likely to reduce crashes, injuries and deaths that involve passenger vehicles; preventing 40% of all accidents, 37% of injuries and 29% of deaths.
Austin M. Svancara, a graduate student at the University of Alabama Birmingham, who led the study says, "We hope…as these lifesaving technologies become more readily available, there will be greater public awareness of these systems and their functionality. Consumers should consider the benefits of these technologies as they look to purchase new vehicles."
ADAS technology could eventually become the main feature differentiating automotive brands and helping to make our streets safer. Even the EU and the USA are mandating that vehicles be equipped with autonomous emergency-braking systems and forward collision warning systems by 2020.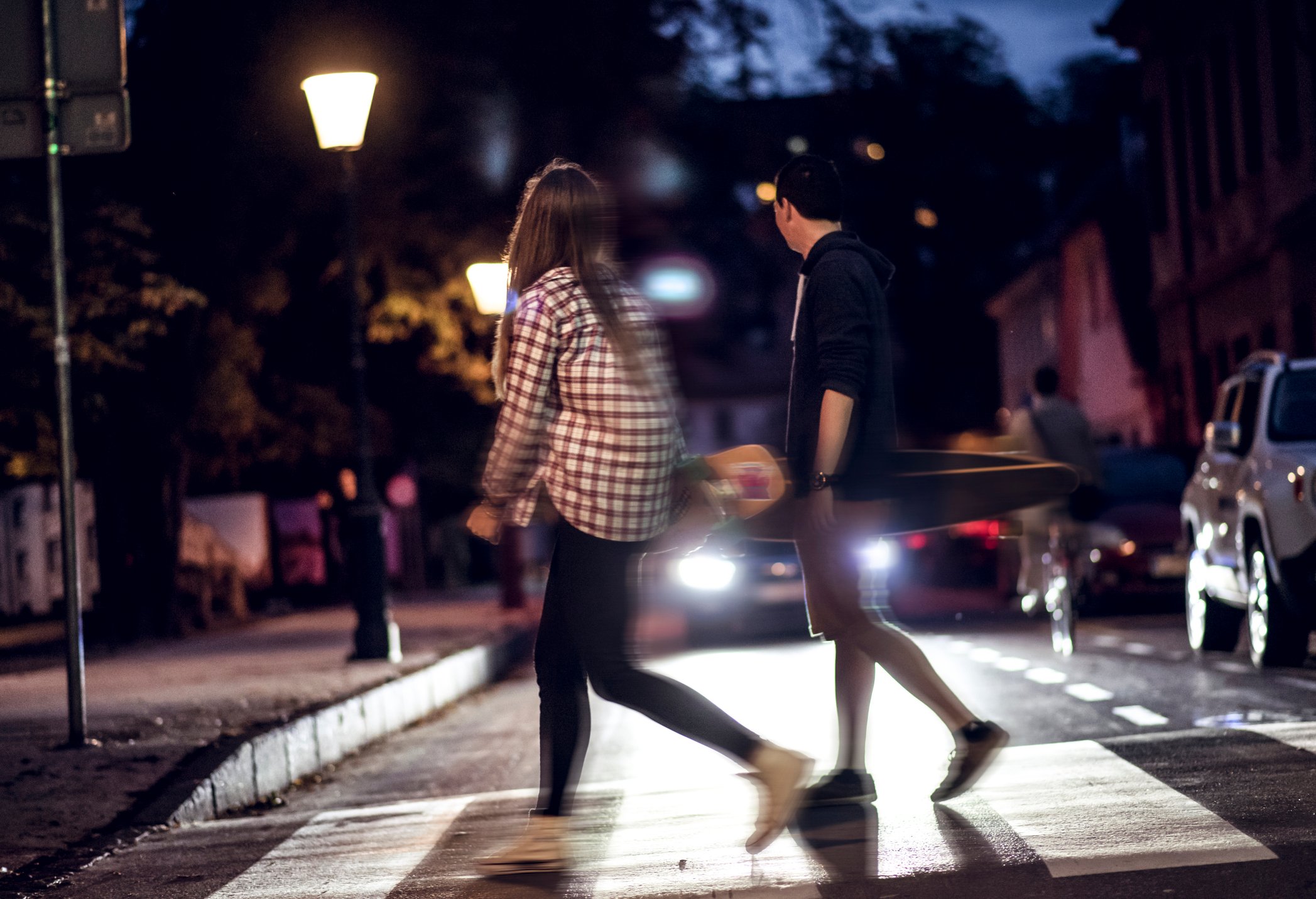 Increasing your visibility involves more than wearing fluorescent safety gear, ADAS technology helps drivers see more in advance.
Every driver has a unique set of skills and response time. If your perceptual factors (age-related physical or mental abilities, alcohol, stress, fatigue, emotion, distraction etc..) overpower your ability to stay in control, the chance of an accident increases. ADAS technology can help compensate for these variables, keep you informed and help make driving at night less dangerous.
Do you enjoy driving after dark? How can HERE's ADAS technology help you feel more secure?
Sign up for our newsletter
Why sign up:
Latest offers and discounts
Tailored content delivered weekly
Exclusive events
One click to unsubscribe