This mapping first could allow drones to help all industries take off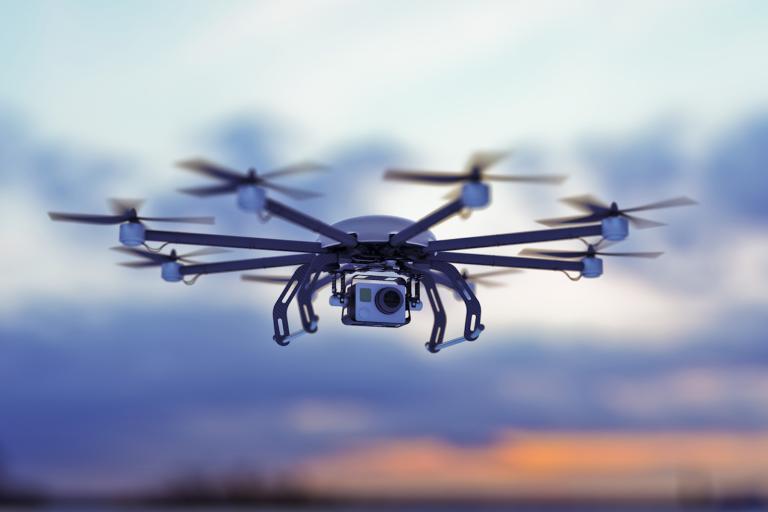 Making drone-flying safer and more useful is just one reason FlyNex is developing a 3D map of the lower airspace over Germany.
Mapping airspace is not a new idea, it's been around since the beginning of air travel to ensure safety for pilots, passengers and those on the ground.
But now that there are more flying objects in the sky, drones specifically, it's become necessary, to map the lower airspace that they occupy; to help make flying drones and their many industrial applications more efficient.
Flying drones in Germany is legal but there are rules. Of the many regulations stipulated by the European Union and the German Federal Aviation Office:
drones may not fly above 100 meters (328 feet) without a permit
drones may not be flown within 1.5 kilometers (.93 miles) or closer to an airport
drones may not be flown over crowds, industrial areas, disaster areas, prisons, residential areas, certain traffic routes, and several other areas designated as sensitive
In order to help businesses and industries better use drones and abide by the regulations, FlyNex (a HERE client) is using HERE 3D tools to map this uncharted space for the first time in 3D.
Drones are already being used to transfer medical aid for COVID, to map threatened areas for environmental initiatives and help in natural disaster recovery. This advanced map could encourage more industries to use drones as the information will make flying drones safer.
FlyNex is a leading drone technology company founded 2015 in Leipzig, Germany. HERE360 spoke with Andreas Dunsch, Co-Founder and CEO of FlyNex, to discuss the benefits and how HERE's tools play a part.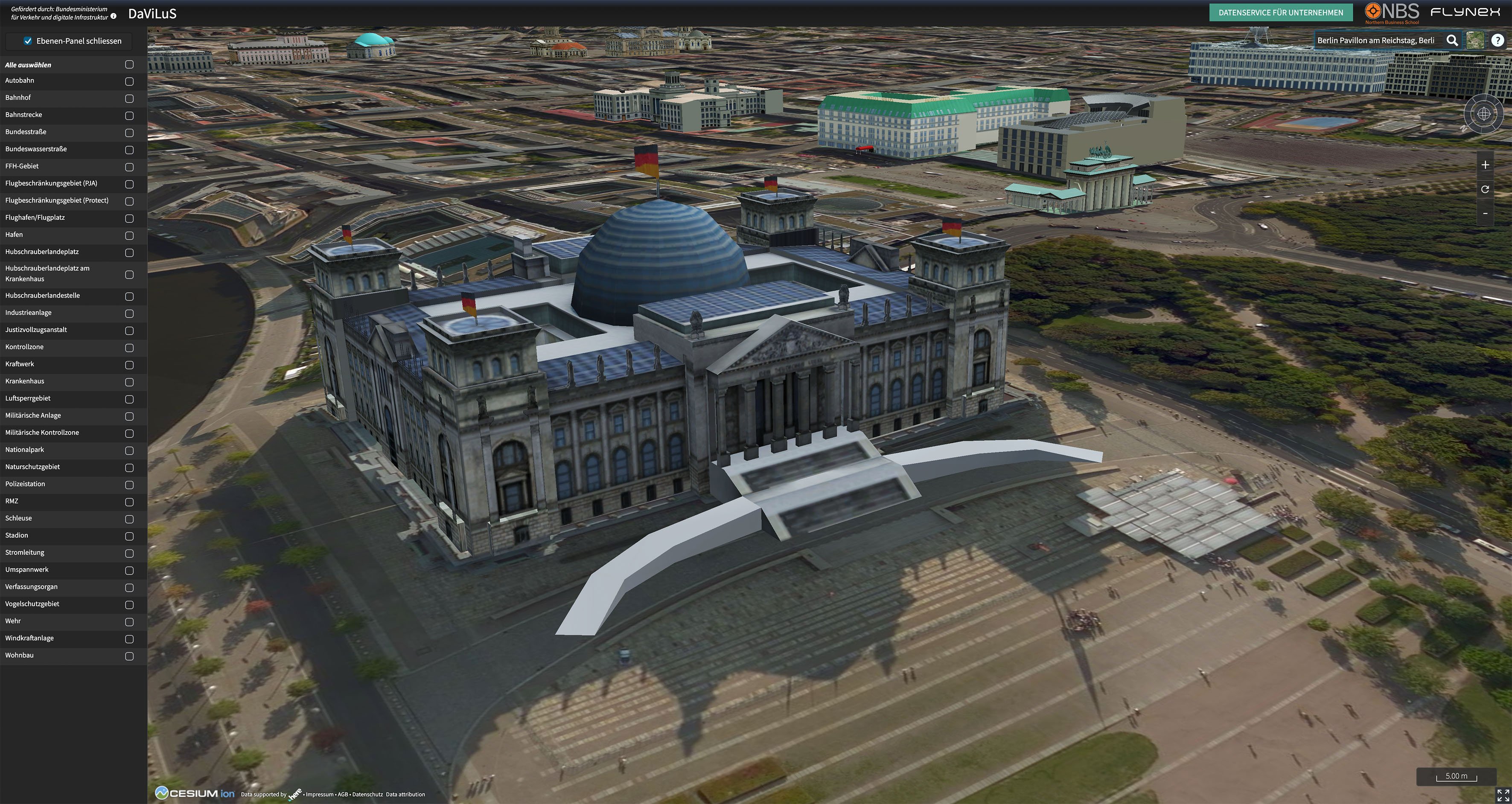 Every company should be able to use this technology easily, safely and profitably. Only in this way is it possible to meet the challenges of a digital future and responsibly promote an innovative society.
HERE360: Why is mapping lower airspace so important?
Andreas Dunsch: "It's not the first time that the airspace was mapped, but the first time in accurate 3D, so you finally get precise spatial information, such as tall buildings, no-fly zones, and bridges. This information is important to be able to build reliable air navigation systems of the future."
Can you give us a few examples of how different industries are using FlyNex software?
"Our software helps to plan and operate several tasks with drones. The energy sector, for example, deploys drones for maintenance and repair operations for power lines, masts, antennas, pipelines, and windmills. In the construction sector, many companies conduct their construction site documentation and progress documentation as well as surveying and construction site modeling with drones.
In addition, the real estate sector is planning and executing drone flights for facade and roof inspections and for simulating digital twins of objects."
Which specific industries stand to benefit from mapping the lower airspace?
"Air navigation service providers and air navigation systems manufacturers are entering new fields. Aviation authorities have the chance to map the actual situation for approval of management and control and are able to use the interface to conduct their operations in compliance with lower airspace rules. As a result, it will be much easier to manage and regulate it accordingly and enable a broad range of very new use cases."
How is HERE helping you map lower airspace?
"Since airspace is a 3D environment and rules and regulations are affected by ground objects, the need for appropriate 3D maps are needed. HERE is a global partner that helps to build applications to scale. To support FlyNex in mapping the lower airspace in Germany, HERE is providing their "3D Everywhere" tools: Digital Terrain Model, 3D Buildings and 3D Landmarks."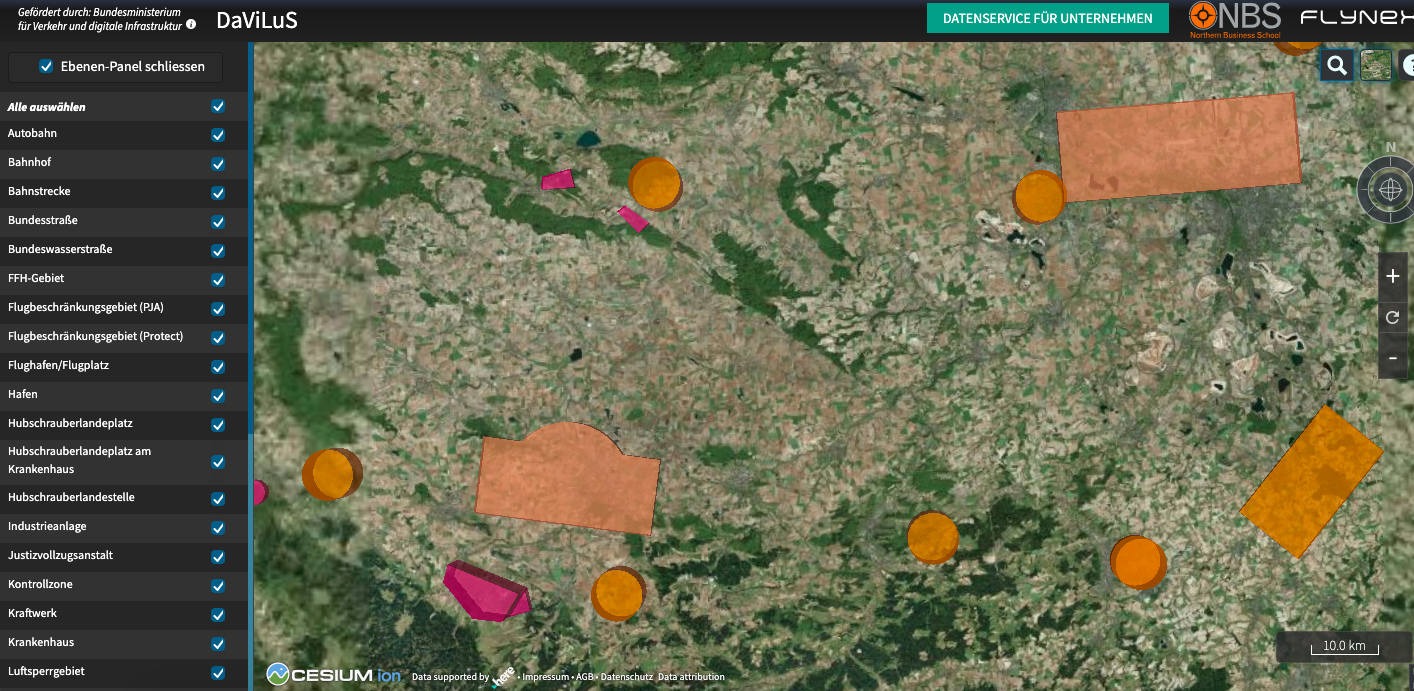 Today more than 8000 individuals and small businesses are using FlyNex Software and maps to supplement their industries through data generation including LEAG, Mitnetz and DLR German Aerospace Center. These industries use FlyNex to manage data operations and monitor assets end to end.
You can view Flynex's 3D map, supported by HERE Technologies, on the state-funded DaViLus project website.
Sign up for our newsletter
Why sign up:
Latest offers and discounts
Tailored content delivered weekly
Exclusive events
One click to unsubscribe