Life during COVID-19: how to improve truck driver safety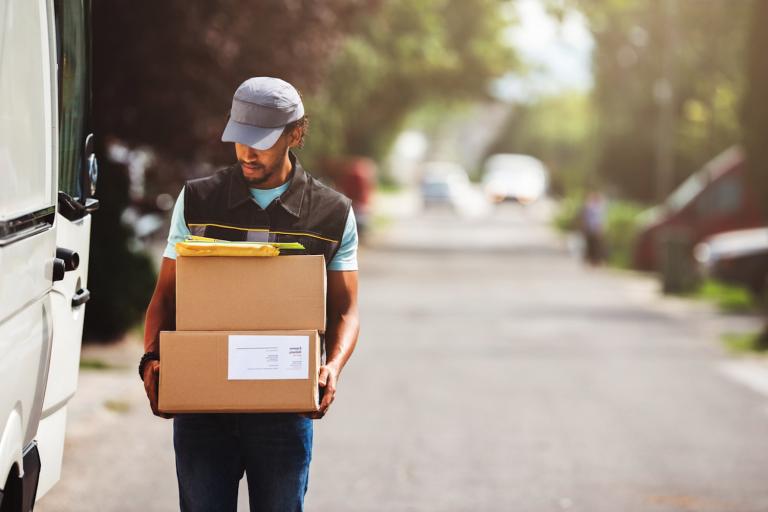 From food to fashion, home delivery is in huge demand. But drivers are under immense pressure, putting them at risk of fatigue and stress on the road. This software development kit could be the answer.
Pandemic-era delivery is booming. Could a new tech help keep drivers safe on the road as they deliver our essentials?
That's the idea behind Live Sense SDK, a new safety technology that gives drivers greater awareness of hazards on the road. For fleet managers, this software could help them reduce the annual 20% crash rate for commercial fleets that costs US businesses more than $60billion in lost revenue annually.
Certainly now, when delivery is the only option for many businesses, life on the road for last-mile delivery drivers is frantic.
"It has been mad," a delivery driver said in an anonymous interview with The Guardian. "Normally, you get a 15-minute or half-hour break between deliveries. This has been one drop after another."
And it's a similar story all across the globe, as retailers and restaurants remain shuttered. The world has basically turned into an online shopping mall, and drivers are rushing between jobs as they try to meet the overwhelming demand for delivery. In the UK alone, online sales of non-food items increased by 18.8% in March (normally, it grows 4% a year).
Paul Martin, UK head of retail at KMPG, said: "Staying home has seen a surge in sales of food and drink; computing equipment, toys to keep children entertained, and unsurprisingly health-related goods, too. With little alternative for non-essential retail on offer, online penetration has soared to 43.5 percent."
For fleet managers, ensuring the safety of their drivers is their number one priority. According to The National Institute for Occupational Safety and Health, distracted driving is a leading cause of crashes among people driving for work.
Monitor, guide and protect
How does Live Sense SDK help? This SDK turns any smartphone or other device with a forward-facing camera into a second pair of eyes using artificial intelligence. It alerts drivers to unexpected obstacles such as other vehicles, pedestrians and cyclists, as well as warning them of hazards and changing conditions ahead. In real time. In unfamiliar places.
Road safety start-up Dreyev is using the SDK as part of its solution into helping fleets combat driver distraction and drowsiness.
Of course, dash cams help exonerate fleet drivers in the event of a crash, but as co-founder and CTO of Dreyev, Roberto Sicconi, says, "we're trying to make sure they never get into that crash in the first place and Live Sense SDK is helping us to do that." He says that 90% of crashes involve some form of human error.
"We think that the best data we can collect is to monitor the behavior of drivers, provide them guidance on the fly, not after the trip, and then evaluate their responsiveness to the guidance."
As Roberto explains, safety is an important part of a fleet manager's job, but they're dealing with many complex issues so a simple solution that works out of the box is very appealing to them. "A fleet manager can have an insight into what's happening in real time to their trucks on the road. Today, what's really appealing is the distracted and drowsy driving prevention."
However much you've selected and trained your driver, there are some you trust more than others to stay on time, deliver promptly, avoid crashes and speeding tickets. But a lot of the time you have to, as Roberto says, "hope for the best". And that's another aspect of Dreyev's solution that's so appealing to fleet managers – the ability to monitor and coach their drivers on the move.
"It's really important to have this real-time warning capability or real-time training, coaching, which we refer to as micro-coaching. And we believe that's one of the unique features that we offer. There isn't much out there in terms of real-time micro-coaching," explains Roberto. "In this age of Uberization of trucking, this capability of training drivers in real time, and also monitoring them in a dangerous event occasions, is going to be a very, very useful feature to have."
What about driver privacy? "Our approach is a little different than some of the others", adds Roberto. "In this case, we process all the information inside the cabin. We have ways of filtering whatever information leaves the vehicle and goes to the cloud, including modifying the video so that the people in the camera are not identifiable."
See how Live Sense SDK could help your business make life on the road safer for your drivers.
Sign up for our newsletter
Why sign up:
Latest offers and discounts
Tailored content delivered weekly
Exclusive events
One click to unsubscribe