Kuwait Finder for iOS now includes turn-by-turn navigation from HERE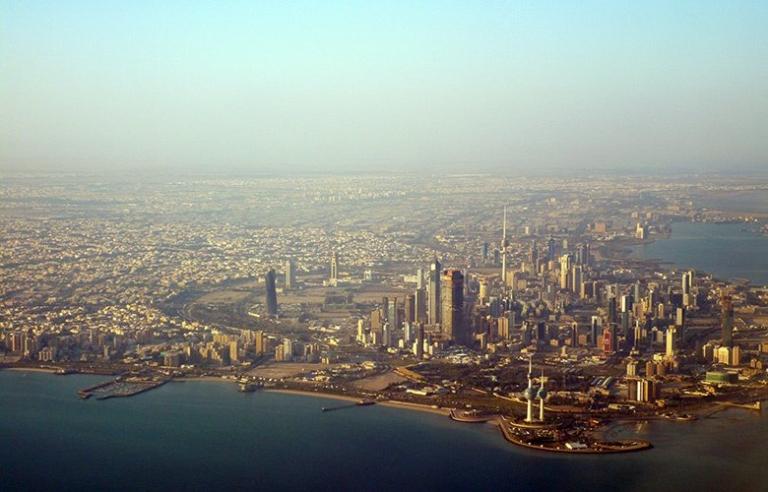 For many years, people in Kuwait got around by describing their location in reference to well-known landmarks – at least well-known to a local.
Then, with the rapid adoption of smartphones in the country starting in 2011, Kuwait suddenly had a very connected and mobile population that was clamoring for map services and applications to help them find places quickly and get to them with ease.
Although other online map services existed, the maps weren't able to account for regional distinctions, like multiple address systems or how frequently locations change and new buildings are constructed, creating user confusion and frustration.
Responding to this need, Mr. Musaed Al Asousi, the Director General of the Public Authority for Civil Information (PACI), had the vision to fill this gap by providing the community with a tool which was easy to use, provided the latest data, and was tailored for Kuwait.
PACI launched Kuwait Finder in 2013, a mobile app for iOS and Android that allows users to search for places and get turn-by-turn directions. Now, the latest version of Kuwait Finder for iOS includes turn-by-turn voice guidance powered by HERE mobile SDK, with Android to follow next month.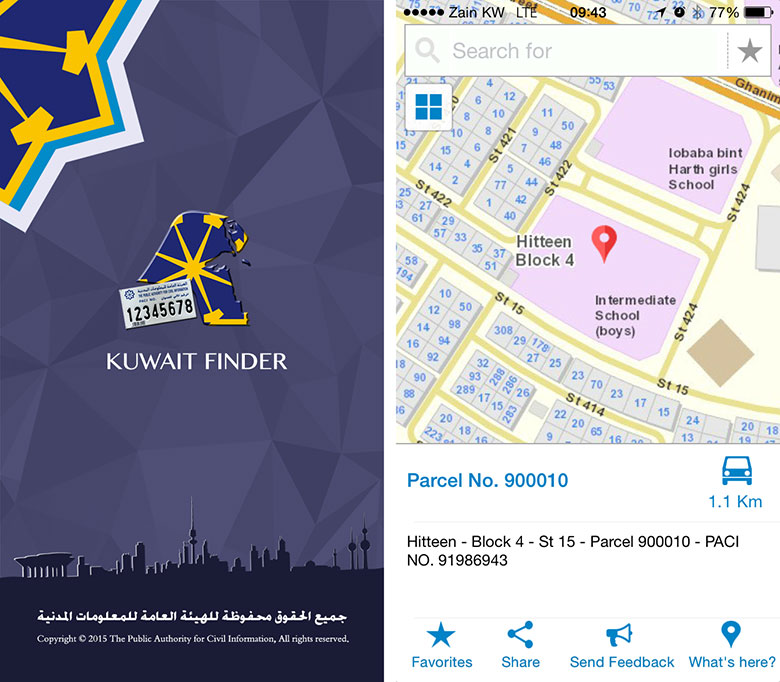 We talked to one of the brains behind the app, Maher Abdel Karim, a GIS expert and consultant at PACI, to learn more about how they developed Kuwait Finder and what's next for the app.
Abdel Karim starts by explaining some of the unique considerations they had when developing the app.
"Similar to other countries in the Middle East, Kuwait didn't have a coherent address system for many years. For centuries, people simply described where they were located.
But, with a growing economy and population, also came a growing need for a unified system so businesses could deliver packages and the government could offer better services," says Abdel Karim.
"So, PACI undertook a project to create an electronic ID number for every single location and person in the country, from the tiniest shop to the tallest buildings, even down to an ID number at the floor level."
But creating a system and getting people to use it are two very different things. It wasn't until 2011 that businesses and shops were required to display the electronic ID, so many people still prefer to give the traditional, descriptive address.
"That's why we developed Kuwait Finder to let users search for a place either by the electronic ID or by a descriptive address in addition to searching by category or business name," explains Abdel Karim.
"Users can also save a place so they don't have to spend time searching for the same locations over and over, and they can also share a place via Facebook, Twitter, WhatsApp or email."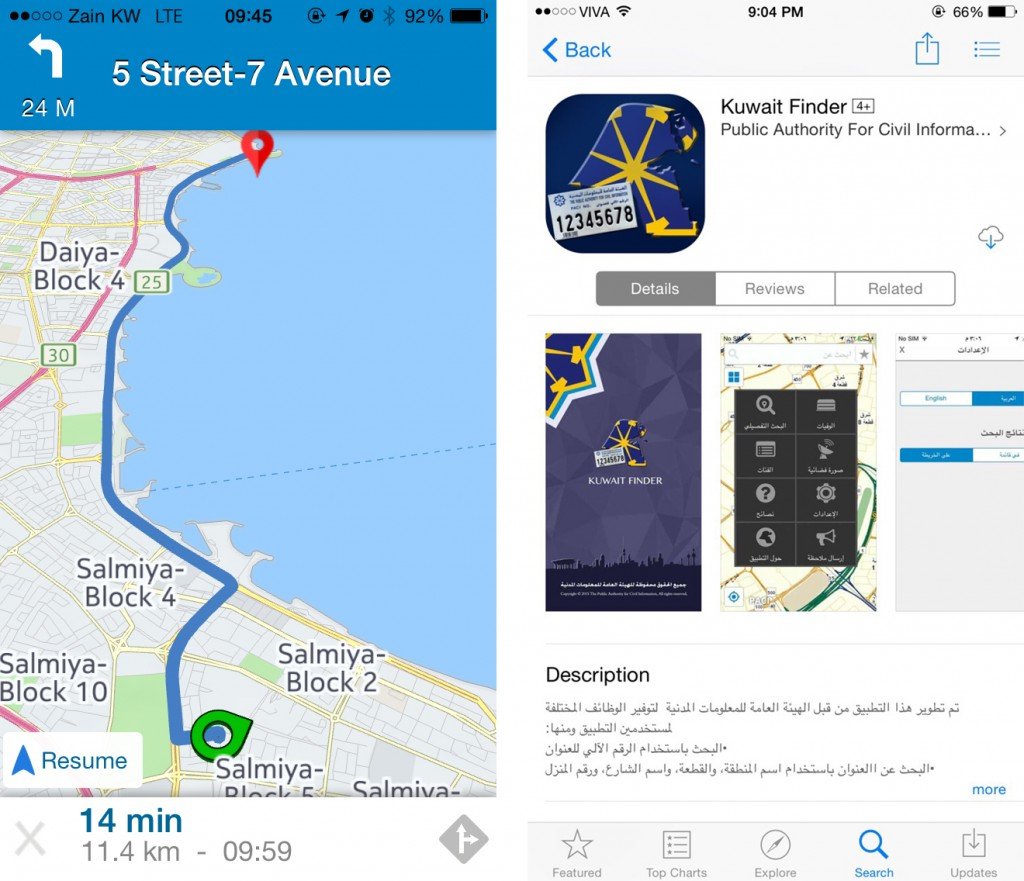 Kuwait Finder was an immediate success when it first launched in 2013 quickly racking up over 450,000 downloads – this in a country of just under 4.5 million people.
"It shows we really tapped into an unmet need with a significant percentage of the entire population downloading Kuwait Finder on their phone," says Abdel Karim, "Not only that but the app was recognized with six local and international awards including the best mobile app at the Esri User Conference in 2013."
In addition to the commercial success, government agencies and businesses can integrate Kuwait Finder into their own applications to help streamline their operations. The Ministry of Justice is responsible for delivering important legal documents, like case announcements, to residents, but it had a very high delivery failure rate due to the inconsistent address system.
In 2011, the ministry wasn't able to deliver over 98,000 documents. Since implementing Kuwait Finder, the ministry has cut that rate by more than half. Today, more than 17 government agencies and private companies are using Kuwait Finder in their operations.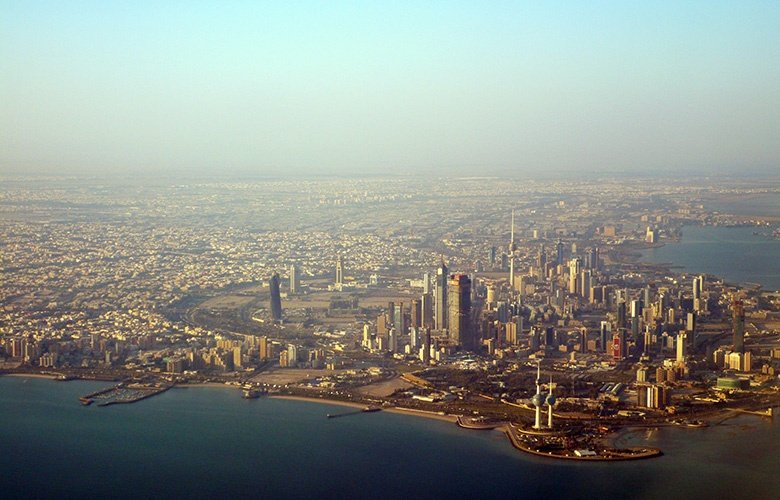 For all the downloads and the industry acclaim, PACI knew they had to continuously make Kuwait Finder even better and more useful.
"After we launched the first version of the app, our biggest feature request by far was for voice guidance," says Abdel Karim, "Since driving is the preferred, and often only, mode of transportation available in Kuwait, drivers need a solution that lets them keep their eyes on the road, not looking at directions displayed as text on their phone."
With this in mind, PACI launched version 2.0 of Kuwait Finder for iOS in April with turn-by-turn voice guidance powered by the HERE mobile SDK. Guidance from HERE mobile SDK is seamlessly integrated with the other components of the app.
"It was important to us that the user could search for a place, select a location and start voice guidance all from the Kuwait Finder app and not have to switch to a different app. Using the HERE mobile SDK allows us to give the user an optimal, uninterrupted experience," says Abdel Karim.
In a little over a month since the release, about 180,000 users have updated to the latest version of the iOS app and Abdel Karim tells us that Kuwait Finder version 2.0 with voice guidance will be available for Android devices next month.
You can find the latest version for iOS in the Apple Store and check back in Google Play for the soon-to-be-released Kuwait Finder version 2.0 for Android.
To learn more about HERE mobile SDK, please visit our developer site.
Image credits: Lindsay Silveira, Jason Harmer
Sign up for our newsletter
Why sign up:
Latest offers and discounts
Tailored content delivered weekly
Exclusive events
One click to unsubscribe