Keep serving your community directly
As a local business owner, you might be struggling to meet an increased demand for online deliveries, as a result of the COVID-19 pandemic.
These days, you need to serve customers where they are. But this can be challenging, whether you're new to managing your own deliveries or are trying to keep up with the surge in online orders.
What if you could plan delivery routes and manage your drivers effectively?
Let us support you through this transition. HERE WeGo Deliver helps you mobilize your workforce to start your own delivery routing quickly.
To help small businesses like yours better respond to the ongoing COVID-19 situation, we are offering it at no cost until the end of 2021.
Manage your own deliveries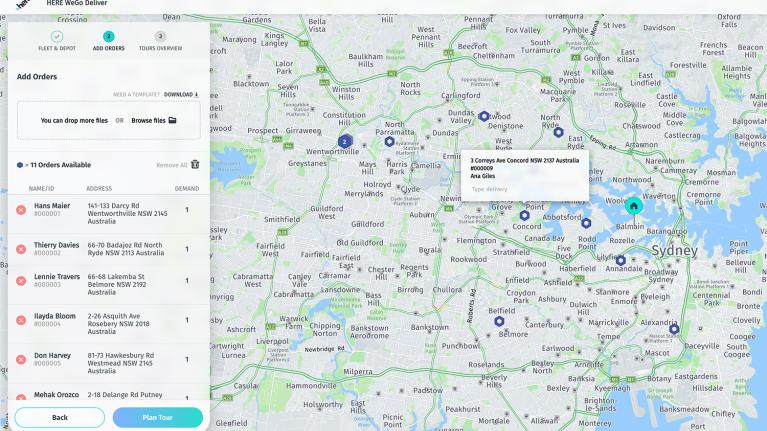 Plan multi-stop routes
Let our tool do the work for you. Drag and drop your orders into HERE WeGo Deliver as a CSV file or upload them from e-commerce platforms like Shopify and Weebly to calculate driver routes immediately.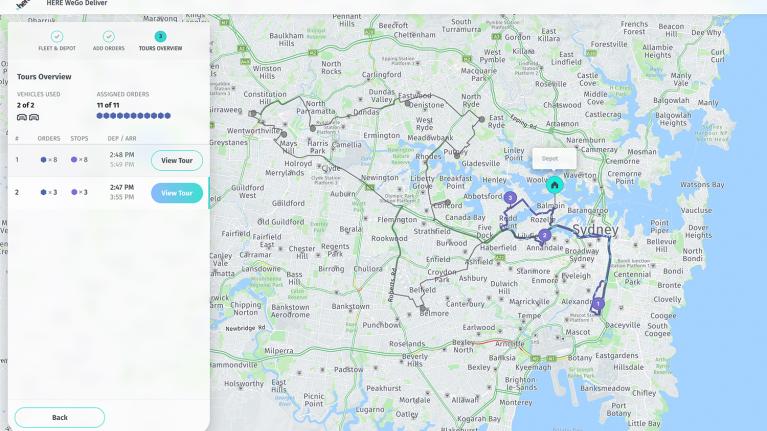 Reduce planning stress
Organize a high volume of online orders and run your own deliveries. Our tool helps you plan ahead and make the most of your vehicle and driver capacity.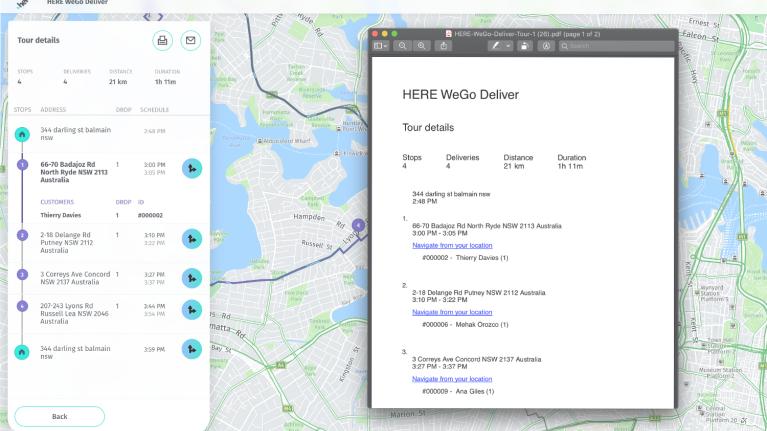 Run smoother deliveries
Dispatch delivery routes to your drivers easily. HERE WeGo Deliver calculates the quickest routes to help them avoid delays on the road.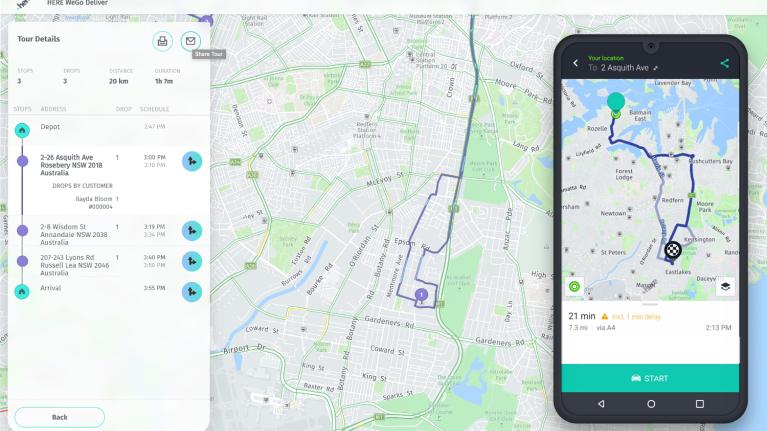 Navigate with ease
Sync your delivery routes with HERE WeGo, our navigation app — available across all platforms. Help drivers find each delivery stop with turn-by-turn voice navigation and offline access even when mobile signal is lost.
How much does HERE WeGo Deliver cost?
HERE WeGo Deliver is free to help small businesses better respond to the ongoing COVID-19 situation.
Is a HERE account required to use HERE WeGo Deliver?
How can delivery jobs be uploaded to HERE WeGo Deliver?
What fields are in the CSV file?
The file has fields for order ID, customer name, phone number, email, address, start and end times for the delivery window, service time (how long the delivery will take) and "demand" (an estimate of size, weight, volume, etc.).
You only need the address to create plans. The other fields are there to help you and your drivers keep track of information about the delivery jobs. You may refer to the template to see examples of how different delivery jobs might look.
How can I edit the CSV delivery job list?
You can create and modify CSV files in a spreadsheet editor like Microsoft Excel, Numbers, LibreOffice Calc, or Google Sheets.
How can I share my delivery jobs with my drivers?
Each tour can be separately exported and shared as a PDF run sheet or as an email you can send directly to your drivers.
Can drivers see or call customer phone numbers?
Phone numbers that are included in the uploaded CSV file will be available and visible to drivers in the PDF version of the run sheet.
Can HERE WeGo Deliver tell me if my packages have been delivered?
Do I need my own drivers to use HERE WeGo Deliver?
Yes, HERE WeGo is designed for use with your current workforce. HERE does not provide drivers or driver service recommendations.
What mobile operating systems are supported by HERE WeGo Deliver?
HERE WeGo, used by HERE WeGo Deliver as a turn-by-turn navigation app, is available as a free download on Android in the Google Play Store and iOS in the App Store. For Huawei owners, it is also available via AppGallery.
What support is available for HERE WeGo Deliver users?
Get in touch via the "Contact us" link on the bottom right of the HERE WeGo Deliver page or send an email to wegodeliver@here.com
What browsers are supported by HERE WeGo Deliver?
Chrome, Firefox and Safari are all supported.
Does HERE WeGo Deliver take traffic into account when computing tours?
We do not take traffic into account but use an approximation for the travel time and distance. However, the HERE WeGo mobile app uses traffic in routing, and provides ETAs based on current traffic conditions.